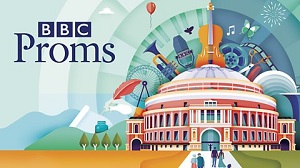 United Kingdom Prom 55 – Mozart, Hans Abrahamsen and Tchaikovsky: Barbara Hannigan (soprano), City of Birmingham Symphony Orchestra, Mirga Gražinyté-Tyla (conductor), Royal Albert Hall, London, 27.8.2016. (AS)
Mozart – Overture: The Magic Flute
Hans Abrahamsen – let me tell you
Tchaikovsky – Symphony No 4 in F minor
Hans Abrahamsen's let me tell you, which dates from 2012, uses a text taken from a novel of the same name by Paul Griffiths. This adapted text uses words spoken by Ophelia in Shakespeare's Hamlet; to quote the concert's programme notes, "…but she uses these words in different ways, and certainly to express herself differently. She tells us of things to which there is little or no reference in the play, such as the nature of memory, or 'a time…. when we had no music', or an explosive experience of love."
Abrahamsen's work was instigated by Barbara Hannigan, who at present has exclusive rights to the performance of its solo part.
Hannigan is an extraordinary artist. She is rightly described as a "singing actress", since her repertoire, much of it contemporary, often calls for more than just singing, and she certainly has a most compelling stage presence. Not only does she have a most beautiful voice, but that voice is a most outstandingly agile instrument, for it has a huge range of notes from very high low, and is capable, with great varieties of tone colour, of making sure footed leaps across the most demanding and awkward intervals. Hannigan feels that her Ophelia "role" should be committed to memory, and that she has done. To have absorbed such a rhythmically anchorless and tonally fractured vocal part lasting half an hour, with little respite, is an amazing feat in itself.
To complement this display the orchestra contributes an accompaniment that is for the most part curiously pretty – a strange word to use, maybe, but one that seems appropriate. There's nothing in the piquant scoring that would seem very foreign to, say, the later Frank Bridge or John Foulds, except that the bounds of tonality are broken more that they would break it. The work's main drawback, maybe, is that most the music is slow moving, and greater variations of tempo would have enhanced the drama of the text. Both Paul Griffiths and Hans Abrahamsen were in attendance to acknowledge generous audience applause.
The appointment of Mirga Gražinyté-Tyla as the CBSO's new Music Director has generated a good deal of advance publicity, for here is a 29-year-old young woman, previously unknown to the British public, filling the role previously occupied over the last three decades by Simon Rattle, Sakari Oramo and Andris Nelsons. She had made her debut in her new appointment the previous evening in Birmingham (review), and now she presented the same concert for her London debut.
A rather choppy and brusque performance of the Zauberflöte Overture had begun the evening, but the Tchaikovsky symphony would present the main challenge. There was nothing particularly arresting in the work's opening fanfares and as the first movement developed some nice touches of detail were applied, but the general approach was a little soft-grained and sometimes the music seemed merely to be coasting along. As a whole it was an interesting account of the movement, always in good style, nicely shaped, and with some quite enterprising variations of pulse and tempo. The most impressive feature was Gražinyté-Tyla's exemplary, clear baton technique, which ensured very clear textures and sharp ensemble. The second-movement Andantino was taken at a good, nicely flowing tempo, with again some interesting variations of tempo, but generally rather gentle turns of phrase. The outer string pizzicato sections of the Scherzo could have been more strongly projected, but the trio section was attractively jaunty. The finale was predictably fast and mostly furious, with again some unusual but quite effective pulse variations. It was by no means the most dramatic or characterful account of the symphony one has heard, but it had some imaginative and features.
What a pity that applause broke out after the first and second movements of the symphony – no chance of this before the finale, whose attacca prevented a recurrence. I read that in a Shanghai concert hall illuminated signs used to light up near the end of movements telling audiences not to applaud – maybe they still do. Not a bad idea.
The Promenaders gave both the CBSO and their new Music Director a tremendous reception.  It was an exciting way for Mirga Gražinyté-Tyla to begin her new role.
Alan Sanders