Sweden Bizet, Uggle-Carin: Soloists, chorus, dancers, fiddlers, instrumentalists, Jonas Dominique (conductor). Dala-Floda Opera Festival, Dala-Floda, Dalecarlia, Sweden. 10.8.2016 (premiere). (GF)
Cast:
Paulina Pfeiffer – Uggle-Carin
Mathias Zachariassen – Jona
Joa Helgesson – Eskil Nilsson
Mattias Gunnari – Mikael
Caspar Engdahl – Lantz
Isabella Lindström de Mendonca – Myr-Elin
Emma Frost – Flo-Rita
Julia Mattei – Dans-Ida
Torbjörn Lillieqvist – Liljan Pärsson
Erik Johansson – Dån-Kalle
John Haque – Rallar-Danne
Production:
Lotta Lindqvist – direction, text and concept adaptation etc
Helena Lambert – choreographer
Nils Harning – costumes
Erik Johansson – lighting design
Anders Wirén – set design
Jonas Dominique – arranger, composer of additional music
Let me make it clear from the outset: this is not a newly discovered work by Georges Bizet! It is good old Carmen – but with a twist. Considering the gypsies' (as they were called then) wandering existence it is very likely that some distant relative of Carmen's got astray and landed in Dalecarlia in Sweden, married and settled down and a generation or two later, in the 1920s, a daughter was born, who inherited the sense of independence and freedom that characterized Ur-Carmen. She grew up in the rural village of Dala-Floda, on the river Dalälven, surrounded by wide forests, with mysterious old traditions and superstition. She got the name Carin, a common Swedish name then – and still is – and she was called Uggle-Carin ("uggla" meaning owl) to distinguish her from other Carins. When she grew up she became a flirtatious and strong-willed woman (no man will ever own me!). When the drama about her begins it is 1940s, World War II is in progress and neutral Sweden is surrounded by warfare. Finland is fighting against the Soviet Union, Denmark and Norway are occupied by the Nazis. Many young Norwegian men manage to flee across the Scandinavian mountain range to Sweden and some of them find a refuge in Dala-Floda. One of them is Jona (Don José) who joins the Swedish army. His friend, Mikael, also finds his way to Dala-Floda. You have already guessed, haven't you? It is Micaëla in the original. He comes with greetings from Jona's mother. But, you say, the fourth main character in Carmen, Escamillo, is a bullfighter.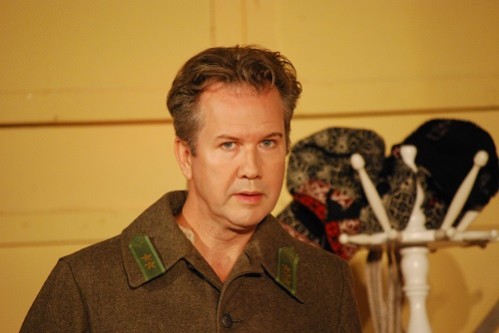 They didn't have bullfighting in Sweden, or? No, but Eskil Nilsson is a floater. Floating was a way of transporting timber on the rivers from the big forests in the north of Sweden down to the saw-mills on the coast. The floaters' task was to see to it that the logs didn't get stuck but could safely reach the destination. Sometimes it happened that lots of logs got into a mess, a log jam, and then the floaters had a heavy – and dangerous – job to break up the jam. Eskil Nilsson, famous for his strength and skill, arrives to take care of an exceptionally big and difficult log jam, the equivalent of an angry bull. This is, in other words, a very exotic Carmen.
To mark this director and adapter Lotta Lindqvist has framed the story with the most typical of Swedish rural tradition: the fiddle music and the folk dance, which is deeply rooted in particular in the province of Dalecarlia. The performance opens with a lone fiddler sitting to the left on the stage, back turned to the audience, playing seemingly to himself. A group of other fiddlers enter from the right, followed by a crowd of people, the majority dressed in brightly coloured local national costumes. They dance traditional dances, ending up in "huppleken", a forerunner to polska, where young men try to impress the girls with bold jumps and in this production more and more risqué poses – frankly a mating dance. When everybody is exhausted, some have fallen asleep, the real drama can begin and it unfolds along the lines we know: it is Bizet's music, although the orchestra is a nine-piece ensemble with French horn, trumpet, trombone, flute, clarinet, violin, double bass, piano/synth and bandoneon (a small accordion, mainly used in South American tango music). Jonas Dominique's arrangements work well and have caught the essence of Bizet's original. It is all sung and spoken in Swedish but the text has been rewritten, cleverly I must say. Morales and Zuniga have been made into one character, lieutenant Lantz, and the group of smugglers has grown into a sextet. There are a few cuts but in the main we get the full work. In act II Carmen's dance is danced to a traditional tune played on fiddle by Jona – Mathias Zachariassen is an experienced fiddler – the inn-keeper plays a much larger role than usually, exquisitely performed by Torbjörn Lillieqvist, one of the foremost singing actors in the country for many years. At the end of this act Jona suddenly breaks loose and stabs lieutenant Lantz in the back. Carmen's rose that she throws at Don José is here a wreath of flowers that Carin puts on Jona's head. But the end is as tragic as it always is: Jona kills Carin behind the backs of the villagers who are watching Eskil Nilsson's successful fight against the log jam.
Strange as it may seem, this rewritten story works well with Bizet's Spanish-influenced music. Lotta Lindqvist has made a fabulous job in tying together all the strands in the play and I was deeply impressed by the achievements of the choristers, dancers and extras who are all amateurs, local and visitors. Lotta has reportedly worked literally around the clock for quite some time and the results are superb. This also concerns the soloists who, together with the ensemble, made this Uggle-Carin a tremendous success.
In the title role Paulina Pfeiffer one again proved that she is one of the very best sopranos in her generation. She is a superb actor and vocally she encompassed all the aspects of this demanding role. She has the required power, also in the lowest register, where the tone had a darkness and fullness worthy a contralto. Mathias Zachariassen's Jona surpassed anything I have heard of him with concentrated acting and steely intensity in his dramatic outbursts but with a Flower song filled with warm affection, beginning so softly and then gradually growing to a heart-rending climax. Mattias Gunnari's light lyrical tenor was the biggest surprise and it was fascinating to hear for once Micaëla's music sung by a tenor. I look forward to hearing more from him. Joa Helgesson has both the looks and the voice for Eskil Nilsson/Escamillo and he too is a superb actor. As lieutenant Lantz Caspar Engdahl impressed greatly and the smugglers were all excellent.
The orchestra had a tough task to deputize for a full-size opera orchestra but they did a splendid job. There were standing ovations, well-deserved. Personally I would have preferred the opening dance party to be foreshortened, but I got the impression that the audience at large was fully satisfied. Anyway, this is the greatest achievement so far during the four years I have followed Dala-Floda Opera Festival. It could not have been possibly to carry this through without the help of the local population, who have contributed with thousands of big and small things, all combining to make this a great production. It should be remembered that there are less than 700 inhabitants in the village! Rumours say that the production will be reprised next year. If so, book as early as possible. The tickets tend to sell like hot cakes!
Göran Forsling