Sweden 2016 Opera Fest Dala-Floda: Soloists, Jacob Moscovicz (piano). Floda Church, Dala-Floda, Gagnef, Dalecarlia. 12.8. and 14.8.2016. (GF)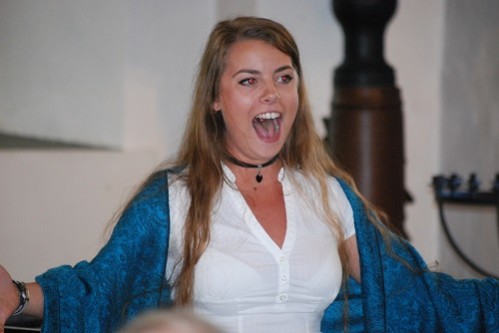 Young Stars (12.8)
Bach/Gounod: Ave Maria -Kevin Frans Johansson
Pergolesi: Stabat Mater – Julia Mattei
Schrader: Sommarnatt (Serenade) – Mattias Gunnari
Sibelius: Den första kyssen – Helena Gedda;  Flickan kom ifrån sin älsklings möte – Isabella Lindström de Mendonca
Sjöberg: Tonerna – Mattias Gunnari
Hystroem: Havet sjunger – Helena Gedda
Schubert: Die Forelle; Gretchen am Spinnrade – Jessica Elevant
Wagner (Tannhäuser): O du mein holder Abendstern – Caspar Engdahl
Offenbach (Les contes d'Hoffmann): Les oiseaux dans la charmille – Linnea Sjösvärd
Mozart (Die Zauberflöte): Dies Bildnis – Mattias Gunnari; Bei Männern welche Liebe fühlen – Casåar Engdahl & Linnea Sjösvärd; (La clemenza di Tito) Ah perdona al primo affetto – Helena Gedda &  Isabella Lindström de Mendonca; (Don Giovanni) La ci darem la mano – Caspar Engdahl & Linnea Sjösvärd; (Così fan tutte) Soave sia il vento – Helena Gedda, Isabella Lindström de Mendonca & Mattias Gunnari; (Le nozze di Figaro) Voi che sapete; Non so più – Julia Mattei
Puccini (Tosca): E lucevan le stelle – Sebastian Hedlund; (La fanciulla del West) Ch'ella mi creda – Dan Nordström
Verdi (Rigoletto): Figlia! Mio padre – Caspar Engdahl & Linnea Sjösvärd
Anna Eklund Tarantino, who has been running this festival for six years, has the ambition to launch young singers and give them the opportunity to perform before an audience of discriminating but positive and enthusiastic listeners and in the idyllic little church in Dala-Floda these youngsters, in various stages of development, were righteously hailed for their achievements. From eleven-year-old Kevin, whose brilliant treble voice sounded even better during the rehearsal I overheard, to singers who have come a long way to possible careers in operas houses around the world. Sweden today produces more high-quality singers than there is a market for in Scandinavia, and many of those who have finished their educations tend to end up in opera houses on the continent, primarily in Germany and Switzerland.
Among those who took part in this concert it may be unfair to mention some of them before some others, but there was talent here on display that should have made the mouth waters for talent spotters. Tenor Mattias Gunnari, who also sang in the Carmen performances during the festival, is certainly a lyric singer to watch, and Isabella Lindström de Mendonca, whose reading of a Sibelius song, was deeply engaging, should have capacity for a great career. I characterized her fruity voice as a mezzo-soprano, rather dark-tinted, but she states she is a soprano. We will see. Julia Mattei – yes, her father, who also attended one of the concerts, is the famous baritone – is still in the beginning of her development but there is capacity! The two singers who impressed the most were baritone Caspar Engdahl and soprano Linnéa Sjösvärd. – he an expressive baritone with enormous stage presence and she a coloratura soprano with pin-point articulation and real charisma.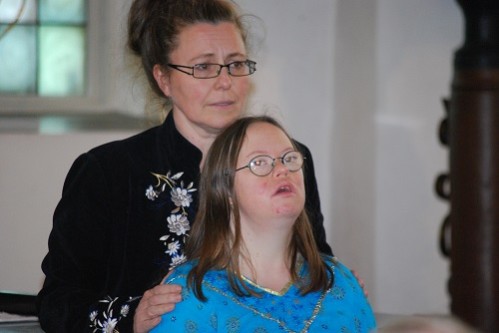 Opera Gala (14.8)
Handel (Xerxes): Ombra mai fu – Kajsa Granström
Schubert: Ave Maria – Maria Aquilon
Tegnér/J Fergusson: Lovely sun – Johanna Fergusson
Puccini (Turandot): Nessun dorma -Tomas Lindquist; (La bohème) Vecchio zimarra – Erik Johansson
Giordani: Caro mio ben -Kevin Frans Johansson
Lloyd Webber (Requiem): Pie Jesu – Julia Mattei & Kevin Frans Johansson
Althén: Land, du välsignade – Mattias Gunnari
Schumann: Mondnacht -Mattias Zachariassen
Grieg: I rosentiden – Helena Gedda
Nordqvist: Till havs -Mattias Gunnari
Anon: The Prayer -Kevin Frans Johansson, Paula Hoffmann
Donizetti (L'elisir d'amore): Una furtiva lagrima – John Haque
Mozart (Le nozze di Figaro): Crudel! Perchè finora – Caspar Engdahl & Linnéa Sjösvärd; (Don Giovanni) Madamina! Il catalogo è questo – Caspar Engdahl; (Le nozze di Figaro) Voi che sapete & Non so più – Julia Mattei
Verdi (Un ballo in maschera): Eri tu – Joa Helgesson; (Rigoletto) Caro nome – Linnéa Sjösvärd
Offenbach (Orphée aux Enfér): Quand j'étais roi de Béotie -Torbjörn Lillieqvist
Handel (Giulio Casare): Vadoro pupille – Helena Gedda
Thomas (Mignon): Connais-tu le pays – Paula Hoffmann
Bizet (Les pêcheurs de perles): Au fond du temple saint – Caspar Engdahl & John Haque
Rachmaninov: Vocalise – Anna Eklund Tarantino
Lehár (Giuditta): Meine Lippen sie küssen so heiss – Linnéa Sjösvärd
Delibes (Lakmé): Sous le dôme épais – Anna Eklund Tarantino & Paula Hoffmann
The second concert was not only a reprise, even though some of the participants were the same and even some of the songs were the same. The opening was terribly moving with some of the young people who had taken part in other activities during the festival, appeared as soloists. Anna Eklund Tarantino is convinced that children with Down syndrome have abilities that are worth displaying, and the first four numbers presented young singers, discreetly coached by Anna Eklund, Paula Hoffmann and John Haque. Kevin Frans Johansson also appeared, both as soloist and in duet with Julia Mattei and Paula Hoffmann.
Among those who were not on the first concert were Mattias Zachariassen, Don José in the Carmen production, with a deeply felt version of Schumann's Mondnacht. John Haque, who has taken part in several previous Opera Festivals in Dala-Floda, excelled in an expressive reading of Una furtiva lagrima and Joa Helgesson, the Escamillo of the Carmen production, delivered a highly intensive and dramatic Eri tu from Un ballo in maschera. Veteran Torbjörn Lillieqvist, one of the great singing-actors for several decades and also active as director, enthralled the audience with a perfectly timed couplet from Offenbach's Orphée aux Enfér. Erik Johansson, who also introduced the various numbers accurately and without digressions, was reverent also in his reading of the coat-aria from La bohème. This is no showpiece but an inward farewell to his old coat – and symbolically a farewell to life. Caspar Engdahl and Linnéa Sjösvärd again captured the audience through their charming personalities, lively acting, and well-schooled voices.
Towards the end Anna Eklund Tarantino, the mastermind behind the whole festival, and Paula Hoffmann, also deeply involved since several years, entered the imaginary stage. Anna in one of her specialities, Rachmaninov's Vocalise, Paula with Mignon's aria. And after an alluring Meine LIppen from Linnéa, Anna and Paula got together in the flower duet from Lakmé – a most suitable finale where they slowly walked out and delivered the last phrases off-stage.
This is exactly the kind of concert that should entice people unfamiliar with opera to explore the genre further. Tasty sweets skilfully presented and informal atmosphere. I hope that this concept will be retained next year too, and I dearly hope that the prodigious pianist Jacob Moscovicz, who has been the solid rock, against whom all the artists could safely lean, will be back as well. This year he was more inspired than ever, which says a lot about his commitment. And it is also significant of the Dala-Floda Opera Festival at large: committed musicians of the highest order who collectively achieve marvellous results – for the benefit of us music lovers. God bless you all!
Göran Forsling