Canada Vancouver Bach Festival 2016 – Bach: Davitt Moroney (harpsichord), Vancouver Bach Festival, Christ Church Cathedral, Vancouver, 3.8.2016. (GN)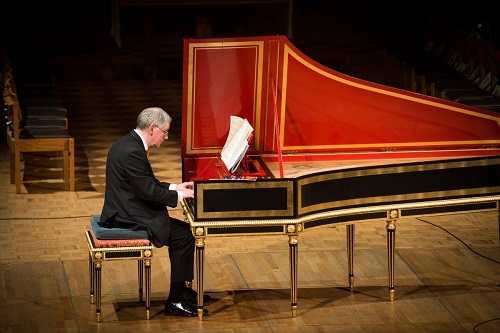 Bach, Die Kunst der Fuge BVW 1080
Of all harpsichordists, Davitt Moroney likely has had the strongest musicological commitment to Bach's Art of the Fugue, publishing a critical edition for this enigmatic work as long ago as 1989. This was particularly notable since it included a completion of the unfinished 14th fugue. Perhaps this concert aimed to summarize the full extent of the artist's research to date and, in many respects, it turned out to be as much a lecture as it was a concert: combinations of fugues (sometimes just pairs) were discussed extensively before they were played. Armed with ample documentation and copious programme notes, Moroney proceeded to cover the mathematical intricacies of the pieces, their ordering, the justification for playing them on the harpsichord, and, notably, his rationale for why the final completion should be only one manuscript page (40 measures) long. This latter argument involved a little local nostalgia, since the conjecture was largely based on research by Gregory G. Butler, a University of British Columbia professor, who used infrared technology to substantiate this finding in 1979, implying that the traditional completions by Donald Francis Tovey and Helmut Walcha were far too long. All fascinating stuff  ̶  and it certainly augmented my appreciation of the complexities surrounding this work.
The only problem with all the discussion is that it was a little difficult to get into the full flow and unfolding of the 14 fugues and to glimpse their overall spiritual resonance. I found the playing on the didactic side, more notable for its structural cogency and motion than its lyrical suspension or inner peace. Few dynamic subtleties were introduced and little of the playing was soft. This is perhaps in keeping with the harpsichordist's professed determination to isolate the 'bones' of the pieces and never succumb to the merely 'melodic'. At the same time, a clear joy of the evening was the instrument itself, which has a particularly crisp, transparent top and a lovely burnished resonance at the bottom. It was built by esteemed local builder Craig Tomlinson in 2003, a copy of a 1769 Taskin.
In the past, critics of Moroney's approach to Bach have remarked on its excessively objective, scholarly quality. True, there is little sense of narrative and textural variety in his traversals but one thing that Moroney always manages to find is the structural integrity of each piece and its uncompromising sinew. And this is a clear virtue. I enjoyed the treatment of the first four fugues, starting from a nice sense of deliberation and repose in the unifying motive and building convincingly in a tightly-knit way. One does not expect much 'give' in this type of playing, nor a sense of legato breadth, but it did not bother me. The only thing that did worry me slightly was the pushing forward more intensely and emphatically as the end of each fugue approached, and this was amplified further in Contrapunctus V through VII. One obviously wants to build each fugue to its conclusion, but that is usually done through letting the piece artfully unfold by its own musical devices. Self-consciously tightening grip and intensity and imperceptibly speeding up may evince some degree of involvement, but it makes the music too insistent, overbearing and sometimes dogged. On many occasions, the lines would fall better and build with better architecture and balance at a slightly more relaxed tempo and with less obvious emphasis and weight.
That said, the lightness and effervescence in Contrapunctus IX were absolutely delicious. The famous VIII mainly fared well, though perhaps it was a little plain. I also enjoyed the great and invincible XI. There were decisive moments in Contrapunctus XII and XIII but a severity too, bringing out the structural ingenuity in the constructions well but not yielding to the little moments of joy in the phrases. The closing 14th fugue was as it should be: patiently structured with a fine sense of finality. Moroney stopped briefly at the end of the published text (where C.P.E. Bach notated J.S.'s death) before starting the completion. I appreciated the brevity and faithfulness of his construction but still could tell that it was not written by the master.
It must be extremely difficult to achieve the deepest inner concentration at the keyboard when one is continually lecturing as well. Even if I did not warm to all aspects of Davitt Moroney's Bach on this occasion, there can be little doubt of the artist's fervent commitment to the music. I have never attended a public concert where all the analytical complexities of this great work were exposed in such detail, and I'm certain that everyone went home uniquely enriched.
Geoffrey Newman
Previously published in a slightly different form on http://www.vanclassicalmusic.com.