Germany Bayreuth Festival 2016 [2] – Wagner, Der fliegende Holländer: Soloists, Chorus and Orchestra of the Bayreuth Festival. / Axel Kober (conductor). Festspielhaus, Bayreuth, 14.8.2016. (JPr)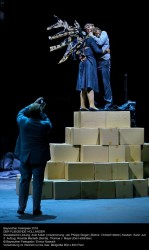 Wagner, Der fliegende Holländer
Cast:
Dutchman: Thomas J Mayer
Daland: Peter Rose
Senta: Ricarda Merbeth
Erik: Andreas Schager
Mary: Christa Mayer
Steersman: Benjamin Bruns
Production:
Director: Jan Philipp Gloger
Sets: Christof Hetzer
Costumes: Karin Jud
Lighting: Urs Schönebaum
Video: Martin Eidenberger
Dramaturgy: Sophie Becker
Chorus Director: Eberhard Friedrich
Once again on another three-opera visit to the 2016 Bayreuth Festival Der fliegende Holländer was rather like a symphonic scherzo and rather out-of-step between the sublime Tristan und Isolde (review) and a much-anticipated new Parsifal that would follow the next evening.
Before elaborating on that I would like to reflect on my visit to Bayreuth and the heightened security because of terrorist incidents in Germany and the anticipated controversy – which never materialised – over some Islamic elements to Uwe Eric Laufenberg's Parsifal which the audience would see on the opening night of this year's Festival. It is now even more of a pilgrimage to be there than even Wagner must have intended. There is now a security cordon around the Festspielhaus and entry is via certain checkpoints where bags are checked by armed police. No longer can taxis or hotel shuttles disgorge ticketholders directly at the entrance to the venerable theatre. The coach I was on stopped high up on the Green Hill requiring a picturesque walk through a crowded pot-holed car park before finding the road down to the theatre. Truth-be-told the 140-year-old Festspielhaus was previously virtually 'access all areas' and guarded by only a few police and protected by one fire engine. In these dangerous times it is probably sensible that more attention is given to the safety of those visiting – and working at – the Bayreuth Festival. Whether all the police and security staff are absolutely necessary who can say? One would hope not, but you never know.
Jan Philipp Gloger's revisionist Der fliegende Holländer began in 2012 and opened to a storm of boos perhaps mostly because the controversy about Evgeny Nikitin who stepped away from the production because of some tattoos. By the time I was there that year the incident was largely forgotten, though many members of the audience still took part in a storm of booing to voice their displeasure at the staging. In Bayreuth what is often a scandal one year becomes a success the next and so it has been for this Holländer. In 2013 when I saw it again there was no dissent and just thunderous applause and this has continued in subsequent years and approval seemed more vociferous than ever this year.
At its première everything was splattered by blood-like red paint; in 2013 these became huge inky-black streaks down the flimsy walls from time-to-time and Senta is shown using a lot of black paint. Never when watching this production before had Martin Eidenberger's videography and his Rorschach-like streaks appeared so prominent. At one point they coalesce to bring an impression of tree trunks in a forest. Hopefully you will know the story if you are reading this but – in short – the Dutchman is accursed, cannot die and is condemned to sail endlessly on the world's oceans seeking to be redeemed by a woman (Goethe's 'das ewig weibliche') who will love him, remaining true and faithful unto death.
Jan Philipp Gloger makes Der fliegende Holländer a parable of today's high-tech world; its rampant consumerism with the search for a profit at all costs and where everything – including love and death – has its price. The curtains open on Christof Hetzer's installation which fills the stage displaying digital streams of data crisscrossing the stage. Daland, a factory owner, and his hyper-energetic bookkeeper, the Steersman, are for some reason in a rowing boat amongst all this. The Dutchman and his crew look as though they have some cybernetic implants connecting them to that 'data network' and so are part of a collective or hive reminiscent of the Borg in Star Trek. I believe the Dutchman can only be released from his curse by a successful 'assimilation' with a human female. Until he finds her he remains a lonely figure with more money than is good for him which he wheels along in his carry-on luggage. Nothing can ease his longing for salvation and redemption; neither drugs nor women who sell sex …nor can he kill himself.
This is Wagner's one-act version and we soon see Daland's factory girls checking and packing electric fans. His daughter, Senta, fantasises about escaping the boredom. She is fixated by the Dutchman and creates an image of him out of cardboard from the factory floor – and later dons a large pair of wings so she can become his 'angel'. Her on-and-off boyfriend, Erik, is the maintenance man on hand with a glue gun for any quick repair. The announcement of their men's apparent return from a sales trip only makes the women work even harder to complete the shipment. The 'sailors' are business-suited executives bringing their wives and girlfriends to the launch of a new product. The Steersman is in charge of the balance sheet and oversees the party that will soon be invaded by the Dutchman's crew here representing corporate greed.
When the Dutchman and Senta first meet they submit to what destiny has in store for them and he disconnects himself from the 'global market' by burning all his money with its hint of Tom Wolfe's 'The Bonfire of the Vanities'. Wagner's opera plays out in the typical rom-com way where the Dutchman misinterprets Senta's pity for Erik as affection and thinks his hope for redemption is a forlorn one. But they are united as Senta finally vows to be his and stabs herself. Simultaneously blood flows from a wound in the Dutchman's side and then there is a splash of red rather than the ubiquitous black. Senta places what looks like a cardboard crown of thorns on his head turning the Dutchman into a Christ-like figure. They are last seen embracing on the top of a ziggurat of boxes as the curtains close but then soon open again to reveal how no opportunity has been lost to cash in on the grief of others and the final tableau shows the factory hard at work producing commemorative figures of the tragic couple!
Since 2012 Der fliegende Holländer has never seemed to have the best singing of that year's Festival and this was no exception despite significant cast changes. The singers though good were no better or worse than those you would hear in any major opera house. Actually that was the major problem because in previous years there was an otherworldliness to Samuel Youn's Dutchman which fitted the production whilst Thomas J Mayer – though singing solidly – was more of a forthright everyman Dutchman; much more passionate and not particularly cursed nor ghostly. Possibly this was due to his relative unfamiliarity with the staging as he was a late replacement for the previously announced John Lundgren. There is the strange setting, costumes and interaction of the principals but this was a Holländer everyone could recognise – whether that is a good or bad thing I'm not altogether sure.
Ricarda Merbeth got another good reception from the Bayreuth audience but I find her a rather careful singer without the heart-on-her-sleeve approach to the role that would convince me of her psychotic obsession for the Dutchman. She was returning as so too was Christa Mayer as Mary who as before sang well and repeated her portrayal of a suitably officious factory manager. Also back was Benjamin Bruns as the overeager, wonderfully comic and sweetly sung Steersman. As great as Peter Rose's strong resonant singing was as a dependable and avuncular Daland – replete with broad comedy and lots of fiddling with his glasses – would he have been much different when singing the role in a production at Covent Garden, Munich or anywhere else for that matter.
In these days of a paucity of Wagner heroic tenors Andreas Schager – whilst 'treading water' waiting to take over as Parsifal full-time next year – appeared luxury casting as Erik. This is (usually) a fairly insignificant role but however well – or loudly – Schager sang it looked when he was onstage as if he thought the opera's title was 'Erik the Handyman' rather than 'The Flying Dutchman'. He tended to unbalance the ensemble somewhat making all eyes turn to him to watch whatever he was irrelevantly getting up to.
I had first heard Christian Thielemann conducting this Hollander and wrote how 'it was just a little bland and needed more drama regardless of how superbly detailed, transparent and natural it all sounded'. Last year it was conducted for the first time by Axel Kober and I thought much the same about his account. What a different a year makes – or maybe it was just me? – as despite my earlier reservations about the singing, orchestrally this was as fine a Der fliegende Hollander as I can remember hearing with the apprentice surpassing the Wagnerian master. As always it was impeccably played by the orchestra and received a tempestuous performance conducted forcefully by Kober 'mit Gewitter und Sturm'. My final words – as nearly always in this opera – must be for the truly magnificent Bayreuth chorus (directed as ever by Eberhard Friedrich) who excelled again here and often on their own make any increasingly demanding pilgrimage to Bayreuth truly worthwhile.
 Jim Pritchard