China Various composers: iSING! Suzhou International Young Artists Grand Finale, Jiangsu Performing Arts Group Symphony Orchestra, Massimiliano Murrali (conductor), Suzhou Culture and Arts Centre Grand Theater, Suzhou, 7.8.2016. (RP)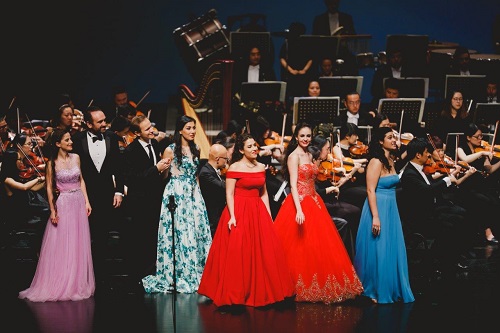 Now in its sixth season, the iSING! International Young Artists Festival culminated a month of intensive training for forty-two young singers and three pianists from around the world with a gala concert at the Suzhou Culture and Arts Centre Grand Theatre. Suzhou, a half hour from Shanghai on one of China's sleek, bullet trains, is a city with a population of 5.3 million, known for its canals, bridges and classical gardens. It is very much the China of today – all sleek and modern – with one of the newest and most dramatic additions to its skyline, the Gate to the East, dominating the cityscape. Situated on Jinji Lake, the Grand Theatre, which opened in 2007, seats 1,200 and shares the complex with a museum, an IMAX theatre, an arts school and other performance spaces. It's an impressive setting for this unique training program where Western grand opera meets its contemporary Chinese offshoot, and Mandarin is making its case as "la bella linqua" for the 21st century.
iSING! was founded by internationally renowned Chinese bass Hao Jiang Tian, with Martha Liao, the singer's wife, serving as the festival's general director. The 2016 program provided young musicians from Asia, the Middle East, Europe and the Americas the opportunity to work with renowned teachers, stage directors and musicians from around the world. In addition to the standard Western operatic repertoire, they are coached in modern Chinese works and performance style, with the non-Chinese participants required to take daily Mandarin classes. Equally valuable are the insights the young singers gain into the performing arts scene in China, with its exponential potential for growth. This concert does more than showcase talent, however, as it serves iSING!'s other objectives: introducing the music to a broader spectrum of the Chinese public and building audiences for it.
The concert was as much a crash course in geography as it was an introduction to the music of the lands through which the storied Silk Road ran. Luo Maishou is the composer in residence, and his arrangements of nine folksongs from Armenia to Xinjiang (a province in northwest China) were lushly orchestrated, vividly evoking exotic locales along the route. Two of the more exciting stops on the journey included British mezzo-soprano Phoebe Haines in "Song of Four Seasons" from Qinghai, situated high on the Tibetan plateau; and the sparkling coloratura and crystalline high notes of Iranian soprano Masha Salimi in "My Beloved" from her country. The road took a sudden detour north (trade and music just want to be free) with the Ukrainian folk song "Fog in the Valley," sung by the fine young baritone Igor Mostovoi in his native tongue. Soprano Nikoleta Kapetanidou's rich, full-voiced rendition of the Greek melody "Jasmine" was all the more special for the violin solo of Le Zhanh, who was the first Chinese violinist to play in the Metropolitan Opera Orchestra and now serves as concert master for the Shanghai Philharmonic Orchestra.
The Chinese songs, with their lovely melodies, soaring vocal lines and strong emotional pull, provided the singers ample opportunity to pour out beautiful sounds, and so they did. Turkish tenor Turgut Akmete gave a stentorian account of "Swan Geese," which tells of a man's longing for the grasslands of Inner Mongolia, his voice ringing clear and even throughout its range. Judging from the audience's initial reaction, countertenors are a novelty in these parts, but they were quickly won over by Albert Montanez's sweet tone and passionate singing in "Arc of the Moon," a song by award-winning Chinese composer and actor Li Haiying. Canadian mezzo-soprano Christianne Bélanger is a wonderful performer with a lovely voice and a vivid stage persona. Her every appearance on stage was special, but none more so than her singing of "The Grapes of Turpan." Turpan, which lies in the far northwest of China, was also a stop on the Silk Road, and in spite of its harsh climate, is famous for its grapes, the subject of this folksong known throughout China. Bélanger sang beautifully.
The selections from European operas were ideal to display the talents of the young singers and certainly pleased the audience. Italian baritone Andrea Zaupa was fully loaded with the animal magnetism and commanding voice requisite for Bizet's Toreador in excerpts from Carmen. Mozart's melodies and orchestration were a perfect counterpart to the more exotic fare, with Czech soprano Zdislava Bočková leading a witty performance of "Alla bella Despinetta" from Così fan Tutte. Chinese baritone Fei Zhou made a brief but impressive showing as Renato in a scene from Verdi's Un ballo in maschera. His is a voice to watch.
One aria has introduced more people around the world to opera than any other piece of music, and that is "Nessun dorma" from Puccini's Turandot. The Three Tenors turned it into a global hit, but it was a simple Chinese folk song, "Mo Li Hua" or "Jasmine Flower," from Hebei, a province in northern China, that inspired the composer. For the concert's finale, Luo Maishou took that simple tune (sensitively sung with by Spanish mezzo-soprano Jennifer Ramirez) and spun it into a choral extravaganza performed by the full company. It was a triumphant climax to an exotic musical journey along the Silk Road, with iSING! paving the way for countless others to enjoy similar treks.
Rick Perdian