United States Leonard Bernstein & Various Composers – Maestro (Book by Hershey Felder): Wallis Annenberg Center for the Performing Arts, Beverly Hills, 11.8.2016. (JRo)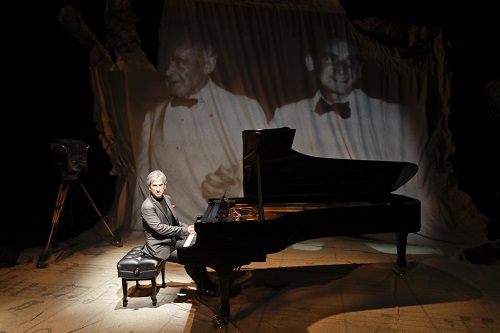 Production:
Music: Bernstein, Beethoven, Grieg, Gershwin, Copland, Mahler, Wagner, others
Direction: Joel Zwick
Scenic Design: François-Pierre Couture
Lighting & Projection Design: Christopher Ash
Sound Design: Erik Carstensen
Production: Trevor Hay
Hershey Felder, like Leonard Bernstein, is a passionate educator, offering general audiences musical insight into the creative process of composers from Irving Berlin to Beethoven. Here, in his one-man musical play, he explores Bernstein's life with skillful piano technique, nuanced vocals, and strong acting chops.
What was most engaging in this production, on view at the Wallis through 28 August, was the depiction of Bernstein's creative life in music. Raised by a religious father, Bernstein was steeped in the music of the synagogue; and Felder, channeling Bernstein and his cantankerous father, tied together Jewish mysticism, modal Hebrew music, and Beethoven's "Emperor" Concerto. It was moments like this that offered true excitement and enlightenment.
Problems arose when Felder covered too much of Bernstein's biography. Without a focus on a particular time in the conductor's life, the play became a laundry list of events from his Bar Mitzvah to his last concert. Towards the end of the hour and forty-five minutes, Felder made a rather perplexing connection to Wagner. Playing a piano transcription of "Liebestod" from Tristan and Isolde, Felder as Bernstein remarked that what drove his music was a search for love. There was a puzzling equation made between Wagner's vocal antisemitism and being true to oneself as a prerequisite for achievement. From this, Felder-as-Bernstein exclaimed, his love for men had to be acknowledged and accepted for him to be true to himself and create enduring music.
When Felder explored Bernstein's development as a conductor, from his early meeting with Aaron Copland through his tutelage under such luminaries as Fritz Reiner, Dimitri Mitropoulos, and Serge Koussevitzky, we experienced his comedic skills. Felder's portrayals were engaging but also supplied insights into Bernstein's musical development, his drive for success, and his later disappointments as a composer.
Felder offered a glimpse into the passions and psychic disturbances of this towering figure of American musical life – a conductor who galvanized audiences both on the concert stage and on television with his unceasing enthusiasm and his desire to educate the public through CBS's Young People's Concerts and the Omnibus series in the 1950s. The simple but effective set design with a piano, chairs, and a backdrop on which video was displayed established the composer's world. One of Bernstein's TV appearances was projected on this backdrop as the audience awaited the performance. Even with the noise of people entering to find their seats and settle themselves, Bernstein presented a riveting figure as he described various aspects of music theory.
Felder spent much of the evening at the piano covering Grieg, Beethoven, Gershwin, Copland, Mahler, and Wagner. He played Bernstein's more popular work – the charming 'I Hate Music' and selections from West Side Story and On the Town – and only a small sampling of his classical music. What was missing was more of this classical work, much of it unfamiliar to a wide audience. That would have been truly illuminating and would have served the goals and talents of both Felder and Bernstein. 
Jane Rosenberg