2016-17 Leeds Lieder Concert Series and Advanced Notice about 2017 Festival
30/08/2016
Leeds Lieder announces 2016-2017 concert series (and advance information about 2017 Festival)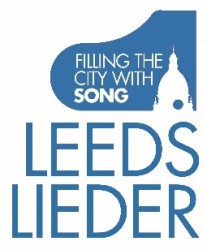 In collaboration with partner organizations Opera North, University of Leeds, Leeds College of Music and BBC Radio 3, Leeds Lieder is delighted to announce its 2016-17 season of concerts.
Bouyed by the success of the 2016 Festival, which was hailed 'A compact triumph of outstanding art song' by the Sunday Times and which showed a 36% increase in ticket sales on the previous Festival, acclaimed pianist Joseph Middleton has once again programmed the boldest and most ambitious series of art-song recitals and associated education events in the north of England. In April 2017 the much-loved Leeds Lieder Festival is staged, with internationally renowned soprano Dame Felicity Lott as the Guest of Honour.
Artists appearing in the 2016-17 season include:
Ian Bostridge, Sarah Connolly, Ruby Hughes, Graham Johnson, Jennifer Johnston, Dame Felicity Lott, Malcolm Martineau, Joseph Middleton, James Newby, RNCM Songsters, Anne Schwanewilms and Gemma Lois Summerfield.
Mahler Song Series, University of Leeds, recorded by BBC Radio 3
Held in the Clothworkers' Centenary Concert Hall, and in association with the Kathleen Ferrier Awards, the songs of Mahler are explored in a series that champions the finest young British Lieder singers. Pre-concert talks will illuminate the programmes and explore Mahler's song repertoire and that of his contemporaries. Masterclasses will be staged to work with student song duos. These concerts will be recorded by BBC Radio 3 for deferred broadcast.
Mahler Series I – 12th October 2016, Ruby Hughes (soprano) and Joseph Middleton (piano): BBC New Generation Artist laureate and past winner of the Borletti-Buitoni Award performs Lieder eines fahrenden Gesellen and Songs of Youth, alongside late songs by Schumann.
Mahler Series II – 5th November 2016, Jennifer Johnston (mezzo-soprano) and Joseph Middleton (piano): Jennifer Johnston has forged an international career that places her at the forefront of British singers. Her programme for Leeds Lieder includes Mahler's Kindertotenlieder and Rückert Lieder and songs by Wagner and Liszt.
Mahler Series III – 4th March 2017, Gemma Lois Summerfield (soprano), James Newby (baritone) and Joseph Middleton (piano): In association with the Kathleen Ferrier Awards.  Two new winners of the awards join Leeds Lieder Director Joseph Middleton to round off our Mahler series with a complete performance of Des Knaben Wunderhorn.
Leeds Lieder at the Howard Assembly Room, Opera North
Leeds Lieder continue their collaboration with the Howard Assembly Room, programming recitals given by internationally acclaimed performers: Sarah Connolly with Joseph Middleton and Anne Schwanewilms with Malcolm Martinueau.
Sarah Connolly (mezzo-soprano) and Joseph Middleton (piano), 26th November 2016 – Our esteemed Patron of Education, the unrivalled Sarah Connolly, performs Ravel's Shéhérazade, Schumann's Lieder Op.40, Britten's A Charm of Lullabies and songs by Ireland, Gurney and Quilter.
Anne Schwanewilms (soprano) and Malcolm Martineau (piano), 19th January 2017 – Described in Time Out as 'one of the world's finest interpreters of late romantic opera and song', Grammy-nominated soprano Anne Schwanewilms makes a rare UK appearance in a programme of Lieder by Strauss and Wolf.
Leeds Lieder at The Venue, Leeds College of Music
Royal Northern College of Music Songsters, 14th December 2016 – Our neighbouring conservatoire, the excellent RNCM, showcases their young singers and pianists in a programme to include songs by Quilter, Liszt, Brahms and Britten.
Ian Bostridge (tenor) and Joseph Middleton (piano), 19th February 2017 – Britain's foremost Schubert singer, Ian Bostridge, joins Joseph Middleton to perform Schubert's Winterreise.
For more information and to book tickets visit http://leedslieder.org.uk/.
Advance notice of 2017 Leeds Lieder Festival: April 21st-23rd, in venues across Leeds 
Guest of Honour: Dame Felicity Lott
More details of the recitals, extensive education projects, and world premieres of specially commissioned song cycles to be announced soon.
If you would like to join us at the London or Leeds Launch of the 2017 Festival programme please email info@leedslieder.org.uk to join our mailing list.
Comments