Italy Macerata Opera Festival 2 – Verdi, Otello: Orchestra Regionale delle Marche, Coro Lirico Marchigiani Vincenzo Bellini, Children's Chorus Pueri Cantores D. Zamberletti / Riccardo Frizza (conductor). Sferisterio of Macerata 13.8.2016. (JB)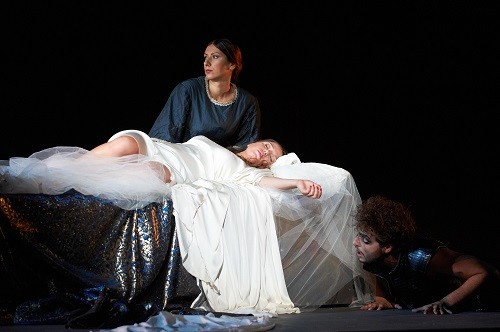 Cast:
Otello – Stuart Neil
Desdemona – Jessica Nuccio
Jago – Roberto Frontali
Emilia – Tamta Tarieli
Cassio – Davide Giusti
Roderigo – Manuel Pieratelli
Jago's henchmen: (mimes) Andrea Bellacicco, Fabrizio Pagliaretta, Fausto Lo Verdi, Jacopo Giantomasi, Marco Pupilli, Marco Rampello
Production:
Sets and Staging – Paco Azorìn
Costumes – Ana Garay
Lighting – Albert Faura
Video – Pedro Chamizo
Fight sequences – Carlos Martos
Coproduction with Festival Castell de Peralada.
Sprawled across the forbidding brick wall of the Sferisterio of Macerata in big white letters on a pink background it says, OTELLO, with the familiar portrait of the serious, elderly, whiskered composer, and one level lower on the highest of three roughly-structured wooden staircases is the signature, G Verdi.  No mention of W Shakespeare (the inspiration) or A Boito (the librettist).  Quite right too.  G Verdi took all the weaknesses of W Shakespeare's play and turned them into the strengths of his greatest opera.  If you want the strengths of W Shakespeare, stay home and pour yourself a glass of the finest wine and ponder on, and wallow in, the magnificent poetry you will find in the play's text.  If you want the drama, which is to say the theatrical experience, take a seat at somewhere they understand G Verdi.  I thank the Sferisterio for mine: the press box is raised some four meters higher than the stage at a distance of about four metres, immediately behind the conductor.
Like his great Sferisterio predecessor, Pier Luigi Pizzi, Paco Azorìn creates his own sets with an architect's eye for the most creative use of the permanent spaces and structures.  Those essential twins, intelligence and imagination, combine here in rare harmony.  As with Pigi, Axorìn uses his actors as scenery too, extending this to six muscular local lads who with balletic athleticism invoke the horrors of Jago's henchmen, even lifting their hero above their heads in triumph.  In the final scene, one of these boys shadows Otello.  Was the boy going to do the murder?  Mercifully, not.  In a clever, neat twist, Azorìn makes it clear that the boy is shadowing Jago, who as both WS and GV make clear, never leaves anything to chance.  Otello is never a coward.  He is duped.  But only when the boy makes a triumphant leap, after the murder, does he realize that he has been duped.  All this psychological accuracy in a few extraordinary movements.  I had never seen, nor am I likely to ever see again a production which so well communicates Verdi's subtleties.
Mr Azorìn has the stage director's rare art of telling a story while not telling it; there is a good deal of over-to-you as he invites the audience to consider what the music and the action are telling them.  There was one point where it seemed to me he had gone in for some overkill.  But I was immediately shouted down on this by colleagues from the French and Italian press.
The offending episodes take place during two scenery changes.  Each change has an Italian translation of a Shakespeare sonnet projected onto the huge back wall of the arena,
First, Sonnet 75:
So are you to my thoughts as food to life,
Or as sweet seasoned showers to the ground;
And Sonnet 138 (just ahead of Desdemona's bedroom scene):
When my love swears that she is made of truth,
I do believe her, though I know she lies,
 Like me, I am sure that Mr Azorìn would go along with John Bayley's assertion that it is no so much our reading the Sonnets as the Sonnets reading us by which, professor Bayley meant that everyone finds in the Sonnets what they want to find.  That, of course, chimes well with Axonrìn's polite invitations to ponder the sense of the works.  But as I've made clear, I believe the right place to enter into to joys and complexities of Shakespeare's poetry is an undisturbed seat in your own house.
The Orchestra Regionale delle Marche leaves much to be desired from some individual players.  But Riccardo Frizza worked so thoroughly with them that he succeeded in involving them in their playing, in ways they must never have experienced before.  His strings had bite as well as bark and that is an extraordinary accomplishment for even the finest strings, in the open air.  When players are giving more than they thought they could, there may be some blemishes in solo passages (there were!) but these matter little in the all-over musicality.  For these reasons alone, the Sferisterio management should sign Frizza up as their chief conductor.  The orchestra would thank them.
Frizza is also a considerate conductor with his singers.  He understands their problems.  And does Verdi ever hand some almost insuperable problems to the lead singers of Otello.
It grieves me to recall that opera singing is cruelly an all or nothing art: either you are one or the other, with little or no half-way house.  Sadly, I have to report that all of these singers spent more time in the nothing house than the all house.  Heaven knows they tried.  But even with a sympathetic conductor they stumbled and collapsed, only rarely rising to the occasion.
Stuart Neill is bumbling of movement, and that, you might say, could be seen as part of the Moor's character. He was also rather good at conveying Otello's authority in his Exultate opening. His public Otello is much better than his private Otello.  He is a lousy lover, so the all-important second act love duet, fails miserably.  And that kind of failure and misery are a long way from Verdi's hero.  I don't know Mr Neill, so I am unable to say whether it would be possible to coax these unfortunate traits out of him.  But what I heard and saw of Frizzi would suggest that the conductor had tried to help and failed.
Jessica Nuccio ticked some of the right boxes as Desdemona.  But she is inclined to relax the moment she has ticked the box and decline into something alien to the part.  Though her vocal technique is far from perfect she is very good at putting the brakes on.  And Desdemona is called upon to do this often.  Nuccio's is not a big voice, but she has already learnt that by breaking it, there are many wonderful vocal colours to uncover.  There are also many more, which for the moment, she has not discovered.  But she is young and shows every sign that she will learn.
Beauty of tone is already her specialty.  But I was disappointed in the Willow Song, which I had been looking forward to.  It was as though she had sensed the audience's hopes for her, panicked, and put on the brakes.  Wrong kind of brakes, dear Jessica: listen to Margaret Price's recording.  Dame Margaret has a much bigger voice than yours, but it is all a question of putting on the brakes on the voice you don't actually have in order to give expression to the voice that you do.
Roberto Frontali is technically solid, but managed to make Jago sound boring.  That is as far away as you can get from Verdi's requirements.  I remember Frontali as a superb singer-actor.  Whatever happened to this intelligent man?  Far from sounding evil in the credo, he could have been singing, Here we go gathering nuts in May.  And this was with all the right encouragement he was getting from Frizza's roaring orchestra.  It was a good idea to have the lads lift their hero above their heads but the whole point is that he IS above their heads, and a night-out with the lads is simply not on the cards for him.
Another local lad, Davide Giusto, gave a charming performance of the brief role of Casio. It's not easy to act vulnerability on stage, but Mr Giusto managed it remarkably well.
Jack Buckley