Argentina Berlioz, Roméo et Juliette: Alejandra Malvino (mezzo), Ricardo González Dorrego (tenor), Hernán Iturralde (baritone), Chorus Polifónico Nacional and Orchestra Sinfónica Nacional. Conductor: Facundo Agudín, CCK, Buenos Aires. 29.7.2016. (JSJ)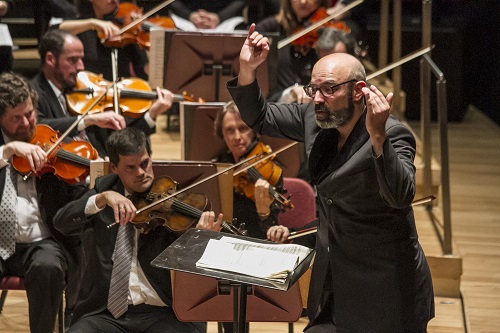 Choral works – that is oratorios and other works with soloists and chorus – tend to be few and far between in production in Buenos Aires. Certainly that is the case with Berlioz's symphonie dramatique Roméo et Juliette, which had its local premiere in 1973 and only now, 43 years later, its second full production.
For those unfamiliar with the work it is both unusual and highly complex, and both in structure and style. Among these are the ways the various vocal and orchestral forces interact and the breadth of colour and moods that are evoked. Thus, it requires large and capable resources. Indeed, Berlioz himself wrote: "It poses problems of every kind, problems inherent in the form and in the style and only to be solved by long and patient rehearsal, impeccably directed."
The challenge was here taken up by the Orquesta Sinfónica Nacional in its new 'home' – the 'Blue Whale' concert hall in the CCK cultural centre, which was developed by the former national government in the historic former central Post Office building.
And Argentine – now resident in Switzerland – conductor Facundo Agudín did "impeccably direct" with clarity and precision – certainly at this second of the two performances, as by all accounts he had done also at the first. Special mention to the harpists and flautists for their impeccable playing.
Alejandra Malvino (Juliette) sang her 'Strophes' with evenness and musicality and Ricardo González Dorrego (Roméo) brought an easy lyricism to the 'Queen Mab' scherzo, while Hernán Iturralde (Friar Lawrence) sung with appropriate authority.
The Coro Polifónico was split into two groups – a small chamber group alongside the orchestra, and on the balcony above the mass chorus with the men at the back and the women on the sides. The former was sublime and the latter, some minor unevennesses aside, was robust in its interventions.
Unfortunately, the hand programmes had run out leaving about half those present in the dark on the 'who's who' and 'what's what'. But two full houses of an eclectic public – entrance is free on a first come, first serve basis – attributed to the interest in this unique work. Presented as it traditionally is without a break, it did however, prove to be on the long side for some, who left at appropriate (and inappropriate) moments.
Jonathan Spencer Jones