United Kingdom Tchaikovsky, The Queen of Spades (sung in Russian): Soloists,  Holland Park Opera Chorus; City of London Sinfonia/Peter Robinson. Opera Holland Park, Kensington, London, 2.8.2016. (CC)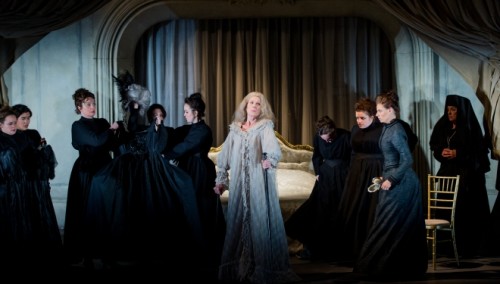 Cast:
Hermann – Peter Wedd
Lisa – Natalya Romaniw
Countess – Rosalind Plowright
Count Tomsky – Richard Burkhard
Prince Yeletsky – Grant Doyle
Polina – Laura Woods
Masha – Daisy Brown
Chekalinsky – Aled Hall
Surin – Simon Wilding
Governess – Laura Zigmantaite
Chaplitsky – Oliver Brignall
Narumov – Henry Grant Kerswell
Master of Ceremonies – Timothy Langston
Production:
Rodula Gaitanou – Director
Cordelia Chisholm – Designer
Simon Corder – Lighting
Jamie Neale – Choreography
This was a phenomenally successful way to close Opera Holland Park's 2016 season, a season that began with the deserved resurrection of Mascagni's Iris (see review). The cast held operatic royalty, too: Rosalind Plowright, no less (of whom more anon).But every part was actually cast, if not ideally in all cases, certainly from strength. Tchaikovsky's opera is magnificent, and deserves strong advocacy. Conductor Peter Robinson did a fine job in the pit, with the City of London Sinfonia continuing the standards heard at the season opening. Perhaps more strings would have been welcome, or a deeper, more Russian sound from those that were present, but no criticisms for the brass, who seemed to love their parts, particularly the fateful intonings of the Act I Introduction, nor for the woodwind contributions.
Using the available space to maximum effect, director Rodula Gaitanou capitalises on the available stage space, using lighting to create appropriately atmospheric (and sometimes spooky) effects in this well-loved ghost story. Not seen at Opera Holland Park since 2006 (in a different production), it seems a perfect fit. There's something about the Kensington setting that lends it to ghost stories (one thinks back to a lovely Turn of the Screw in 2012, reviewed on this site by Mark Berry). Neither does the production shy away from the more disturbing elements – here we have an instance of the reanimation of the coffin-bound Countess, perhaps not a Siegfried numinous moment, but impactful nonetheless. Lighting (Simon Corder) plays a major part, and is brilliantly managed. The winds around Holland Park animating stage curtains certainly doesn't hurt; backlit figures behind the curtains act as phantasms to torture the viewer. Gothic is the mot juste, putting the Mozart pastiche scene into nice relief. At the opening, we are in café society, tables neatly positioned around the stage and a white grand piano in the corner, with a samovar in the other corner. The sloped gambling table of the gambling scene did seem to refer to Richard Eyre's Covent Garden Traviata, or perhaps it is just that that's a thing these days.
Talking of nightmarish things, Rosalind Plowright's Countess, is a fearsome creature, permanently bent double and supported by two sticks, making her look like some malicious predatory insect. And from the second she entered, she dominated the stage. The eye – and ear – were drawn like a magnet. This Countess, once the "Venus of Moscow," now seeks to control, her coterie of servants a surely necessary part of her world view. Now a mezzo, Plowright sings with such innate understanding of the role that any gripes about her voice (and there would be few) seem irrelevant. Her phrasing could only be described as potent,
The singers for the lovers, Hermann and Lisa, are both well chosen. Peter Wedd, a company principal at Covent Garden 1999-2001 who has taken on Siegmund (Mexico) and Florestan (Garsington and Nederlandse Reisopera) was believable in his descent into delusion, hallucination and psychosis. Vocally his top range was fine but he had problems getting heard on occasion in the lower registers. As Lisa, Swansea-born, multiple prize winner at the 2012 Kathleen Ferrier Awards soprano Natalya Romaniw held terrific power while absolutely looking the part: young, fresh, and ultimately vulnerable. Her cries of "Murderer" sent a chill down the spine.
Richard Burkhard was a characterful Tomsky, excelling in his star turn aria, but most characterful of all the supporting male characters was the Chekalinsky of Aled Hall, tending towards but never overstepping the over-acted. The role of Polina is taken by the fruity-voiced Laura Woods, who can carry melancholy as if to the manner born; Grant Doyle a fine Yeletsky and Laura Zigmantaite a perfectly cast Governess, every inch the template of Governesses before and after.
The chorus was amazing, particularly in the masked ball, where the ensemble with the orchestra was astonishing. But wherever and whenever they sang, they stole the show. This is a remarkable opera, and it deserves a remarkable staging and performance such as this. A fine way to close the 2016 season.
Colin Clarke