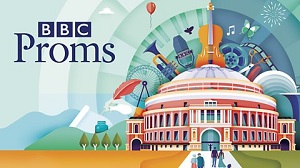 United Kingdom Prom 23 – Widmann, Schumann, Sibelius, Nielsen: Thomas Zehetmair (violin), Christa Schönfeldinger (glass harmonica), Teodoro Anzellotti (accordion), BBC Philharmonic Orchestra / John Storgårds (conductor), Royal Albert Hall, London, 1.8.2016. (GD)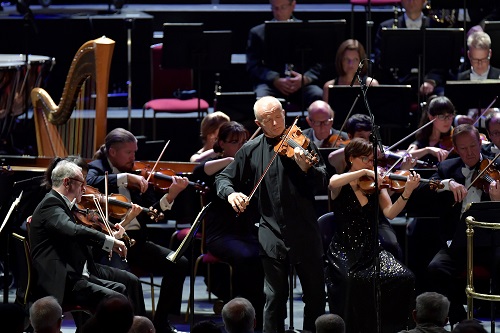 Jörg Widmann:  Armonica (UK premiere)
Schumann:  Violin Concerto
Sibelius:  The Tempest – Prelude
Nielsen:  Symphony No. 5
Schumann's Violin Concerto has a tortuous, protracted (even bizarre) history. It is a late work composed in 1853 and submitted to the great Hungarian violinist and composer Joseph Joachim for performance. Joachim retained the score but never performed it. There is evidence that Joachim initially admired certain aspects of the work, but later he described it as showing a certain 'exhaustion' which attempts to 'wring out' the last resources of 'spiritual energy'. Schumann attempted suicide in February 1854 and Joachim suspected the concerto was a product of Schumann's madness, thinking the work morbid. There were also claims, within the Joachim circle, that the work was 'over-loaded', 'unplayable'.  Also Schumann was becoming increasingly obsessed with the occult, with demons, ghosts and spirits – the second movement of the concerto actually quotes from his earlier Geistervariationen. Also Schumann was sure that the melody of a set of variations for piano he had begun had been dictated to him by the ghosts of Schubert and Mendelssohn, forgetting that the melody was the one used in the Violin Concerto. All this, and strange behaviour, attested to his madness, which today would be classified as severe bi-polar disorder. After Schumann's death in 1856, both Clara and Brahms omitted the concerto from the complete edition of Schumann's works. But the story does not end there. The actual first performance of the concerto (with some small emendations made by Paul Hindemith) was played in Berlin by Georg Kulenkampf with the Berlin Philharmonic conducted by Karl Böhm in 1937, in front of top rank Nazis Robert Ley and Joseph Goebbels. It was now hailed as a great German masterpiece, 'far superior' to the popular Mendelssohn Violin Concerto, which had been banned by the Nazis. So the work which had been seen as 'morbid' to be hidden away, was now used as Nazi propaganda. It is surprising that this concerto has not been the catalyst for a Foucauldian study of creativity and mental illness, and also the way music can be exploited by authoritarian power politics.
It was a pleasure to hear Thomas Zehetmair play this concerto. He has a special relationship with the concerto, helping to prepare the new edition, with quicker tempi, and some small emendations in the soloist's part, the orchestration – never veering from Schumann's general design. The first movement in D minor (without cadenza) is symphonic in structure and mood. It has a certain resemblance to the wonderful Cello Concerto of 1850, with its dissonances and underlying counterpoint. But here everything is extended with much more dramatic emphasis in the orchestra. Storgårds set just the right tempo which never sounded rigid or inflexible. Zehetmair managed the challenging solo part with a rare empathy. An empathy he shares with Latvian violinist Gidon Kremer, although their interpretive outlooks could not be more divergent; but Schumann's concerto opens itself to myriad interpretive styles, all equally valid. The second movement in B flat major is a quasi-intermezzo of intense and beautiful lyricism which however morphs into some more dissonant, dark but discreet, with almost haunting tones. The reference to the already mentioned Geistervariationen was subtly 'there'. The strong and contrasting Polonaise rhythms in the D major finale were played by both soloist and conductor with real vividness, light and joy, reminding me of the abandon and almost carnivalesque mood heard in earlier piano masterpieces like Carnaval and the Davidsbündlertänze. Perhaps the effects of bi-polar disorder are not all negative?
The second part of the Prom opened with the Prelude to Sibelius's incidental music to Shakespeare's The Tempest. It was a piece Beecham used to programme frequently usually with one of the two Tempest suites. It goes without saying that Storgårds and the orchestra gave the piece a vivid energy; with great crescendo's of ever more dramatic orchestral power and volume, quite similar to some of Sibelius' nature-scapes. As mentioned in the programme notes, one Sibelian described the piece as 'five minutes of pure onomatopoeia', although the two suites do contain some more subtle music
Every facet of what is arguably Nielsen's greatest symphony was delivered with total conviction and adherence to the score. I have rarely heard the BBC Philharmonic Orchestra in such splendid form. But of course the real unifying force here was Storgårds' conducting. As with Sibelius, but on a different symphonic level, Nielsen, and this symphony in particular, require a real grasp, not just of structural coherence, but of how the music evolves transforming into different, sometimes remote, tonal contrasts. This was evident from the beginning of the work where we have a sustained but static pulse in the strings, the woodwinds taking up the themes. Here an A major and C major are established. But then we are wrenched into a relentless F rhythm on side drum over a pounding timpani figure. As this martial sequence subsides, we are taken into a serene but remote tonal landscape, initiated in a confident sounding D. But as this develops, in a huge and measured crescendo, the confident D gives way to a more sinister figuration in the woodwinds, running counter to the broad glow in D. As this reaches a huge climax with resplendent horns intoning the D theme, we are hurled into a sudden sustained and menacing rhythm on snare drum in a tempo faster than that of the orchestra. At this point Nielsen instructs the snare drum player to disrupt the flow of the tutti drive as much as he can. Storgårds managed these strange and varied contrasts and progressions with consummate mastery. Tonight's percussionist made this wild onslaught quite clear playing in increasingly louder rhythmic units, until the sanity and triumph of the orchestra rose above the mad drummer, who seemed to march off into the distance, with ghostly dying off-stage tattoos.
Storgårds managed to unify the symphony's two vast movements with total musical and structural conviction. The opening of the second movement Allegro, in the form of a scherzo, with a pounding and incisive three-note timpani figure, was executed with power but never sounded ponderous, as is sometimes the case. This develops into an ominous fugue which at first has a bucolic feel to it, but with a tonal shift to F the fugue, now ferociously hammered out by full orchestra, takes on a tone of sustained menace. Here the 'Walpurgis Nacht' is not too far away. The fugue does not so much subside as fragment, with an angry duel between clarinets and timpani – a quite unique sound in symphonic music at the time it was written. It was details like this where Storgårds and the orchestra excelled, with superbly sharp clarinets and superb timpani playing. After a slow ('not too slow') and ascending fugue initially in the strings, the movement's opening, through a superb tonal shift to the scherzo theme, reappears, now in the resilient major. This initiates the coda heralded by festive octaves on trumpets and horns, which ends in a festive C.
Many commentators have emphasised the optimism of the coda, but even before the final hammered out Cs on crescendo timpani, there is an undertone of menace in the insistent frantic figure on strings in the lower register, intoning a speeded up version of the woodwind trills which darken the huge crescendo, giving way to the disruptive drum part in the first movement. A note of stoic resilience ends the work …which some have seen as the restless energy of the force of life. But this is only achieved through a course which entails a conflict with the forces of death and destruction. Tonight I felt that this hard won victory of the forces of life with more power and conviction than in any performance I have heard, on record and in concert. It of course says a lot for Storgårds that it was Nielsen's fascinating music which shone through, and a performance or an interpretation cannot achieve much more than this!
The Prom opened with German composer Jörg Widmann's Armonica, premiered by the late Pierre Boulez at the Mozartwoche at Salzburg in 2007 with the Vienna Philharmonic Orchestra …is a CD of this imminent? In many ways, and at a general level, Armonica recalls some of Boulez's inventions; his ground-breaking Le Marteau sans Maître, and later works like Répons and Livre pour chords. The same focus on multi-layered configurations in timbre and harmony, although Widmann's work is no mere imitation of Boulez, or any other composer; it is very much his own composition. Like many modern composers from Xenakis to Gubaidulina there is an emphasis on textural experimentation; unfamiliar sounds juxtaposed with more conventional orchestral sounds. In this context I am reminded that Mozart, especially in his later years, became fascinated with the strange tones of the glass harmonica. In Widmann's musical constellation cascades and filigrees of light fall on a particular section of the orchestra initiating a kind of prismatic dialogue which soon transmogrifies into dialogues of change and difference. To enhance this spectrum of light and transformation the score is embellished by an array of tuned percussion; celeste, harp, piano, vibraphone, glockenspiel and crotales. Although the score is mostly a kind of symphony of light and multiple shades some of the tones/sounds had a unheimlich effect as when the glass harmonica at a high register imitates a woman's voice, sometimes morphing into a scream. Christa Schönfeldinger's glass harmonic contributions were exemplary, as were Teodoro Anzellotti's accordion parts. Storgårds with minimal gestures contoured the whole structure admirably. the ringing tones of a mobile phone shortly after the work's opening were not part of this fascinating sound-scape.
Geoff Diggines