United Kingdom Bizet, Her Name Was Carmen (Irina Kolesnikova Season): Dancers of the St Petersburg Ballet Theatre, Orchestra of English National Opera / Igor Tomashevski (conductor), London Coliseum, London, 25.8.2016. (JPr)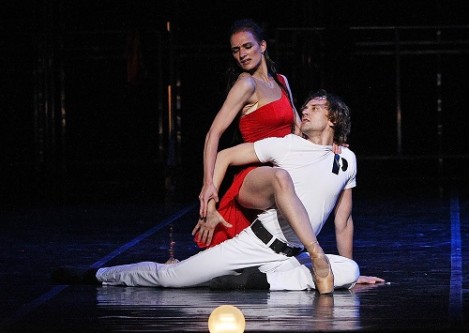 Principal Dancers:
Irina Kolesnikova (Carmen)
Dmitry Akulinin (Jose)
Yuri Kovalev (Garcia)
Production:
Orchestration: Murat Kabardokov
Libretto: Roman Smirnov
Choreography: Olga Kostel
Sets and Costumes: Vladimir Firer
Lighting designers: Evengy Gansburg & Konstantin Binkin
Video Art: Natalya Naumova
In the last year there has already been a very deeply disappointing Carmen from Carlos Acosta (review) which for all its faults at least retained some of the plot of the original opera. All that this reinterpretation by St Petersburg Ballet Theatre keeps is jumbled extracts of Bizet's original score and a couple of the names. However, it was the name of Carmen that attracted some of the audience to the London Coliseum. Unfortunately, I am sure many were like the couple behind me who had not read beforehand what they were seeing or bothered to read the synopsis in their programme. I overheard one of them saying at the interval 'I suppose Carmen is in prison' and then – having read about the updating to a Syrian refugee camp setting – exclaimed 'Gosh! It's very topical isn't it!'
What we get is the scenario of how Irina Kolesnikova's Carmen is the daughter of a wealthy Spanish businessman of Syrian descent who has been killed by the Mafia. She is fleeing what appears a disastrous love-hate relationship with Garcia, her father's former head of security now turned people-smuggler. Carmen is described as 'selfish and arrogant' and seduces one of the policemen guarding the refugee camp leading to a suitably tragic outcome.
Although there were cheaper tickets the majority ranged from £65 to £115. The ballet was barely 70 minutes long (excluding the interval) which is about a one pound per minute to even worse. This new twist on Carmen was supported by Oxfam and in their blurb the audience could read how 'As part of their research for the new full-length ballet, Irina and Konstantin Tachkin (Director of the St Petersburg Ballet Theatre) travelled to refugee camps in Macedonia and Serbia with Oxfam … One pound from every ticket sold for Her Name Was Carmen is going directly to Oxfam's Refugee Crisis Appeal, which is part of the Stand as One campaign.' The latter 'calls on world leaders to keep refugees safe, supported and with their families.' Given the ticket prices perhaps one pound doesn't seem very much but it was very worthy and well-intentioned but in my opinion did not achieve its aims in any significant way.
After the Bolshoi Ballet's Flames of Paris (review) with all the revolutionaries happily dancing their way to the barricades with some being killed in the process; here – in an eclectic mix of very clean, ethnically-diverse, loose-fitting costumes (from Vladimir Firer) all in garish primary colours – for most of Act I everyone seems quite happy with their circumstances. There is a jolly game of football (to Carmen's Seguidilla for some reason) with the volunteers in their turquoise t-shirts with V on them … all the police have white ones with a P! At one point the paparazzi gambol in (to the tune of The Toreador Song and everything at this point is much too sanitised and far removed from the genuine plight of disposed people or the economic migrants in the real refugee camps. Without any of Carmen's back story shown not much happens for a while once she is chased in through the auditorium followed by figures with searchlight until Garcia appears later in Act I with his two henchmen and two henchwomen. Only then is there any sense of actual threat despite six mobile metal fence panels being shifted around hinting at the refugees' herding and incarceration. This would be ok once or twice but it is repeated and repeated and I was succumbing to ennui.
There is a saccharine sweet little girl (a prodigiously talented unnamed dancer) whom Carmen protects, but the better moments only come from the title character actually revealing something about herself. Previously disguised as a boy she slips out of her drab clothes as a butterfly – here a lady in red – from a chrysalis for a languid Act I solo to Carmen's Habanera. Described in the programme as 'selfish and arrogant' this reveals how all the men find her irresistible and those she charms literally end up tied in knots with their own scarves. This added to the best moments in Act II suggests there was a good one act ballet here that could have been put on as part of a longer more-value-for-money evening. There is a wonderful pasodoble-influenced duet for Carmen and Garcia closely followed by a deeply romantic duet for Carmen and Jose to The Flower Song. These highlights suggest at what the ballet might have been, perhaps it was too quickly cobbled together? Here there is all the intensity, drama, passion and jealousy missing elsewhere and only this could justify linking what we see to Bizet's opera which has these qualities from the first note to the very last. The end of this Carmen's story comes all too quickly (in more ways than one) and she saves Jose from being stabbed by Garcia. Dying in Jose's arms the silhouette of Carmen's 'soul' is shown approaching a large moon in the background. This intriguing videography from Natalya Naumova – whether sunsets, passing clouds or that moon – often provided a welcome distraction to some of the fence-work at times.
It is not just the sanitised treatment of the story which lets down Her Name Was Carmen but Olga Kostel's rather uninspired – though idiomatically Spanish-flavoured and shaped – choreography which especially lacks development and depth of character. Carmen evolves in an instant from a tomboy in disguise fleeing her pursuers into a minx, Garcia is just a scenery-chewing traditional ballet villain and Jose is a bit of a wimp who falls deeply in love with Carmen much too quickly. There is so much suffering, tales of courage and the ability of the human spirit to transcend all travails from the stories of real refugees that this ballet never comes anywhere near to depicting on stage. All we get are a few repetitions of gestures of despair. Yuri Kovalev as Garcia and Dmitry Akulinin as Jose both have stage presence and solid techniques and make the best of what little they have to do. Irina Kolesnikova also demands the audience's eyes to be on her whenever she is on stage and while she exudes a certain effortless too cool-to-care allure, her long-limbed movement is more technically accomplished than sexy. On the opera stage I have seen Carmen do something far more erotic with a flower and her skirt to attract her Don José which Kolesnikova never achieves. The corps de ballet are enthusiastic and energetic with just a slight hint that they are a bit overworked with all the rushing around they have to do.
The conductor, Igor Tomashevski, jollied the laudably reliable Orchestra of English National Opera through music most of which they – and I –  assuredly recognised. Murat Kabardokov's orchestration mixed and matched familiar themes and this occasionally became a distraction because of memories of what actually happens in the proper opera. An entirely new score perhaps would have been better, but of course might not have been as good as Bizet's name in attracting an audience.
Jim Pritchard
For more about ballet at the London Coliseum visit https://www.eno.org/whats-on/.