Spain Puccini, Turandot: Liceu Orchestra, Coro Intermezzo, Gianpaolo Bisanti (conductor), Castle Gardens Auditorium, Peralada, 6.8.2016. (JMI)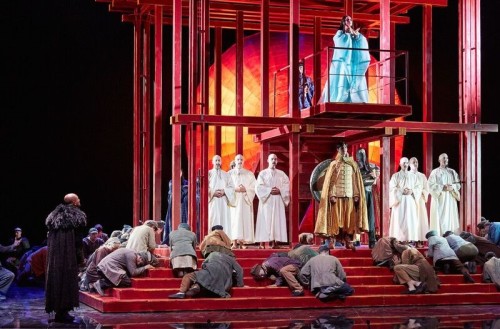 New Production:
Direction: Mario Gas
Sets: Paco Azorín
Costumes: Antonio Belart
Lighting: Quico Gutiérrez
Cast:
Turandot: Iréne Theorin
Calaf: Roberto Aronica
Liù: Maria Katzarava
Timur: Andrea Mastroni
Ping: Manel Esteve
Pang: Francisco Vas
Pong: Vincenç Esteve Madrid
Altoum: Josep Fadó
Mandarin: José Manuel Díaz
The Peralada Festival chose Turandot as this year's opera, with a new production by Spanish veteran Mario Gas. It's a fairly traditional work on the whole, with some original – and questionable – touches. The set consists of a rotating stage with a large pagoda that serves the text well. The costumes are fairly timeless for the chorus, more traditional for the main characters, and rather modern for the three ministers.
The staging narrates the plot well until it arrives at Mr. Gas's original twist. As is well-known, Puccini did not finish the opera. When we get to the scene of Liù's death, the orchestra stops and a voice is heard from the loudspeakers explaining that at the premiere in Milan, Toscanini ended the performance here; the opera was later completed by Franco Alfano. Mario Gas follows Toscanini's example, but the performance continues. The final scene takes place in a concert version with the singers dressed in contemporary clothes. This decision seems to me questionable and rather gratuitous. The fact that Puccini did not finish the score has little or nothing to do with the stage production, and it would be more logical to end the performance as at its premiere.
As for the direction, Mario Gas offers the "originality" of Ping, Pang and Pong as corrupt and violent beings. I guess this concept must have been influenced by the fact that they are ministers.
The musical direction was in the hands of Gianpaolo Bisanti, whose reading was somewhat irregular. I confess I expected more from him, but the orchestra was correct. The Intermezzo Chorus gave an excellent performance with a freshness and musicality comparable to what one hears today in Spain only at Madrid's Teatro Real and Valencia's Les Arts.
The protagonist was Swedish soprano Iréne Theorin, whose performance was fully in line with what one expects from her. She is a remarkable singer, always convincing in her interpretations, and well known for her Brunnhildes. The problem is that her top notes are invariably shouted as they are out of her reach. The audience can attach more or less importance to this fact, but for me it is quite important.
Roberto Aronica was not a convincing Calaf: his voice is rather light for the role. The best part of his performance was the duo that Alfano wrote for the last act, but "Nessun dorma" was not particularly bright. He avoided the high C after the resolution of the three riddles. Although not written, it's a high note of tradition; there are many such notes in other operas, and tenors hit them if they can. Two examples will suffice: the high C of "La Pira" and the high B that ends "La Donna è mobile." Neither is written, but no tenor escapes them.
Mexican soprano Maria Katzarava did well as Liù. All opera lovers know that, as with Micaela in Carmen, it's hard not to succeed as Liù: the part has the most beautiful music of the entire opera. She was convincing in "Signore ascolta" but less so in "Tu che del gel sei cinta."
Andrea Mastroni was a somewhat irregular Timur, rather coarse and not too pleasant in the first act, but remarkably improved in Act III.
The three ministers were adequately covered by Manel Eteve (Ping), Francisco Vas (Pang) and Vincenç Esteve Madrid (Pong). Josema Diaz was a sonorous Mandarin, while Josep Fadó sang Altoum with a voice suited to Calaf.
 José M. Irurzun