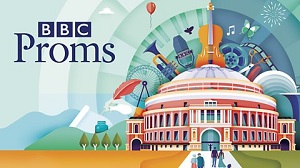 United Kingdom Prom 57 – Larcher, Wagner, R. Strauss: Elisabeth Kulman (soprano); BBC Symphony Orchestra / Semyon Bychkov (conductor). Royal Albert Hall, London, 28.8.2016. (CC)
Thomas Larcher: Symphony No. 2, 'Cenotaph' (UK premiere)
Wagner: Wesendonck-Lieder (orch. Mottl)
Strauss: An Alpine Symphony
In many ways, this is what the Proms are for: Strauss's Alpine Symphony seems to beg for the South Kensington venue's huge spaces, while the Proms has long prided itself in the championing of new music (the BBC SO too, for that matter). Here, both aspects were celebrated in a terrifically stimulating, if not ultimately terrifically satisfying, evening.
Austrian composer Thomas Larcher (born 1963) lives an isolated life in the Austrian Alps – the perfect link, one might suggest to the behemoth in the programme's latter half. A pianist and composer, Larcher studied piano with Elisabeth Leonskaja in Vienna. Composition has been Larcher's prime activity only since around 2014, but this music breathes confidence. His Second Symphony (2015/16) was premiered by Semyon Bychkov in June this year so effectively the ink is still wet. On that occasion the orchestra was the Vienna Philharmonic. The piece is a monument (a cenotaph) to 'the thousands of people who have drowned in the Mediterranean' during the refugee crisis; the work's intent is to raise questions, not to damn.
Cast in the traditional four movements of a symphony, Larcher's piece also draws on the symphony's traditional form, intending to bring it into the present day. A brave idea, especially when cadences in and references to A minor regularly occur in amongst a prevailingly modernist language. To bring this post-modernist idea into focus convincingly requires a composer of some skill, especially over the course of a 35-minute canvas. Larcher actually succeeds beautifully. His imagination meets his ability to carve a structure, resulting in an austere yet occasionally welcoming edifice (itself a concept mappable onto the Richard Strauss, but with different proportions of the two facets). The intensity of the first movement never flagged, as if the buzzing, tense energy of the work's opening was unstoppable. Distinct Straussian tropes seemed highlighted, perhaps because of its bedfellow on this occasion. The Mahlerian breadth of the slow movement was married to a palpable warmth. Was a passage featuring harp and celesta intending to invoke cow bells, one wonders? Another passage for piano, harp celesta and vibraphone was, incidentally, described rather wonderfully in Gavin Plumley's programme note as 'aquatic glitter'.
The third movement, a trio-less Scherzo, evinced more than a hint of the psychedelic, as well as including no fewer that 140 accelerating repetitions of the same chord, during which dynamics seemed calculated to give the impression of waves. The finale opened with a simply superb muted trumpet before the buzzing tension of the opening reappeared, now with increased immediacy. The work's coda is a glorious eulogy (it includes tolling bells); leader Stephanie Gonley's violin solos were radiant. All credit to the BBC SO's players for realising this score so very convincingly.
Separating the two purely orchestral works were Wagner's intimate Wesendonck-Lieder, here featuring the super mezzo of American singer Elisabeth Kulman, making her Proms debut. Ideally accompanied by gossamer strings, Kulman's entrance in 'Der Engel', the first song, introduced her simply lovely voice. Her diction, too, was spot on. Just occasionally, as in the urgent second song, 'Stehe still!', Kulman was too restrained, too quiet. It was wonderful, too, how Bychkov and Kulman conspired to find a real plateau of peace in the Tristan-drenched 'Im Triebhaus' (a special mention for Norbert Blume's superb viola solo here). Bychkov found a lovely bed of shifting sound in 'Träume'; Kulman was once more superb, her pitching at "Allvergessen, Eingedenken!" absolutely spot-on.
Many, surely, had come just for Strauss's extravaganza; not least to hear the Royal Albert Hall organ both at the climax and in the final stages with its church chorale, and to experience the off-stage brass fanfares echoing around the hall. The opening was unfortunately not together, which set things off on a slightly sour footing; and the nicely but not vastly warm trombones and tuba early on confirmed this was to be a good if not outstanding Alpine Symphony. Bychkov clearly has a handle on the work, as it unfolded naturally, and Strauss's colourscape was often nicely honoured (the Waterfall in particular). One has to give a special mention to the solo horn of Martin Owen, a star amongst stars; stars who worked together to provide a most visceral Storm.
While the great orchestral outbursts were certainly bright, they had a brashness about them that seemed at odds with Strauss's inherent opulence. One has to admit some Straussian glow to the work's close, but while this performance ticked all the Prommers' boxes, I for one remain unsure it ticked all of Strauss's.
Colin Clarke