Argentina Puccini, Tosca: Soloists, Chorus and Orchestra. Conductor: Carlos Vieu, Teatro Colón, Buenos Aires. 23.8.2016. (JSJ)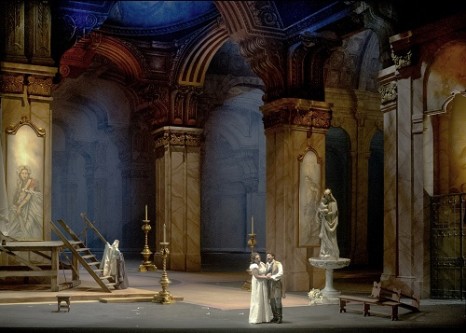 Cast:
Floria Tosca: Eva-María Westbroek / Eiko Senda
Mario Cavaradossi: Marcelo Álvarez / Enrique Folger
Barón Scarpia: Carlos Álvarez / Fabián Veloz
Sacristán: Luis Gaeta / Gustavo Gibert
César Angelotti: Mario De Salvo / Emiliano Bulacios
Spoletta: Sergio Spina / Gabriel Centeno
Sciarrone: Fernando Grassi / Sebastián Sorarrain
Carcelero: Carlos Esquivel / Claudio Rotela
Pastor: Julieta Unrein / Morena La Vecchia Galán
Production:
Direction, sets and lighting by Roberto Oswald
Director/costumes: Aníbal Lápiz
Chorus: Miguel Martínez
Children's Chorus: César Bustamante
This production of Tosca at the Teatro Colón has been eagerly awaited and was significant for several reasons.
First (and in no particular order) it was given as homage to the late Roberto Oswald, who died aged 80 in 2013 after a long and distinguished career in the production of opera and ballet, much of it at the Teatro Colón. The production was his, dating from 1992, with reprises in 1993, 1998 and 2003, and now again with apparently some minor adaptations by long-time collaborator Aníbal Lápiz, who was also responsible for the very appropriate costumes. 
And a grand production it was with the scenery very much from another era and perhaps unlikely to be encountered in a new production today, with the splendour of the church of Sant'Andrea della Valle and the Palacio Farnese in the first two acts and the striking monument on the Castel Sant'Angelo for the third. Large spaces made for a realistic unfolding of the drama, without ever feeling crowded.
Second, it marked the return to the Colón 19 years after his debut of the tenor Marcelo Álvarez as Cavaradossi. Whatever the reason(s) for that it is now finally past and he acquitted himself well. In several interviews he referred to the obvious pressures to the high expectations of him performing again in his home country but on stage there were no signs of that and he displayed all the power and intensity with the colours and nuances of voice that have resulted in him gaining the international stature that he has.
Third, alongside Álvarez was Eva-María Westbroek making her Colón debut in the title role – and also Carlos Álvarez, last seen in Cura's Otello, as Scarpia, to make up a rare top level cast. Westbroek's Tosca was a powerful one, moving easily from the jealous lover of Cavaradossi in the first act to the hardening but potentially submissive mistress of Scarpia in the second and the mixed emotions of hope and despair in the third culminating in her jumping to her death.
Carlos Álvarez's Scarpia was no less powerful and always refined, nevertheless showed the streaks of cruelty and passion that ultimately result in his death. Among the other cast, Luis Gaeta presented a bumbling but solid Sacristan and Mario De Salvo a correct Angelotti, while Sergio Spina was a restrained Spoletta.
Last but not least, this was first full opera production under the musical direction of Carlos Vieu. No stranger to the Colón podium, the sure hand that he has shown in operatic productions elsewhere was very much in evidence, with good response from the orchestra, as also from the two choruses.
Álvarez hinted in one of the interviews, without giving any details, that he will be back perhaps as soon as next year – and that is certainly something to look forward to.
Jonathan Spencer Jones