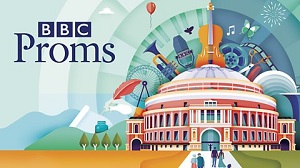 United Kingdom Prom 46 –  Grisey Mahler Mozart: Soloists, BBC Symphony Chorus, BBC Scottish Symphony Orchestra / Ilan Volkov (conductor), Royal Albert Hall, London, 20.8.2016. (GD)
Gerard Grisey: Dérives (UK premiere)
Mahler: Rückert-Lieder
Mozart:  Mass in C minor, K 427
Louise Alder (soprano)
Carolyn Sampson (soprano)
Tanja Ariane Baumgartner (mezzo-soprano)
Benjamin Hulett (tenor)
Matthew Rose (bass)
It was good and refreshing to hear music from a contemporary French composer. Important composers like Pascal Desupin, Jean Barraque and Tristan Murail, to name just a few, are rarely played in the UK. Grisey, who sadly died in 1998 aged 52, was generally seen as a 'spectral' composer, that is, a composer who explores the spectrum of tone and colour between harmonic overtones and noise. Grisey later refuted this stating that he was primarily concerned with music as sound, having nothing to do with 'literature, mathematics, the visual arts' etc. In this sense his work is similar to that of Xenakis and Ligeti, also fellow French composers like Michel Levinas (not to be confused with the Lithuanian/French philosopher of that name). The title ' Dérives' can be traced in the works measured formation of new/related themes which emulate over a quite long time span (26 minutes to be precise), But Grisey's work has little to do with quotidian clock-time, the seemingly vast and static interludes exceed time in the normative sense.  Dérives (written for two orchestral groups) can also be seen as a work of shifting contrasts; contrasts in sound, orchestral texture, as transmitted and relayed between the two orchestral groups, volume and mood. Some of the climaxes (if climaxes is the right term) exceed the thresholds of 'music' and transmogrify into noise – at one point Crisey instructs the players to stamp their feet! Sometimes the 'climaxes' (variously in ostinato form and sound-wave patterns of repetition) gradually die down as part of a predominantly static 'timeless' sound-scape; at other times they fuse or 'clash' with constellations and clusters of extreme orchestral dissonance intensified by a battery of percussion. When Grisey does work around traditional tonalities, particularly E flat, they rarely sustain themselves as self-evident, or dominant, becoming dislocated within other dissonant or a- tonal textures; becoming 'undecided' in the normative sense.
Almost corresponding to Jacques Derrida's notion of the undecidability in the play and difference (or 'difference') in language. The last configuration of violent clashes and dissonances degenerate into silence where only a fragmented figuration on solo piccolo and accordion are left (as the programme note writer puts it) hovering 'uncertainly", or Derrida's 'undecidability'. However, I disagreed with his (the programme note writer's) contention that this undecided ending was in any way 'comical'; there was not even a trace of the comic! Which is not to say that comedy is alien to Grisey's musical physiognomy. Volkov and the superb BBC Scottish Symphony Orchestra, gave what sounded a compelling and empathetic rendition of this complex work. Volkov has obviously studied and rehearsed rigorously this huge score – laid out in front of him on a large podium stand. I look forward to hearing more works by Grisey, and the other composers mentioned above.
It was quite a contrast to hear the lyrical song world of Mahler after the dissonances and new sound configurations of Grisey. Although it should be remembered that in his day Mahler was seen as an experimenter in new and daring sounds – often upsetting the smug conservatism of bourgeois audiences.
Composed in 1905 the five Rückert Lieder are arguably the best of his song cycles, with the exception of Das Lied von der Erde. There is no narrative theme in these songs, apart from them all being set to poems by Rückert. Mezzo-soprano Tanja Ariane Baumgartner conveyed a real empathy with Mahler's idiom. The first song which intones the metaphor of an idealised sun, with 'hair of gold', as metaphor for sublime love, was phrased beautifully, with no awkward underlining. The second song, dealing with the lack of deliverance in mere songs – and the way that nature reveals truth in a way men cannot, was similarly subtle in phrasing and 'sotto voce' tones. 'At midnight' is arguably Mahler's finest song. It is certainly the most elaborate and grand of the five, building up to a quasi-religious affirmation, very close to Mahler's heart. Baumgärtner again phrased beautifully with very clear German pronunciation. And Volkov articulated the descending, central wood wind figures with a subtlety not always heard. This was very distinguished Mahler indeed, although it didn't quite erase memories of the young Christa Ludwig with Klemperer. The final two songs were similarly beautifully sung and conducted, especially the last song 'I am lost to the world' with its subtle combination of poetic tenderness and resolution.
We know from letters to his father that Mozart intended the C minor Mass as a dedication to his marriage to Constanze Weber in August 1782. However, although Mozart performed the work in Vienna and at the Abbey Church of St Peter's in Salzburg (where we know that Constanze sang one or two of the arias), he never actually completed it, his performances being made up from earlier works which was common practice at that time. We will probably never know exactly why Mozart never completed such an obviously important work. But we can speculate that it was partly to do with the amount of work and commissions he took on in Vienna, and partly the reforms being introduced by Emperor Joseph 11 to simplify and shorten church music. Mozart certainly had no intentions of running counter to the Emperor's ideas. There have been several attempts to complete the Mass. Tonight Volkov used the performing version by the late Austrian composer Helmut Eder. It is a little misleading to call this a 'completion' as the programme notes tell us. In fact, Eder did little more than make modest re-orchestrations filling in links between the movements which Mozart left undone. It is nothing like the ambitious 'completion 'of Robert D Levin, which attempts to totally complete the work using material from a later cantata Davidde penitente (K 469)
The opening Kyrie (so effectively used in Robert Bresson's film A Man Escaped (1956) was taken at a forward moving tempo, the 'Andante moderato' marking leaves open a range of tempo choices. But I think a slightly broader tempo would have allowed for more gravitas. Also I would have welcome more counterpoint between choir and brass; Mozart's three trombones need to be heard more, also the ceremonial timpani parts. After the rhythmically focused Gloria Carolyn Sampson's Laudamus te was a joy, with some brilliantly controlled coloratura. I must make special mention of the superb duet Domine Deus in which the two sopranos came into natural accord. This can be seen as a kind of summation of baroque vocal counterpoint from Bach, Handel and Vivaldi. And this was no doubt partly due to Mozart's sustained study of earlier composers from the library of his Vienna disciple Baron von Swieten. The same can be said of the magnificent Qui Tollis marked 'Largo' for double chorus. Its myriad contrapuntal strands are sustained by a powerful ostinato in the bass register. It could be argued that this surpasses anything in Bach, Handel and certainly later Beethoven, who found choral counterpoint extremely difficult. The BBC Chorus managed the Qui tollis (a test for any choir) quite well although there were signs of strain particularly in the higher registers; certainly no match for the superb Radio Choir of Berlin as heard in Abbado's splendid 'live' recording. Volkov conducted it in a straightforward manner in a tempo on the fast side for a movement marked 'Largo'. Again it lacked a certain gravitas, despite the largish choir deployed. This extraordinary music (where the term 'great' for once is not out of place) really needs someone like Klemperer to realise its monumentally sublime tone. After the resplendent opulence of the Quoniam and the Cum Sancto and the baroque choral splendours of the Cum Sancto Spiritu, Volkov conducted an excessively fast, rushed rhythmic opening of the Credo, it is marked Allegro maestoso denoting a certain sense of majesty and splendour. But the Et incarnatus est was beautifully sung by Louise Adler and Volkov provided some expressive accompaniment, especially in the wonderfully ornate woodwind concertante writing. We know almost certainly that this was written for Contanze, it was also a fitting musical gesture for the birth of their first son. Constanze must have been a most accomplished soprano. As was Mozart's practice he wrote the aria to specifically suit her voice, her vocal range, which would be difficult for any singer to sustain at all vocal registers, and especially the operatic sounding coloratura sequences. The tenor and bass were adequate (professional) rather than inspired in the Quonium and in the concluding Benedictus, where the bass has a kind of walk-on part.
Overall this was, despite some reservations, a concerted projection of one of the greatest choral masterpieces in existence. It presented Mozart's unique music virtually how he left it. An example of a great incomplete work of art, as with Kafka's two last great novels, and Leonardo's The Last Supper in Milan. The versions which attempt a total recompositional finish (I am thinking particularly of Robert D Levin's 'completion') are 'interesting', but the only man who could have finished the 'Great C minor Mass' was Wolfgang Amadeus Mozart.
Geoff Diggines