Austria Wagner, Lohengrin: Soloists, Orchestra and Chorus, Staatsoper Wien, Yannick Nézet-Séguin (conductor), Vienna Staatsoper, 5.9.2016. (JMI)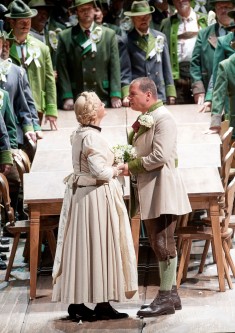 Wagner, Lohengrin
Cast:
Lohengrin – Stefan Vinke
Elsa – Ricarda Merbeth
Ortrud – Petra Lang
Telramund – Tomasz Konieczny
King Henry – Günther Groissböck
Herald – Boaz Daniel
Production:
Direction – Andreas Homoki
Sets and Costumes – Wolfgang Gussmann
Lighting – Franck Evin
The main attraction of my trip to Vienna was Lohengrin under the baton of Canadian Yannick Nézet-Séguin – the music director designate of the Metropolitan Opera who will take up his duties full-time at the start of the 2020/21 season – and an excellent cast led by Klaus Florian Vogt, probably the best Lohengrin today (with Jonas Kaufmann's permission). It's not difficult to understand my reaction, when on the morning of the performance I heard Mr. Vogt had cancelled and was to be replaced by Stefan Vinke. Without a doubt Vinke is one of the great Wagnerian tenors of the moment, although there could be some discussion regarding his vocal suitability to the Swan Knight. However, it was an excellent performance of Lohengrin  ̶  and outstanding in strictly musical terms.
The production, which bears the signature of Andreas Homoki, had its premiere here in April 2014. The action has been moved to modern times and takes place somewhere in Bavaria, judging by the costumes worn by choristers and soloists: it seems like the opera is about the confrontation of two local families, represented by Ortrud and Elsa. One stage serves for the three acts and consists of an open space with wooden walls at the back; it could represent a meeting room of a public building or even a beer-house (as it appears to be in the final scene). This single stage presents problems, especially in the bridal chamber, which appears to be off stage so that the confrontation of Elsa and Lohengrin takes place in a room full of tables. Something similar occurs in Act II where we miss having the two levels in the initial dialogue of Elsa and Ortrud. It's almost ridiculous that Elsa has to leave the stage for Ortrud to address the gods.
The stage direction is not particularly accomplished, and the chorus is fairly static. All-in-all, it's not a convincing production, though it does narrate the plot.
Certainly the high point of this Lohengrin was the music. Nézet-Séguin offered a brilliant reading from start to finish, as he usually does. There's no doubt that he is one of the most accomplished conductors today, and he has once again proved it. Unfortunately, he'll only conduct three performances here: his post at the Met claims his presence in New York. Under his baton the orchestra was magnificent, particularly bright on this occasion, and the chorus was excellent.
I would say that Stefan Vinke, along with Stephen Gould and Andreas Schager, is part of the best trio of dramatic tenors in the Wagnerian repertoire. But obviously, Lohengrin does not require a dramatic tenor. I was very surprised in Act I when Stefan Vinke sang his farewell to the swan with such gusto and beautiful piani, something he could not repeat in the same way in the final scene. From that point, we had on stage a true dramatic tenor. It's not a problem of quality, but rather of suitability to Lohengrin: I prefer by far to hear him singing either of the two Siegfrieds. For the record, one must note that he was making his debut at the Staatsoper.
Elsa was interpreted by Ricarda Merbeth and, as usual, she was excellent. This German soprano is one of the safest bets in opera, and her performances are always faultless. Her voice has not the sublime quality of Anja Harteros, or even of Anna Netrebko as could be heard last year in Dresden. But her singing is always enjoyable, and this was no exception.
Petra Lang was once again the evil Ortrud, and she was like a fish in water in this character. I understand that it must be boring to always sing the same parts, and hence her incursions in soprano roles which take advantage of her easy top register. Although Petra Lang is bright at the top of the range, she is a mezzo-soprano or, if you will, a falcon, and it is in characters such as Ortrud that she really shines.
Polish baritone Tomasz Konieczny did a fine job as Telramund, in terms both of singing and acting. He is particularly suited to this sort of character, like Alberich, while he is less convincing as Wotan where he lacks some nobility in his accent.
King Heinrich the Fowler was played by German bass Günther Groissböck, who offered an outstanding performance, one of the best I remember from him. Finally, Boaz Daniel was a faultless King's Herald.
The Staatsoper was almost fully sold out. The audience gave a warm reception to all the singers, with the biggest ovations for Yannick Nézet-Séguin.
José M. Irurzun