United States Giordano, Andrea Chénier: Soloists and chorus of San Francisco Opera/Nicola Luisotti (conductor), War Memorial Opera House, San Francisco. 17.9.2016. (HS)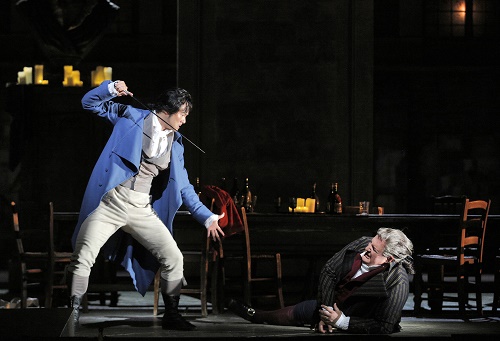 Cast:
Andrea Chénier – Yonghoon Lee
Carlo Gérard – George Gagnidze
Maddalena di Coigny – Anna Pirozzi
Bersi – J'Nai Bridges
Mathieu – Robert Pomakov
Roucher – David Pershall
L'Incredibile – Joel Sorensen
Madelon – Jill Grove
Contessa di Coigny – Catherine Cook
Pietro Fléville – Edward Nelson
The Abbé – Alex Boyer
Dumas – Brad Walker
Fouquier-Tinville – Matthew Stump
Schmidt – Anthony Reed
Production:
Production – Sir David McVicar
Set Designer – Robert Jones
Costume Design – Jenny Tiramani
Lighting Design – Adam Silverman
Original Choreography – Andrew George
Revival Choreographer – Colm Seery
Chorus Director – Ian Robertson
Umberto Giordano's verismo masterpiece Andrea Chénier, which opened the San Francisco Opera season on September 9, has plenty going for it. Not least is Sir David McVicar's lavish production, faithful to the time and place (the reign of terror following the French Revolution), and beautiful to look at, as are Jenny Tiramani's gorgeous, authentic-looking costumes. When the production debuted last year in London at Royal Opera Covent Garden, it had the benefit of tenor Jonas Kaufmann and soprano Eva-Maria Westbrook in the lead roles. San Francisco makes a valiant attempt, but its cast doesn't quite have the wattage of those stars.
Tenor Yonghoon Lee in the title role and soprano Anna Pirozzi as Maddalena de Coigny lent clear, powerful vocalism—traits that ran through the entire admirable cast. Nicola Luisotti, in his final season as San Francisco Opera's music director, conducted with a keen understanding of the score's surging climaxes and sensitivity to the vocal balances.
Everything fell neatly into place. But that's not what verismo is all about. Missing was that extra level of vocal and musical abandon, that unbuttoned feeling, that makes grand opera into thrilling opera. In a word, this performance erred vocally on the side of caution.
The famous set pieces of this opera make good examples. Pirozzi has sung many of Italian opera dramatic soprano roles with success, but she invested  "La mamma morta" with a creamy patina when it should be a cry from the gut. Lee sang the poet Chénier's Act I aria, "Un dì all'azzurro spazio," with clarion precision, but the fervor of its second half never quite revved up to believably send the sheltered and privileged Maddalena from the room in dismay. His Act IV "Come un bel dì di maggio" better suited his lyric elegance. In the final scene, the verismo classic duet "title," had all the visual elements of two people bravely facing the guillotine together and a ringing high B to finish it off. It should have made the hairs on the back of my neck spring to attention. They remained newly combed.
The strongest character in the opera, Gérard, sung by baritone George Gagnidze in burnished tones, came closest to that perfect balance of vocal acuity and abandon. His restless stance as a servant to the Coigny family came through clearly in the opening scene, and his internal battle between his former role as a revolutionary and current status as a sort of conscience-afflicted Scarpia emerged in the best-done scene in this presentation. His Act III confrontation with Maddalena, to whom he has sent spies to ferret out so he can have his way with her, was a portrait in conflicting emotions, and his too-late renunciation of his accusation of treason against Chénier (the aria "Nemico della patria?") rang with truth.
Other standouts in the large cast had solo moments that demonstrated their prowess. Robert Pomakov wielded a rich bass as Mathieu and made the humble sweeper into a semi-noble character. Mezzo-soprano J'Nai Bridges as Bersi, Maddalena's friend turned streetwalker, commanded the stage when she had the lead, shaping sinuous phrases in her Act II aria, "Vivere in fretta." Character tenor Joe Sorenson's turn as l'Incroyable painted the wily, sleazy spy with an appropriately fatuous brush, all the while conveying the text and music with panache. Mezzo soprano Catherine Cook created a fussy, domineering dowager as the Contessa de Coigny, and mezzo soprano Jill Grove hit all the right points to convey the blind Madelon's grief and nobility as she offers her grandson to the Revolution's army. Both handled their parts with aplomb.
Several years ago, when the company scheduled Andrea Chénier, there was probably little inkling of the contentiousness and pig-headedness in America's current presidential election, in which fear and loathing run rampant. To see some of those dynamics enacted on the opera stage brought disquieting overtones to this portrayal of the Reign of Terror. We can only hope that France's failed experiment taught us something about going too far.
Harvey Steiman