Switzerland Massenet, Manon: Soloists, Chorus of the Grand Théâtre Geneva, Orchestre de la Suisse Romande, Marko Leonja (conductor), Opéra des Nations, 12.9.2016. (ALL)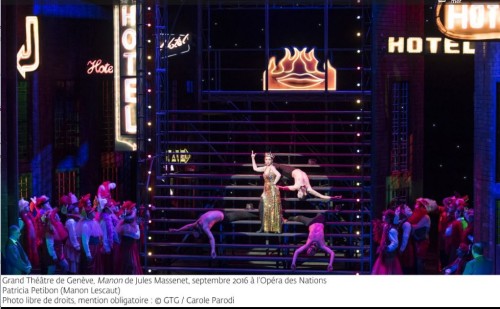 Cast:
Manon Lescaut – Patricia Petibon
Le Chevalier des Grieux – Bernard Richter
Lescaut – Pierre Doyen
Gillot de Montfrotaine – Rodolphe Briand
Monsieur de Brétigny – Marc Mazuir
Le comte des Grieux – Balint Szabo
Poussette – Seraina Perreroud
Javotte – Mary Ferminaer
Rosette – Marina Viotti
Production:
Director – Olivier Py
Designer – Pierre-André Weiz
Lighting designer – Bertrand Killy
Geneva has a long story with French director Olivier Py. He staged in Geneva productions of Tristan and Isolde which old timers are still raving about. He also staged a highly controversial production of Tannhaüser which included on stage naked porn actors simulating explicit copulation. After initial shock, it looks as if the Calvinists citizens of Geneva rushed to the Grand Théâtre to 'judge for themselves'.
Olivier Py has become a local favorite and audiences around the world know that they can expect from him their amount of flesh. He has since returned many times here in Offenbach's Tales of Hoffmann, Berlioz's Damnation of Faust and Berg's Lulu along with Patricia Petibon who has become a close collaborator. There was therefore significant expectation on his return.
The musical side of the performance had much to offer. Strasbourg Orchestra music director Marko Leonja drew a powerful sound from his orchestra. They were a little loud in the first act but balance improved as the evening progressed. Last minutes adjustment are often the case with premieres. While it lacked some Gallic finesse, it was a dramatic reading. The ever reliable Chorus of the Grand Théâtre took some time to find their marks. They were at best in the St-Sulpice scene but were still searching their ways in the big numbers of the work. Surprisingly, they lacked clarity and their French was not on par with previous experiences. As for the orchestra, things should settle with more performances.
Apart from veteran Balint Szabo whose bloom is no longer what is used to be, the singers should be complimented for their crisp pronunciation. Rodolphe Briand's key role of Guillot was well characterized. Supporting roles of Pousette, Javotte, Rosette were adequate. Pierre Doyen 's Lescaut had a nice swagger.
All Swiss eyes were on Swiss tenor Bernhard Richter. He is a Mozart tenor graduating into bigger roles. While he was searching for his voice here and there, he had the volume and stamina for the demanding part and his phrasing was dramatic. There were some signs that his is a new part for him but he has the potential to move into 'slightly' heavier territory and he could even be a Parsifal someday. Let us hope he will resist the Italian parts that could have a negative impact on his voice.
All eyes were finally on Patricia Petibon. The French soprano has a lovely tone with lots of colour in the middle register. The role was well characterized and she definitely has a commanding presence. She made a lot of her text and her artistry was impressive.
So all in all, this should have been a delightful evening but opera is not a concert and unfortunately, the staging was not par for the course. No one could complain that Olivier Py was lacking in ideas. His basic concept could be summarized that Manon is a dark tale where young girls are mere objects of desire and money rules the world. Right at the beginning Manon's suitcase is taken by local prostitutes and she is forced by Lescaut to dress and act like them. This is a tough world as this is repeated with another young girl at the beginning of the scene of Cours-la-Reine. Py describes a world where money and power are forcing girls into depravation.
But the story has another side, the one of Des Grieux torn between passion and duty and Manon awakening and marveling to the outside glitzy world.  Let us not forget that the book is written from his point of view. The music is more attuned to this concept as expressed by the first aria of Manon showing her dazed by leaving the convent and discovering the outside world. The best Manons have the ability to express this transformation from an ingénue into Paris's leading lady. This was lost in Py's conception.
Olivier Py gave us plenty of nudity most – if not all – of it was totally gratuitous. There was at the beginning topless dancers riding on men. Several of them returned stark naked during l'abbé Des Grieux's sermon and there was an orgy during the gambling scene. There is nothing wrong with showing some flesh in opera, it is an art form which revels in the descriptions of intense passion but it has to serve a purpose and not be there just to 'épater le bourgeois', – shocking the audience – for its own sake. At the end of the Cours-la-Reine scene and right after the intermission, a dancer came with a king's puppet face, made a few steps, turned his back to the audience, bowed to the chorus and showed us his butt. Was I the only one that felt insulted?
No one could also complain that there was not a lot of work involved as sets and lighting showed care and imagination. Every part, singers, dancers, chorus, fitted well with the others but there was so many things to see. During the gambling scene Manon and Des Grieux cross-dressed (she has won so forcing him to relinquish his status and she now rules and he is dressed with an old-fashioned gown); Pousette, Javotte, Rosette were dancing and singing behind a gambling wheel before being joined by Des Grieux and Manon, the players kept going all around the stage with less and less clothes on while an orgy started on the floor – all of this while the music moved on! There was simply too much action all through this scene and all through the entire work. Whenever things slowed down in the arias, singers could express emotion but these were rare moments.
This saturation has nothing to do with the fact that this is a contemporary staging, Zeffirelli's stagings – and in particular his opera movies – suffer from the same problem. They are overly sentimental and do not particularly attempt at providing insights and neither did this production. Both are bloated with not very useful actions and in both cases, the music becomes secondary. So in spite of the artistry of Bernard Richter and Patricia Petibon, this production failed to convince.
Antoine Lévy-Leboyer