Canada Schubert, Schoenberg, Mendelssohn: Escher Quartet (Adam Barnett-Hart and Aaron Boyd [violins], Pierre Lapointe [viola], Brook Speltz [cello]), Vancouver Playhouse, Vancouver, 13.9.2016. (GN)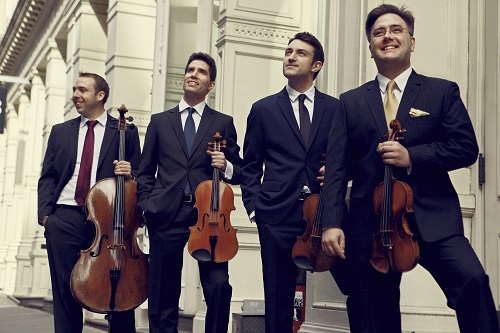 Schubert – Quartettsatz in C minor D.703
Schoenberg – String Quartet No.1 in D minor Op.7
Mendelssohn – String Quartet in D major Op.44 No.1
For Vancouverites who might have planned a trip to New York to take in some chamber music, it's nice to know that this expense can now be spared. A full seven of the ten Friends of Chamber Music concerts this season involve visits from much-revered New York ensembles: four concerts by the Chamber Music Society of Lincoln Center, supplemented by appearances by the Emerson Quartet, the Han-Finckel-Setzer Trio and, at this opening concert, the estimable young Escher Quartet, currently Artists-in-Residence at CMS. Formed in 2005, and championed by the Emerson Quartet, the ensemble has evolved with playing of enviable balance and tonal luster, finding both energy and musical insight without extravagance. These qualities come out strongly in the Escher's new integral recordings of the Zemlinsky Quartets for Naxos and the Mendelssohn Quartets for BIS, both of which have received strong acclaim.
This concert perhaps did not find the ensemble at its finest. There were many stretches where their sterling qualities were on display, but also times that the group seemed over-intense, struggling to find poise, musical space and architectural certainty. This was certainly true in the opening Schubert Quartettsatz, which tended to be quite 'nervy' and unsettled, full of arbitrary dramatic emphases while not building its lyrical flow. Violinist Adam Barnett-Hart had difficulties making his wonderful part sing and move, and his colleagues did not help, often playing too loud and adding questionable accents. Overall, the result wasn't very Schubertian; the group has found much more natural flow in this work on other occasions.
The major work of the night was Schoenberg's String Quartet No.1 (1905), and here the Escher was more distinguished. This work had not been played in Vancouver for decades; the last performance was by the Juilliard Quartet in the days when mainly they and the LaSalle Quartet championed repertoire of this period. It is a difficult piece to negotiate: dense in motivic development and heavy in counterpoint over its continuous 45 minutes, often turgid yet intensely lyrical, while also flirting with modernism at times. Still, it remains unmistakably a tonal work (firmly in D minor), and one that maintains some of the same post-romantic vocabulary as Verklärte Nacht, with its characteristic chromatic yearnings.
This performance took a little time to settle too, being slightly impatient and over-thrusting in the early motivic 'struggle', but it soon found a way to take the composer's lyricism and sinewy angst forward with concentration. This was a warm reading, with plenty of feeling and commitment, and a fine sense of structural integrity and motion. It probed the moments of quiet consternation and sadness with involvement and created a redeeming ambient glow by the end. The ensemble's tonal blend and radiance was noteworthy and everything added up to a most enjoyable experience.  I am not sure that it quite 'took us to another world'  ̶  to cite violinist Aaron Boyd's own description at this concert. Rich Brahmsian intimations were brought out everywhere, and it seemed that many of the composer's adventurous tremolos and glissandi actually stood at some remove from the work's lyrical complexity. This was a more traditional post-romantic interpretation, setting the work firmly alongside the early efforts of the composer's mentor, Zemlinsky. It played down both the modernist daring of the type exposed by the Arditti Quartet and the finely-distilled intimacy revealed by the Tetzlaff Quartet, to cite two fine alternative interpretations that have had some following.
Given recent press, I was equally excited to hear the Escher's Mendelssohn, but the opening Allegro of the Third Quartet played here was somewhat less sparkling than I expected. It was fine playing technically, but the feeling was more that of unremitting bustle and drive than exuberant joy, and the interpretation only fitfully captured the light, mercurial quality of Mendelssohn's phrases. The movement needs to be vitally buoyant, but not frenetic and overinsistent. The middle movements were much more interesting, quite searching by the end of the Menuetto and finding a lovely natural ardour and eloquence in the Andante. The latter was possibly the most distinguished playing of the evening. The closing Presto returned to a more linear projection and drive, light on dynamic differentiation, but then intrusions began. Ominous bass rumblings started rolling in under the concert hall, becoming pretty loud at points. Given their New York instincts, the ensemble rationally bolted through the rest of the work at record pace. Was it merely bass feedback from recording equipment, or something more earthshaking? One patron thought that it was the result of playing Schoenberg on his birthday: he was born on 13 September, 1874. It turned out to be caused by fireworks from a fairly distant source. It would have been nice to hear this final movement in calmer waters.
 Geoffrey Newman
Previously published in a slightly different form on http://www.vanclassicalmusic.com.