Germany Verdi, Un Ballo in Maschera: Soloists, Chorus and Orchestra of Deutsche Oper Berlin/Donald Runnicles (conductor), Deutsche Oper Berlin, 16.9.2016. (MC)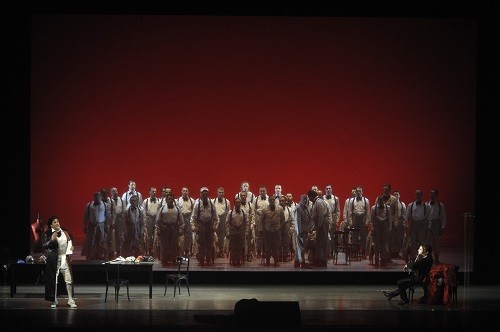 Cast:
Gustavo, king of Sweden – Jorge de León
Count René Anckarström – Etienne Dupuis
Amelia – Adrianne Pieczonka
Ulrica – Judit Kutasi
Oscar – Elena Tsallagova
Christian – John Carpenter
Count Horn – Florian Spiess
Count Ribbing – Ben Wager
Production:
Original stage director – Götz Friedrich
Set and costume design – Gottfried Pilz & Isabel Ines Glathar
Revival director – Gerlinde Pelkowski
Chorus master – Raymond Hughes
This staging of Un Ballo in Maschera is a revival of the production first given by the late director Götz Friedrich at the Deutsche Oper Berlin in 1993. I don't know how much the revival director or the set and costume designers had altered but what we have are extremely sparse sets with an assortment of costumes which weren't fixed in the 1792 period. For example scene three is out of town at the gallows place at midnight with a black breeze block tower and several clusters of skulls on the ground. In scene four the stage space has been drastically reduced to a large white rectangular room with an upturned table and a chair. My preference is for period performances with lavish sets yet budgets rarely allow for that these days. However this unadorned staging of reduced visual stimuli certainly allowed this listener to concentrate more on the dialogue and the acting.
Antonio Somma's text contains a number of fascinating elements: mistaken identity, conspiracy to murder, a chilling prophecy, unrequited love, duty before passion and an assassination. Un Ballo in Maschera like many of Verdi's operas did not have an easy performance pathway. Commissioned in 1857 by the Teatro San Carlo in Naples, Verdi was inspired by the true life assassination of King Gustav III of Sweden, who was shot in 1792 by political conspirators at a masked ball. Legal difficulties arose following objections raised in Naples by the censors to a monarch and his subsequent death being portrayed on stage. Problems arose for proposals to stage the opera in Rome and as a result the action was switched from Europe to Boston in the British colonial era and Gustavo, king of Sweden became Riccardo, Earl of Warwick and governor of Boston. Finally Un ballo in maschera was given its première performance at Teatro Apollo, Rome in 1859 and was a great success. In recent times stagings including this Götz Friedrich production have reinstated the original Swedish setting and the characters' names.
The principal role of Gustavo was taken by Jorge de León who settled marvellously into the part portraying an immature monarch with a roving eye who can't take important matters seriously. Demonstrating assured acting ability and handsome presence de León's lyrically Italianate tenor was steady, clear and assured with an impressive high register. Adrianne Pieczonka as the love-struck heroine Amelia displayed her limpid, attractive soprano voice to fine effect with winning amounts of expression. An affecting highlight from scene four was Amelia's aria Morrò, ma prima in grazia, sung whilst sitting tied up on the floor, displaying Pieczonka's strong vocalism.
In the part of Count René Anckarström, baritone Etienne Dupuis was unable to demonstrate the same level of stage presence as de León but his endeavours were commendable and as he grew in confidence his voice steadied although I wanted more heft to his projection. In scene four the distraught René convinced of his wife Amelia's adultery confronts her at their house and points a sword at her. The tension Dupuis and Pieczonka created in their encounter was palpable, demonstrating their fine acting facility. Soothsayer Ulrica, complete with her creepy black clad entourage, was taken by Judit Kutasi. Ulrica's aria 'Re dell'abisso, affrettati' displayed her dark reasonably deep mezzo-soprano with good solid projection right throughout her range. Kutasi's portrayal of the eerie Ulrica was remarkably successful and I feel could be even more chilling and formidable if she were able to stretch herself further. Elena Tsallagova really made the most of the role of Oscar, Gustavo's page, displaying her fine soprano and was the pick of the supporting cast. The experienced Donald Runnicles took the baton conducting the Orchester der Deutschen Oper Berlin and, as I have come to expect, obtained satisfying unity and plenty of drama. Prepared by Raymond Hughes the chorus sounded especially stirring.
This revival of Un Ballo in Maschera was performed with relish by the Deutschen Oper Berlin and if given the opportunity of attending a repeat performance I would grab it with both hands.
Michael Cookson