Germany Bizet, Carmen: Soloists, Children's Choir of  Deutschen Oper Berlin, Chorus and Orchestra of Deutsche Oper Berlin/Ido Arad (conductor), Deutsche Oper Berlin, 17.9.2016. (MC)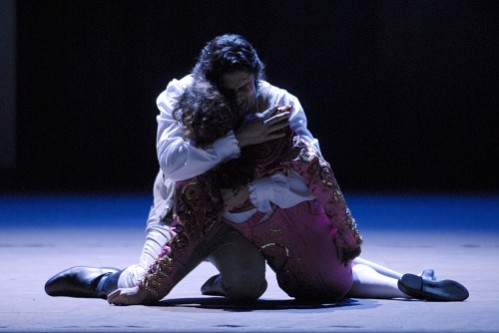 Cast:
Carmen: Clémentine Margaine
Don José: Leonardo Caimi
Micaëla: Elena Tsallagova
Escamillo: Dong-Hwan Lee
Remendado: James Kryshak
Dancairo: Jorg Schorner
Zuniga: Seth Carici
Moralès: Thomas Lehman
Frasquita: Meechot Marrero
Mercédès: Annika Schlicht
Production:
Revision of production of Peter Beauvais from 1979 by Søren Schuhmacher
Set and costumes: Pierluigi Samaritani
Revision of set: Norbert Bellen
Lighting: Ulrich Niepel
Choreography: Silke Sense
Chorus Master: Raymond Hughes
Children's Choir Director: Christian Lindhorst
It's hard to believe today with Bizet's Carmen having such an excellent libretto and containing music where one hit follows another that at its 1875 première at Opéra-Comique, Paris the four act opera was a failure. Poignantly Bizet died three months later without any conception that Carmen would achieve enduring worldwide fame.
As Carmen is one of the most frequently staged of all operas it's not surprising that directors will wish to add their own personal touch to a traditional staging; naturally some will even want to change things drastically. It's rare to experience a really excellent performance of this great work and I was fortunate to see a 2014 Bayerischen Staatsoper revival of director Lina Wertmüller at Munich with Anita Rachvelishvili in the title role. This was a traditional staging by Wertmüller which communicated the essential stifling atmosphere and colourful aspects of Bizet's score, transporting the audience back to nineteenth-century Seville to the mighty iron gates of the distant cigarette factory.
Here at Deutsche Oper Berlin the company used Søren Schuhmacher's revised production of Peter Beauvais from 1979 with set modification undertaken by Norbert Bellen. What can often be at its best a gratifying, fast moving scenario as compelling on the eye as well as the ear was reduced to a lacklustre, ponderous affair which seemed to lack continuity. The set in Act 1 was dominated by the arch of one of the Seville city gates outside the cigarette factory, where the women worked. In Act 2 an uninspiring set of Lillas Pastia's inn was the foreground of the set used in the opening act. The wild spot in the mountains in Act 3 for the smuggler's camp was moved to beneath a couple of dingy arches fronted by a substantial rock wall while in Act 4 there was barely a suggestion of a bullfighting arena. It felt as if the production had been drained of energy and where was the stifling atmosphere of the torrid Seville heat?
Mezzo-soprano Clémentine Margaine took the title role of Carmen. Despite her sterling efforts, in a part she knows very well, Margaine never entirely convinced me as the minx-like, free-spirited temptress, displaying the Latin temperament both vocally and with her acting which I have come to expect in the role. In the Habanera the mezzo displayed excellent projection with a reasonably dark and attractive rather than beautiful tone but the performance seemed devoid of the necessary Latin passion and seductive qualities. Her Seguidilla aria too was anything but beguiling. To see how Carmen can be played I refer to the Decca DVD with Anna Caterina Antonacci playing the title role in Francesca Zambello's 2006 Royal Opera House production (Jim Pritchard's review).
As his voice settled into the part tenor Leonardo Caimi grew on me as the lovesick army corporal who finds out he is just one of Carmen's many lovers. The famous Flower Song must be a tenor's dream and with red flower in hand Caimi performed it engagingly. In truth the amount of sexual tension created by Caimi and Margaine was disappointing. In my opinion any Don José has to bear comparison to Jonas Kaufmann who set new standards on his role debut in that same Zambello 2006 production. Elena Tsallagova, who had played Oscar in Un Ballo in Maschera the previous evening (review), made a delightful Micaëla. Acting well as the introverted village girl, in particular in her stand out aria 'Je dis que rien ne m'épouvante', Tsallagova displayed an attractive voice and flourished in the part.
It can be a thrilling moment when in Act 2 the handsome toreador Escamillo, dressed in a colourful chaquetilla, bursts onto the scene with great grandiosity. Here Dong-Hwan Lee as Escamillo entered with a mere whimper bereft of the required swagger the best performers convey. His voice had little vocal colour and limited expression with Escamillo's famous Toreador Song lacking the amount of strutting arrogance which can completely capture the essence of the famous toreador.
Not surprisingly the quality of the supporting cast was rather workaday too. At Lillas Pastia's taverna the standard of the flamenco dancing of Frasquita and Mercédès was barely credible and Carmen wasn't able to demonstrate how it should be done. The same luckless pair could hardly bring any enthusiasm to Carmen's Card Song with its lethal consequences. Ido Arad's conducting seemed to suck out most of the energy from the Spanish rhythms and contributed to this rather uninspiring performance.
Michael Cookson