Switzerland Mascagni, Leoncavallo: Soloists, Chorus of the Zurich Opera, Philharmonia Zurich/Daniele Rustioni (conductor), Zurich Opera, Zurich, 24.9.2016 (JR)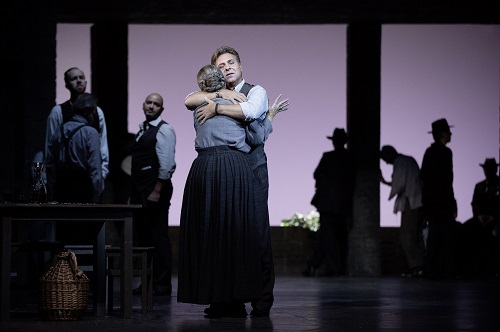 Production:
Producer – Grischa Asagaroff
Set and Costumes – Luigi Perego
Lighting – Hans-Rudolf Kunz
Chorus master – Jürg Hämmerli
Cavalleria rusticana
Cast:
Santuzza – Catherine Naglestad
Lola – Yulia Mennibaeva
Turiddu – Roberto Alagna
Alfio – Roman Burdenko
Lucia – Irène Friedli
Pagliacci
Cast:
Nedda – Aleksandra Kurzak
Canio – Roberto Alagna
Tonio – Roman Burdenko
Beppe – Trystan Llŷr Griffiths
Silvio – Alexey Lavrov
Producer Grischa Asagaroff (Russian, brought up in Munich) says in an interview in the programme that these two timeless tales of love, jealousy and death should always be performed together – certainly both one-act operas are full of inventive melody and pack a dramatic punch. On balance I prefer the more chilling Pagliacci and am happy it always provides the finale.
The action in Cavalleria rusticana is supposed to be set in a Sicilian village, in Pagliacci it is supposed to be Calabria. Pagliacci is, in fact, based on a true story; Leoncavallo's father, a Judge, presided over the actual murder trial. However, the set for this revival resembles neither Sicily nor Calabria but a Tuscan hill-top village, such as San Gimignano with its impressive medieval towers (Mascagni hailed from Tuscany). In Cavalleria rusticana a 'tower' provides a dwelling each for Alfio and Lola, Turiddu and his mother Lucia, and a church. Costumes are almost completely monochrome, set in around the 1920s; the stage is gloomily dark.
Santuzza has been cast out, even by her own family, for having extramarital relations with Turiddu and she is expecting his child. She is devastated when she realises that Turiddu (still) prefers Lola and has even offered to marry her. Turiddu goes off on military service and returns to find Lola has married wealthy Alfio, but he continues to have an affair with her. Alfio challenges him to a duel, with the inevitable outcome. Turiddu is stabbed. It is an honour-killing with the Mafiosi and Caribinieri watching on impassively.
Roberto Alagna sings Turiddu, first offstage singing of his love for Lola, with a distraught Santuzza overhearing. Alagna was in strong voice, confirming he is still one of the finest tenors around – although once or twice he had to stretch for the top notes. Catherine Naglestad, making her debut in the role of Santuzza, sang and acted to perfection: her voice is rich and warm across the registers. The pair were ably supported by local contralto Irène Friedli as a mellow, sorrowful Mama. Russian bass Roman Burdenko proved a very solid Alfio. Promising newcomer was Yulia Mennibaeva, a young Russian mezzo, who impressed.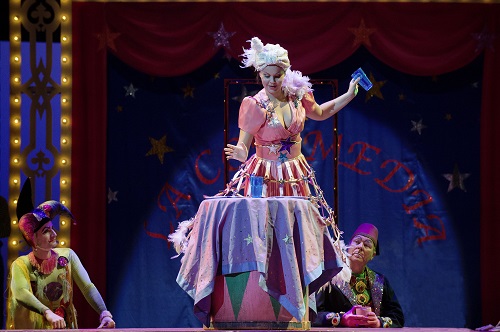 After the interval, the stage set remained identical (so it was the same village) but for some flashing neon lights for the circus. Brighter lighting gave the towers a more friendly hue. Costumes were colourful but not gaudy; we moved on to the 1950s.
Burdenko, as the mis-shapen Tonio, started off the opera with a fine Prologue. He fancies circus-girl Nedda who spurns his crude advances. He vows revenge and does so by tipping off Canio that Nedda is about to elope with Silvio. Polish soprano Aleksandra Kurzak (in real life Mrs Alagna II) was a simply splendid Nedda, garnering as much applause and as many bouquets at the curtain call as Alagna. Alagna has star quality, his aria 'Vesti la giubba' tugged at the heart-strings. Kurzak is his match.
Welsh newcomer Trystan Llŷr Griffiths, as Beppe, has an attractive light lyrical tenor, but needs to increase his volume. His current projection would suit Grange Park or Garsington, but not a major opera house, even one as compact as Zurich's. Alexey Lavrov sang a firm Silvio, though I found his voice lacking in character.
The chorus and orchestra were a mite ragged, probably owing to a shortage of rehearsal time, though Daniele Rustioni conducted with skill and intensity. The trumpets in particular had a particularly 'off' night. Celli, however, were impressive on their lowest strings.
With this luxury cast, Zurich Opera has a hit on its hands with this revival, which was premièred (with José Cura) in 2008. Orchestra and chorus can only improve as the performances run their course. Even if you are not one of the Alagna Fan Club, this Cav and Pag is well worth attending.
John Rhodes