Germany Musikfest Berlin 2016 [7] – Ligeti, Bartók, Richard Strauss: Frank Peter Zimmermann (violin), Bayerisches Staastsorchester/Kirill Petrenko (conductor), Philharmonie, Berlin, 14.9.2016. (MC)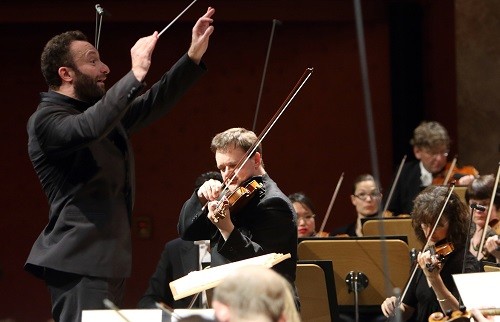 Ligeti – Lontano
Bartók – Violin Concerto No. 1
Strauss – Symphonia Domestica
Each year I attend opera performances by the Bayerisches Staastsorchester in the National Theater, Munich but this was my first with the orchestra in the concert hall. It was also my first look at Kirill Petrenko, the principal conductor designate of the Berliner Philharmoniker, who comes with a big reputation.
A performance of Ligeti's Lontano for large orchestra doesn't come around too often so it was good to have the opportunity to attend. Described by the composer as a "static" work this marvellous micropolyphonic composition from 1967 is Ligeti at his finest depicting "a window on long submerged dream worlds of childhood." Petrenko's Munich players were on their finest form creating a celestial sound world with at times a sense of weightlessness, as if floating. Quite sublime was a passage when the contrabassoon entered with trombone and tuba.
Frank Peter Zimmermann was soloist in Bartók First Violin Concerto a bewitching musical love letter to the Hungarian violinist Stefi Geyer with whom he was infatuated. Playing with real sensitivity and the tenderest of expression Zimmerman was a sterling advocate for this two movement work that deserves to be better known and I relished every second.
The feature work of the evening Richard Strauss' tone poem Symphonia Domestica reminds me of Elgar's Falstaff. I consider both to be excellent works which are seldom played in the concert hall, certainly much less than their quality deserves. No wonder Petrenko is feted in Munich as he plays the music of its favourite son so magnificently.
Partly representing a typical day in the life of the Strauss family the Symphonia domestica left some critics feeling the subject of domesticity such as bathing babies, serving dinner, parents rowing and love-making was too overtly trivial to be portrayed in music. Managing to keep a straight face Strauss stood firm maintaining that his life was "quite as interesting as Napoleon or Alexander the Great." It's a luxuriously scored work asking for four saxophones – a request that is not always carried out but to which Petrenko adhered.
This powerfully charged and compelling realisation of the challenging Symphonia domestica by the Bayerisches Staastsorchester wholeheartedly embraced Strauss's massive uninterrupted stream of vibrant music making. Despite the strenuous exertions through Strauss's extravagant outpourings the internal sound balance was outstanding due predominantly to Petrenko's sensible choice of dynamics and tempo drawing glorious sounds from his players. The score may lack the memorability of Strauss's finest works but the performance activated so many highlights including the golden radiance emitted by the beautifully unified string section, velvety horns dependably played with a sensible volume, a splendid cor anglais solo from Heike Steinbrecher and several attractive passages by leader David Schultheiß.
The audience clapped and cheered Kirill Petrenko and his Bavarian players for all it was worth. I took the meaning to be: please, please take up your post with the Berliner Philharmoniker as quickly as you can. Only an encore of Wagner's Prelude to Act 3 of Lohengrin was able to end the applause.
Michael Cookson