JOHAN BOTHA (1965-2016) HAS DIED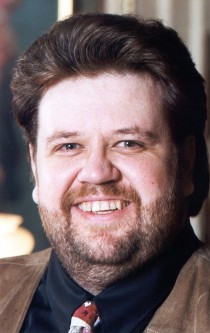 Michael Lewin International Artists' Management announces: This morning Johan Botha lost his battle against a severe illness.
For 23 years we have worked together with Johan Botha. His death not only means the loss of an irreplaceable artist but more importantly the indescribable loss of a great person.
Elisabetta and Wolfgang Hartl, Judith Seidl, Gabriele Trombitas, Benno Schaller and Raphaela Hödl in the name of all artists and employees.
Michael Lewin's obituary for Johan Botha: He studied singing in his beloved country of birth South Africa and through the help of Norbert Balatsch, the former choirmaster of the Vienna State Opera and the festival in Bayreuth, he took the chance to come to Europe, where his career started in 1990 as Gustavo in Verdi's Un Ballo in Maschera on the stage of the opera in Kaiserslautern. His path then led via Hagen to Bonn. In 1993 he took over on short notice the premiere of Madame Butterfly at the Opéra Bastille, which resulted in his immediate international breakthrough. In the same year he made his debut at the Komische Oper in Berlin, in 1994 at the State Opera in Berlin and in Vienna – first as Rodolfo in La bohème at the Wiener Volksoper (to which he kept a close relationship with several important new productions throughout Klaus Bachler's term of office), in 1995 at the Royal Opera House Covent Garden (Cavaradossi), in 1996 at the Teatro alla Scala (Pinkerton) and at the Vienna State Opera (Cavaradossi), in 1997 at the Metropolitan Opera New York (Canio).
Up to the untimely end of his career Johan Botha performed regularly in all major opera houses, concert halls and festivals in the world and worked with all important conductors of our time: Claudio Abbado, Daniel Barenboim, Pierre Boulez, Semyon Bychkov, Riccardo Chailly,  Christoph von Dohnányi, Bertrand de Billy,  Daniele Gatti, Philippe Jordan, James Levine, Fabio Luisi, Lorin Maazel, Zubin Mehta, Seiji Ozawa, Kirill Petrenko, Antonio Pappano, Giuseppe Sinopoli, Georg Solti, Christian Thielemann, Sebastian Weigle, Simone Young.
With some of them he shared an ongoing work relationship, that lasted throughout his entire career, for example with Simone Young, with whom he made almost all of his big debuts in Vienna, New York and London, as well as with James Levine, Daniel Barenboim Semyon Bychkov and Bertrand de Billy and in later years with Christian Thielemann and Kirill Petrenko.
Amongst the many distinguished directors he has worked with, he had an especially close relationship to Christine Mielitz.
Although he always strived to perform on all major stages regularly, his connection to the Metropolitan Opera New York was particularly important, most notably because of his close connection to James Levine.
Nevertheless, the Vienna State Opera was undoubtedly his artistic home. He was one of the pillars of the theatre during Ioan Holender's term of office. He sang no less than eight new productions: I Vespri Siciliani (1998), Die Frau ohne Schatten (1999), Parsifal (2004), Daphne (2004), Lohengrin (2005), Otello (2006), Die Walküre (2007) and Tannhäuser (2010). With the exception of Lohengrin, all of them were role debuts.
Furthermore, he performed the following roles in Vienna between 1996 and 2015: Cavaradossi (debut on February 20th, 1996), Radames, Andrea Chenier, Turridu and Canio, Erik, Walther von Stolzing, Don Carlo, Florestan and Calaf. He was a surprise guest twice: Once during a New Year's Eve performance of Die Fledermaus (2007) and as Sänger in Der Rosenkavalier (2005).
He performed at the Gala concert on occasion of the 50th anniversary of the reopening of the Vienna State Opera (November 5th, 2005) and at the farewell concert for Ioan Holender in June 2010. In addition to that, he took part in two memorial concerts for Gustav Mahler (in 1998 and 2000) under the batons of Giuseppe Sinopoli and Lorin Maazel.
He performed at the Vienna State Opera more than 220 times. In 2003 he was the youngest Austrian singer to receive the title of Kammersänger. In the spring of 2016, during his stay at the hospital, he was informed that he has been appointed as Ehrenmitglied of the Vienna State Opera, which had been proposed before the outbreak of his illness. The official awarding celebration was first scheduled for May and then for September after one of his Turandot performances. Unfortunately, this day was not granted him. In November of 2015, immediately after his return from New York where he performed Tannhäuser under the baton of James Levine, he was confronted for the first time with his illness. While in pain, he sang the first Act of Die Walküre in a concert version in Munich just to be taken to the hospital a few days later.
From the first day of his diagnosis on the only thing he could think and talk about was his return to the stage. After much suffering he did indeed return to the stage, first in June as Siegmund in Budapest and then twice as Calaf at the Münchner Opernfestspiele. Anybody who was witness to any of these performances will remember them forever. Johan Botha performed at the height of his art – truly incomparable. During the summer, he travelled one last time to South Africa to see his parents and to sing one more concert in Cape Town, after which the illness returned. Sadly, this time he had no chance to win the battle.
The opera world loses one of the most significant voices of our time with the passing of Johan Botha. When he first appeared in the 90s he set a new standard with basically every role he added to his repertoire. It was never enough for him to be blessed with talent and a voice. Singing was his life, the daily work on his gifts was a given. It didn't matter whether it was a role debut or the 60th performance, every performance was carefully prepared; he arrived hours before the curtain lifted at the theatre. He didn't know what the word routine meant. Every performance was a premiere for him. His commitment towards the art and the audience shaped his essence. Before he got ill, he took over significantly more performances of colleagues than he had cancelled himself.
He was able to sing most of the roles he had wanted to sing, merely Tristan, which he had been working on until recently and Peter Grimes remain unfulfilled dreams.
Johan Botha was a devout man – his family and especially his wife where the centre of his life. In 1998 he obtained together with his family Austrian citizenship.
He was, without exaggeration one of the most honest artists in this métier and everybody who has met him can attest to that. He was characterized not only by his unconditional commitment to his profession but also by the seriousness with which he analysed the great masterpieces and by the constant self-critical analysis of his art. Envy was an alien concept to him. Whenever he talked about his colleagues, he talked of them with admiration. He never rejected young colleagues who asked for his advice, no matter how busy his schedule was.
If I may, I want to say this at the end: With Johan Botha I'm not losing an irreplaceable artist or a business partner but first and foremost I'm losing a friend.
Since the day that I was entrusted to guide him on his artistic path 23 years ago we shared a close connection, a connection that will continue for me beyond his death.
The few people who REALLY knew him know what I'm talking about.
Seen and Heard's Jim Pritchard adds: Those who heard him live will have very many happy memories of Johan Bohta's wonderful voice and it is a tragedy to die so young whether a great singer or a more normal person. I met him only once at his Bayreuth masterclass in 2014 and much that Michael Lewin writes above was evident during the brief time I was in his presence. I conclude this obituary page with my review of his last Tannhäuser at the Met.