United States Rossini, Mozart, Cilea, Puccini, Reich, Gershwin, Berlin, Copland: Soloists, San Francisco Symphony, eighth blackbird, Kronos Quartet, Students of the San Francisco Conservatory of Music, Michael Tilson Thomas (conductor). Davies Symphony Hall, San Francisco. 7/9/11.9.2016. (HS)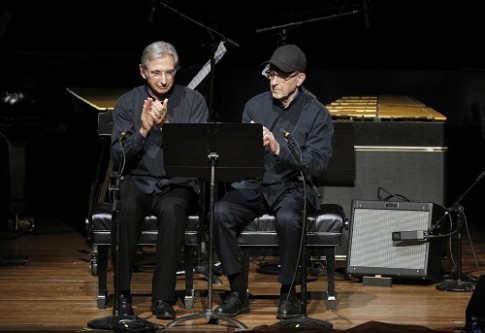 Opening Night, 7 September
Renée Fleming (soprano), Susan Graham (mezzo soprano)
Rossini – Overture to William Tell
Mozart – "Deh, per questo istante" from La clemenza di Tito
Cilea – "Ecco, respire appena… Io son l'umile ancella" from Adriana Lecouvreur
Puccini – "O mio babbino caro" from Gianni Schicchi
Mozart – "Ah, guarda sorella" from Così fan tutte
Reich – Three Movements
Gershwin – "Fascinating Rhythm" from Lady Be Good; "Summertime" from Porgy and Bess
Berlin – "Anything You Can Do" from Annie Get Your Gun
Reich and Copland, 9 September
Susanna Phillips (soprano), Eighth Blackbird (ensemble)
Copland: Billy the Kid Ballet Suite; Five songs from Eight Poems of Emily Dickinson
Gershwin: "Summertime," from Porgy and Bess; "I Got Rhythm," from Girl Crazy
Reich: Double Sextet; Three Movements
Steve Reich: An American Maverick, 11 September
Kronos Quartet, Eighth Blackbird, students of the San Francisco Conservatory of Music
Reich: Six Marimbas; Different Trains; Clapping Music; Electric Counterpoint; Double Sextet
They didn't call it a mini-festival, but that's essentially what San Francisco Symphony's opening week was. The focus was composer and recently-turned octogenarian Steve Reich amidst a noble range of other composers who, like Reich, created a distinctly American sound.
It all came together most defiantly in Sunday's "Steve Reich: An American Maverick" program that featured members of the orchestra along with eighth blackbird and Kronos Quartet in an all-Reich program. Before that, the first subscription evenings of the season matched Reich with Copland works (and a smattering of Gershwin). Even opening night, which started with opera excerpts to show off the voices of Renée Fleming and Susan Graham, included a rousing rendition of Reich's Three Movements (1986).
Reich is usually lumped with the minimalists, and certainly that was true in the beginning, the early 1970s. His penchant for chugging rhythms and hypnotic ostinatos still fits the standard profile, but Reich's music bobs and weaves with dense harmonies and real melodies that refresh the ears.
American vernacular runs through this music's blood, made apparent in Friday's exhilarating concert that paired Copland with Reich. Where Copland's antecedent is associated with open-prairie sounds, amply displayed in the Billy The Kid ballet suite that which opened the program, Reich's preferences consciously reflect his urban roots.
Both the more recent Double Sextet (from 2007) and Three Movements use piquant harmony and complex, shifting rhythms that first lure an audience into settling into a pattern, but then suddenly turn sideways into something else. Both pieces also split the ensemble into two mirror images, adding antiphony and polyrhythms to the mix.
On both nights, the performances captured the vitality and distinctive colors. Tilson Thomas, as devoted a champion of Copland as any conductor, emphasized the raw orchestral power and rhythmic variety in the ballet score, bringing it to a rich, satisfying finish. At the opposite end of the program, his approach to Three Movements reflected the same consideration for lavish orchestral sound and driving rhythms, but within Reich's more muscular style.
In between, soprano Susanna Phillips applied her creamy sound and dramatic purpose to Copland's sensitive settings of Emily Dickinson poems. A couple of built-in encores brought in two sides of George Gershwin. "Summertime," from Porgy and Bess, became a study in sustained beauty in Phillips' finely traced performance, and "I've Got Rhythm," from Girl Crazy, not only proved the music has unexpected depth and complexity, but that Phillips and the orchestra could actually swing musically.
In a magnificent performance, eighth blackbird joined principals of the orchestra in Reich's Double Sextet. In this 2009 Pulitzer Prize winner, dueling pianos and vibraphones lay down pulsing rhythms while mirrored quartets of violin, flute, clarinet and cello shift from rhythmic to lyrical playing in various combinations. It all grows out of the original pulse and keeps blossoming in unexpected directions. Alexander Barantschick (violin), Amos Yang (cello), Timothy Day (flute), Carey Bell (clarinet) Jacon Nissly (vibraphone), and Robin Sutherland (piano) handled their assignments alongside eighth blackbird with vigor and precision.
This same crew reprised Double Sextet to cap off Sunday's recital. Though this was a chamber work—and with overdubbing, Different Trains (1988) and Electric Counterpoint (1987)—their use of amplification filled Davies Hall with sounds of orchestral dimensions.
Six Marimbas (1973) opened the proceedings with the mellowest of percussion. Reich himself and Tilson Thomas launched the second half with Clapping Music (1972), an early example of the composer's penchant for overlapping rhythms that move ever more out of phase until they come together, all done with no instruments other than two pairs of hands.
Kronos Quartet finished off the first half with an energetic and raw reading of the profoundly moving Different Trains, in which Reich uses snippets of voices contrasting reminiscences about riding trains in the 1940s, some from New York to Los Angeles and others to concentration camps in Germany. The live quartet playing over its own ever-changing chugging rhythms (prerecorded) created a full and multi-colored experience.
In Electric Counterpoint, originally written for Pat Metheny, guitarist Derek Johnson played a sort of live jazz obbligato with ten of his own prerecorded tracks. The complex interplay reveled in its own joy.
Opening night started off normally, with a first half of Rossini's William Tell overture drawing the expected audience chuckles at the first appearance of the "Lone Ranger" fanfare, followed by a bravura set of opera arias and American songbook fare by two of opera's mega-stars.
Mezzo-soprano Graham kicked it off with rock-solid Mozart ("Deh, per questo istante") and soprano Fleming was beguiling in Cilea's "Ecco, respire appena… Io son l'umile ancella." The two of them together drew laughter in the duet from Così fan tutte, "Ah, guarda sorella," which they made into a charming mini-scene. After intermission and the Reich, Graham excelled in Gershwin's breathless "Fascinating Rhythm," and Fleming applied her personal jazz phrasing to "Summertime." They both had great fun with Berlin's "Anything You Can Do." The encore, the silvery duet from Lakmé, sent everyone off to the after-parties on a cloud.
Harvey Steiman