United States Bright Sheng: Dream of the Red Chamber, Soloists, orchestra and chorus of San Francisco Opera, George Manahan (conductor), War Memorial Opera House, San Francisco. 13.9.2016. (HS)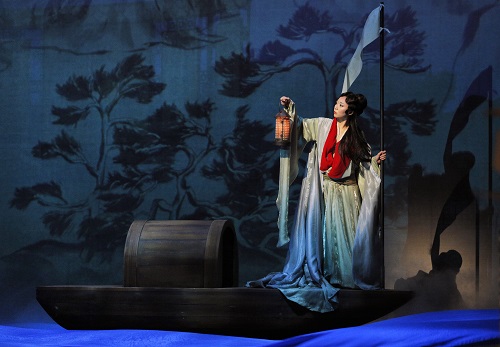 Cast:
Dai Yu – Pureum Jo
Bao Yu – Yijie Shi
Lady Wang – Hyona Kim
Bao Chai – Irene Roberts
Granny Jia – Qiulin Zhang
Princess Jia – Karen Chia-ling Ho
Aunt Xue – Yanyu Guo
The Monk/Dreamer – Randall Nakano
Production:
Co-librettist – David Henry Hwang
Director – Stan Lai
Production Design – Tim Yip
Lighting Design – Gary Marder
Choreography – Fang-Yi Sheu
Chorus Director – Ian Robertson
Composer Bright Sheng and playwright David Henry Hwang took on an enormous task when they decided to make an opera out of Dream of the Red Chamber. The sprawling novel about love, spirituality and politics in feudal China ran 80 chapters when it was published in 1791 in China, and it ranks among the most-read books in that nation.
The world premiere at San Francisco Opera benefited from a cast of magnificent singers, mostly Asian, and stunning stage visuals. Running just under three hours, it took awhile to find its feet. The first act seemed focused on introducing characters and establishing plot points, so much so that it never gained much momentum. The second act, however, created one poetic moment after another.
In the end it's a new opera to relish.
Born and raised in Shanghai, Sheng knew the story well. Hwang, born in Los Angeles, not at all. Sheng created the structure of the story-telling, focusing on an allegorical love story contained in the long original narrative, surrounding it with just enough family and political intrigue to set the tale in what feels like a real place. Hwang can capture character in a line or two. He makes dramatic scenes with economy, but leaves plenty of room for Sheng's music to transport an audience.
The musical language remains lyrical, with just enough pungent harmony, glissandos and Chinese percussion to make a spicy western/eastern mélange—as does much of Sheng's work—and favors long, arching melodies against restless instrumental accompaniment. Set pieces are beautifully crafted and emotionally affecting. Arias, duets, instrumental interludes, and dramatic scenes ebb and flow with assurance, especially in the second act.
With all the lavish sets and Chinese-influenced western music, Puccini's Turandot may comes to mind, but this is a flavor with a different, and more authentically Asian, tang.
The story begins with a monk (Bay Area stage veteran Randall Nagano, in a speaking role) who needs to share the story of a stone, left behind from the construction of heaven, which nurtured a flower with its dew for 30,000 years. Stone and Flower wish to fulfill their love by being reincarnated as humans. The monk warns them against it, but they travel through a magic mirror to corporeal life.
Shang lavishes his most sensuous music on Flower, who becomes Dai Yu (soprano Pureum Jo), and Stone, now Bao Yu (tenor Yijie Shi), a spoiled cousin in the wealthy Jia clan. In one of the highlights of Act I they sing a duet proclaiming their mutual love for poetry and music, centered on the delicate sound of the guqin, an ancient Chinese seven-string zither.
The physically attractive but steely-eyed Bao Chai (mezzo-soprano Irene Roberts) appears with her aunt for a visit. To resolve the Xue family's financial debt to the emperor they want to form a strong alliance with Bao Yu's Jia family by marrying the two. In an ensuing dream ballet both women appear and tempt the lad, who finally realizes Dai Yu is his soul mate. The music here owes more a little to the bacchanal from Samson et Dalila, but more languid. Meanwhile, Bao Yu's older sister (soprano Karen Chia-ling Ho), a concubine promoted to princess by the emperor, returns with gifts that make clear the emperor wants Bao Yu to marry Bao Chai.
With all those threads (and more) laid out, Act II ties them into a series of arresting scenes. The first finds Dai Yu lying on a stone, gathering falling peach blossoms, as Bao Yu overhears her lamenting her illness in a soft and touching aria before Bao Chai arrives. Bao Yu rebuffs her.
There's a nicely wrought death scene for Bao Yu's grandmother (contralto Qiuli Zhang), his only ally on the marriage front. Dai Yu is sent away to the other side of the lake, and in another riveting scene she starts a duet by burning her poems in grief. Bao Yu arrives and prevails on his mother to marry her. The final twists involve trickery worthy of House of Cards, and a moving scene with the now-chastened Bao Yu and the monk, weaving musical strands from previous scenes into a satisfying finish.
George Manahan conducted a stylish and colorful performance, pacing the proceedings with plenty of energy but no unseemly haste. Vocally, the standouts were the two lovers. Jo, a native of Seoul who has sung key roles at Houston Grand Opera, unflaggingly maintained creamy tone and sensitive musicality. Shi, born in Shanghai, has been singing bel canto roles in Italy. He navigated his high-lying part with a sleek lyric tenor that had enough heft when needed. The two also looked their parts, as attractive a pair as any opera could want.
There were no weak links among the rest of the cast. The most riveting was Zhang (from Xi'an, China) as Bao Yu's grandmother. Making her American operatic debut after establishing a nice career in Europe's second-tier opera houses, she used a rich contralto to give her character depth and warmth that left the audience grieving with Bao Yu at her death.
Born in Washington, D.C., but raised in Taiwan, director Stan Lai is recognized as a star writer and director in China, and made a compelling case for Sheng's and Hwang's efforts. Set designs by Tim Yip, an Oscar winner for Crouching Tiger, Hidden Dragon, created theatrical magic with pieces that moved around and above the stage, and used scrims to great effect.
Acknowledging that this veteran opera-goer knows little of the entire sprawling tale from the novel, Dream of the Red Chamber makes a powerful and thrilling musical experience, especially when Act II pays so many dividends. Count it as a win.
Harvey Steiman