Germany Puccini, Tosca: Soloists, Staatsopernchor, Kinderchor der Staatsoper Unter den Linden, Staatskapelle Berlin/Domingo Hindoyan (conductor), Staatsoper im Schiller Theater Berlin, 18.9.2016. (MC)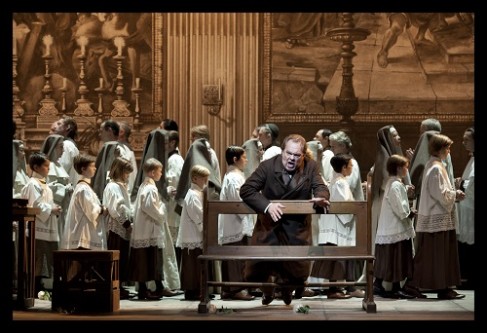 Cast:
Flora Tosca – Angela Gheorghiu
Mario Cavaradossi – Teodor Ilincăi
Baron Scarpia – Michael Volle
Ceasare Angelotti – Grigory Shkarupa
Sacristan – Jan Martiník
Spoletta – Dan Karlström
Sciarrone – Vincenzo Neri
Jailer – Dominic Barberi
Production:
Stage Director – Alvis Hermanis
Assistant to Director – Gudrun Hartmann
Set Designer/Costume Designer – Kristine Jurjane
Lighting design – Gleb Filshtinsky
Chorus Master – Martin Wright
I have attended numerous productions of Tosca the perennially popular opera with its turbulent love affair, attempted rape and fatal conclusion all set against a backdrop of political intrigue and menace. My last visit to the Staatsoper im Schiller Theater Berlin to see Tosca was in 2012 with Carl Riha's production of Puccini's masterpiece. With Oksana Dyka as Tosca, Neil Shicoff as Cavaradossi and Thomas J Mayer as Scarpia it was a fine production that sticks in the memory.
The Schiller Theatre has a smaller stage than the Staatsoper Berlin's main Unter den Linden home which is still undergoing refurbishment – at least the giant cranes had gone when I looked. It is also smaller than the respective stages for impressive Tosca productions I have seen at London's Covent Garden and Munich's National Theatre. In spite of the Schiller Theatre stage having far more basic facilities than its illustrious rivals Alvis Hermanis's production made a strong impression. A test of a good staging is whether the opera still feels fresh and the action of Hermanis's stimulating staging just flew by thanks to the excellent performances from the cast and Domingo Hindoyan's splendidly judged pacing from the pit. First staged in October 2014 this production by Latvian director Hermanis, a mainly traditional one, maintains the settings of the church, palace and prison with Kristine Jurjane's detailed costumes from the late nineteenth century rather than the time of the occupation of Rome in 1799/1800 by the Neapolitan army. The first image the audience saw was the design on the drop curtain of the rose and stem with thorns as seen on the cover of the Ricordi published libretto to the first production of Tosca.  As part of the set, on the buttress between two large centre columns there is a large screen which showed static projected images in the form of a slideshow. In truth, I didn't pay too much attention as my eye was drawn more to the action on stage. However, had I have been sat further back it would have been more in my line of vision.
Stealing the show, how many times have I heard that, in the title role of the elevated singer Floria Tosca was Angela Gheorghiu. Attired in a beautiful creamy oyster coloured gown with wide brimmed brown hat and accessories the Romanian soprano looked very much the celebrated prima donna. I know that Gheorghiu had not been in rehearsal long at Berlin but after a slightly careful start with Non la sospiri, la nostra casetta, by Act 2 – and the affecting Vissi d'arte – Gheorghiu grew in assurance, gaining in fluidity and achieved her high notes without too much difficulty. Especially attractive was the soprano's purity and her unerring gift for dramatic vocal expression and innate acting ability. Her killing of Scarpia was fierce and shocking giving him three vicious knife stabs full of pent-up emotion. One could sense the Berlin audience gradually warming towards Gheorghiu appreciating a great artist at work and the loud and prolonged ovation at the conclusion was testament.
This was my first look at young Romanian tenor Teodor Ilincăi, who wasn't down on my original cast list and was a fairly late replacement for Fabio Sartori. Ilincăi only made his debut in the role of Cavaradossi in August 2015 at Sebastian Festival and has appeared with Gheorghiu in concert performances. An enthusiastic and engaging, bright tenor Ilincăi reminded me at times of a young Neil Shicoff. I was struck by Ilincăi's excellent clarion projection especially in his high register which filled all corners of the house. I am confident that a flourishing career lies ahead of him. One of Scarpia's henchmen did a most convincing job of shooting Cavaradossi at close quarters, no firing squad used here.
Michael Volle excelled giving a stunning performance as Baron Scarpia making a menacing, red wine swilling chief of police scheming, depraved and violently lustful. I have seen many renowned Scarpia's, notably Tito Gobbi on film with Maria Callas, and in live performance more recently I have been captivated by the performances of Bryn Terfel and Juha Uusitalo who have set the bar extremely high, But Volle is up there with the finest. Assisted by the some of the most descriptive and dramatic music ever written Volle was able to progressively ratchet-up the tension to an almost unbearable level of menace. Dressed in a three-piece brown suit with frockcoat Volle demonstrated durability, flexibility and heft together with a steadfast tone and is most adept at darkening his timbre.
The remainder of the cast gave commendable performances demonstrating a satisfying level of consistency. Congratulations for the top drawer singing of the Staatsoper chorus. I've seen more vividly colourful and moving scenes when the substantial church procession entered the stage singing the Te Deum but it still worked pretty well. Having no castle parapets to jump off for Tosca's suicide Hermanis solution to the dilemma was for Tosca to open her arms at the front of the stage in tandem with a jumping Tosca projection on the screen. To my mind it was most ineffective; conversely some of my group thought it worked quite well. Under the alert conducting of Domingo Hindoyan special mention has to be made of the playing of the Staatskapelle Berlin producing a quite glorious sound right from the first note to the last.
Michael Cookson