Sweden Mozart, Idomeneo: Soloists and Chorus of Gothenburg Opera, Gothenburg Opera Orchestra/Laurence Cummings (conductor, fortepiano), Gothenburg Opera main stage, 24.9.2016. (NS)
Cast:
Idomeneo – Paul Nilon
Idamante – Luciano Botelho
Ilia – Ida Falk Winland
Elettra – Ingela Brimberg
Arbace – Ingemar Andersson
High Priest of Neptune – Tomas Lind
The Oracle – Mats Almgren
Two Cretan women – Rakel Haskiya, Karin Hammarlund
Two Trojan men – Alexander Grove, Herbjörn Thordarson
Dancers, extras and children
Production:
Director – Graham Vick
Set and costume design – Paul Brown
Lighting design – Giuseppe Di Iorio
Choreography – Ron Howell
The Gothenburg Opera's new production of Idomeneo is the first staging in Sweden outside the capital. It is a surprise that this early Mozart masterpiece is not more often performed. Indeed, hearing Mozart's music live can only deepen one's respect for his genius not just for music, but also for musical theatre.
The totally organic conducting of Laurence Cummings and the inspired playing of the Gothenburg Opera orchestra (with a beautifully mellow brass thanks to valveless horns and trumpets) brings out the seamless flow of Mozart's writing. Mozart challenged the conventions of opera seria by moving away from separate numbers and blurring the divide between recitative and aria. Indeed, most of Act 1 felt like one long phrase. The serious overture moves seamlessly to the recitative and aria of the imprisoned Ilia, and Elettra's mad rage musically morphs into a thrilling storm scene as Idomeneo narrowly escapes a watery grave.
Graham Vick's rather heavy-handed direction and Paul Brown's Spartan set follow these transitions smoothly, but again and again the message of the libretto is not so much reflected as shouted out, sometimes inanely: in case we don't understand Idamante's compassion from his words, he wears a startling blue t-shirt with a dove on it. The chorus at his freeing of the Trojan prisoners also all wear the same t-shirt, which (unintentionally) suggests astroturfing rather than genuine celebration. As Idomeneo sings in 'Fuor del mar' that he has escaped death at sea only to find a stormier sea in his breast he is soused by bucket-loads of water. I could go on and on…
At the same time I wish a little more effort had been made to give the audience something to look at. The shores of Crete are represented by a few buckets of sand strewn on the stage and one single green balloon must suffice to bring to mind the lush palace gardens of 'Zeffiretti lusinghieri'. Giuseppe Di Iorio was not given much to do as the lighting was usually stark and static. Given that the same team achieved a creative triumph with Gothenburg's Lady Macbeth of Mtsensk in 2011, this production is a disappointment.
Fortunately, to paraphrase Adam Smith, there is a great deal of ruin in a Mozart opera, especially one with a libretto of the quality provided by Varesco. The music always wins over the oddities on stage (of which there were plenty). Every chorus was gripping thanks to the superb singers of the Gothenburg Opera Chorus, with impressive solos. Ingemar Andersson (Arbace) and Tomas Lind (High Priest) filled the supporting tenor roles very satisfactorily.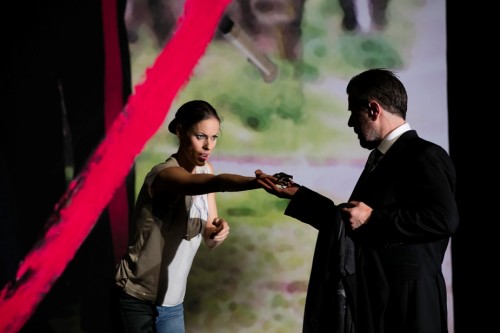 Paul Nilon acted convincingly in the title role: as soon as he finds dry land Idomeneo is wracked with guilt over his selfishness in taking an innocent life in order to save his own. His tenor was mellow and expressive (especially his coloratura in 'Fuor del mar') though he had some wobbles. Ingela Brimberg captured Elettra's madness well but did not really blossom in the one aria where sanity and happiness temporarily return to this tortured woman. (In fairness she was not helped by having five Furies gyrating around her whenever she was singing.)
Luciano Botelho's tenor sounded small on this stage and sometimes lacked the expressive colouring to follow Idamante's shifting emotions, despite his convincing acting. Perhaps Idamante suffered by comparison with Ida Falk Winland's Ilia, who frankly stole the show. From the very start her luminous soprano beautifully expressed the nobility and bravery of the princess (I couldn't help hearing parallels to Pamina, another of Mozart's great female exponents of Enlightenment values). Ms Falk Winland projected seemingly without effort, both when pouring out her heart in 'Padre, germani, addio' and in the quietly ravishing love song 'Zeffiretti lusinghieri'.
This opening of Act 3 was one of the most beautiful moments of the production. The desolation onstage mirrored the emotional desolation of the four main characters, and the temporarily subdued lighting and lack of distractions meant that the quartet 'Andrò, ramingo e solo' that follows 'Zeffiretti' and the equally compelling duet between Ilia and Idamante was a moving exploration of the emotional results of the war, murder and vengeful gods that form the background to this story. Despite the staging, the resolution of the opera then shows that a better and more beautiful world is possible when selflessness and compassion replace envy and hatred.
Niklas Smith