United Kingdom The ROH Live Cinema Season 2016/17 – Bellini, Norma: Soloists, Chorus and Orchestra of The Royal Opera / Sir Antonio Pappano (conductor). Directed for the screen by Jonathan Haswell and broadcast to Cineworld Basildon from the Royal Opera House, Covent Garden, 26.9.2016. (JPr)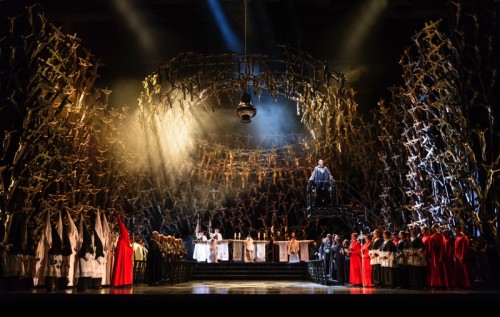 Cast:
Norma – Sonya Yoncheva
Pollione – Joseph Calleja
Adalgisa – Sonia Ganassi
Oroveso – Brindley Sherratt
Flavio – David Junghoon Kim
Clotilde – Vlada Borovko
 
Production:
Director – Àlex Ollé
Associate director – Valentina Carrasco
Set designer – Alfons Flores
Costume designer – Lluc Castells
Lighting designer – Marco Filibeck
I hadn't seen Norma since 1987 – when it was last put on at Covent Garden – but now it has been twice in seven months after English National Opera's updating set in a barn with the Druids as a pre-industrial pagan farming community at odds with capitalism (review). The original story involves the Norma, a druidess, who is urged to signal the revolt against occupying Roman forces in Gaul and solemnise this by carrying out a sacrificial rite. The Roman proconsul, Pollione, has two children with Norma, but is no longer in love with her and the new object of his desire is Adalgisa, a priestess at the temple of Irminsul. In despair Norma considers killing her children before finally vowing to sacrifice herself. In an overly drawn out ending Pollione finally realises that he does still love her and there should be a joint immolation. As I wrote before, Richard Wagner conducted Norma in Riga in 1837 and considered the opera 'indisputably Bellini's most successful composition'. Many other famous composers have praised the work and now – unlike at ENO – it is easier to discern why despite the very thin plot.
Courtesy of Spanish theatrical troupe, La Fura dels Baus's, Àlex Ollé Norma is now set in the twentieth century and explores religious fanaticism. The 'sacred wood' which is significant to the plot is reimagined by set designer Alfons Flores as a nightmarish image of a jumble of wooden crucifixes which cover the stage and frame what action there is. Throughout the evening these crucifixes menace the characters from all sides whether on moving pillars or from above as if forming a huge crown of thorns. In the theatre this might have led to wanting something else to look at as events unfolded, but this is avoided during the broadcast because of all the close-ups. There seems to be a commentary on Catholicism here and the conflict between church and state in Franco's Spain. Oroveso is the head of the armed forces and with an obviously sardonic twist on the status quo and its current orthodoxy, women are able to be priests. The religious sect wears familiar clerical robes, cassocks, trouser suits or the white and red capirotes of Holy Week events in Spain. However, they gave at times a hint of the Ku Klux Klan and there is something equally sinister about the regimentation of the masked schoolchildren seen during the overture.
This ever-present oppressive setting changes only once and that is at opening to Act II. We see the apartment where Norma has a more 'normal' life with her two children. Cuddly toys, games, space hopper and a castle playset are strewn around and for some reason – don't ask me why? – the animated version of Watership Down is seen on a widescreen TV. Her children in their pyjamas soon slumber on a sofa. Into this world of cosy domestication comes Norma herself with a large carving knife in her hand. She lays out plastic sheeting and prepares to murder her children. We know of course that she doesn't go through with it, but the intent is chilling enough.
The plot is basically a love triangle which meanders towards the tragic denouement with many fine bel canto and dramatic moments along the way. Norma's most famous aria is the undeniably sublime 'Casta diva' ('Chaste Goddess') which the soprano must sing within moments of her coming on stage and from then on she barely leaves it. The title role is a tour de force and it needs a true force of nature to make a Norma performance succeed. This new production was planned for one such 'force' – Anna Netrebko – but she stepped away from the role.  So in a typical 'get me a young Netrebko' fashion the Royal Opera found a lookalike and soundalike in Sonya Yoncheva. At first she did not convince me, it was as if her brain was anticipating the role's demands. It was only towards the end of Act I when she got hot-under-the-clerical collar about Adalgisa's confession over her love for her unnamed Roman (who just happened to be Pollione) that she became Norma if you get my meaning. Her 'Casta diva' from a high pulpit (by the side of a huge swinging thurible) had its moments but seemed to suffer some choppy phrasing possibly as the result of nerves. Later – as broadcast through the cinema speakers – her Norma had all the necessary command, vengeful anger, suppressed desire and mother's love. Antonio Pappano in one of his usual perceptive opera introductions dwelt on how had it must be hard for Norma to sing about being chaste. (It is an old joke but a good one that she may have been 'chaste' but she was obviously caught because she has had two children!) It was also revealing how Yoncheva joked that her own personal life is 'complicated' adding 'but not as hers'.
Joseph Calleja's Pollione was also a role debut like Yoncheva as Norma and I am not convinced this is a suitable role for him. His genial – slightly wooden – personality doesn't have the requisite range of emotions for the Roman proconsul who has few redeeming features. His light, lyrical, and honeyed tenor was a pleasure to listen to yet did not seem right for the character. Also in a plain suit it was never particular clear who or what his Pollione represented. Mezzo Sonia Ganassi was wonderful as Adalgisa, less the traditional innocent virgin than channelling the furrowed-brow ferocity of Petra Lang as Ortrud in Lohengrin, especially since she looks so much like her great German counterpart. Brindley Sherratt was not an imposing Oroveso though his characterisation seemed appropriate for Àlex Ollé's approach to Norma. This Oroveso was outwardly stolid and avuncular but underneath you suspect he was seething with resentment about the plight of himself and the other 'druids' under their 'Roman' oppressors. Another reading of this character would make him seem a bit like Jeremy Corbyn whom Sherratt also somewhat resembled. Whilst Oroveso appears to forgive Norma at the end and agrees to look after her children (spoiler alert) he shoots her before she is allowed to immolate herself. Unfortunately, on this occasion Pappano got overexcited and whipped up the orchestra into a frenzy that brought the curtain down almost before Sherratt could carry out the execution. Fittingly the 'pyre' we see at the end is a large burning cross.
Despite the rushed denouement Pappano and his usually reliable orchestra seemed to be doing some their best work together ever at Covent Garden and this Norma had verve, passion and intense drama. The minor roles were solidly taken by David Junghoon Kim (Flavio) and Vlada Borovko (Clothilde). The chorus also get little opportunity – in what is essentially a three-hander – though they did their new chorus director, William Spaulding, proud especially during 'Guerra, guerra!' (War, war!) as Norma proclaims 'Blood, blood! Revenge!'
This was the first of 12 live relays to cinemas during the 2016/17 season made up of six operas and six evenings of ballet. They still haven't quite got the presentation right and here with Clemency Burton-Hill there were some informative insights but the interview with the two young singers promoting Così fan tutte (which will be seen next on 17th October) was very stilted.
Pappano concluded his introduction to Norma by praising its 'great melodies (and) incredible theatricality' saying how this is 'the genius of Bellini'. On the return of Norma to Covent Garden after 29 years I totally agree with him.
Jim Pritchard
For further information about opera and ballet at Covent Garden or at the cinema visit http://www.roh.org.uk/.