United Kingdom Nick Powell, Cold Calling: The Arctic Project (a musical-theatre experience created and composed by Nick Powell, written and directed by Anthony Neilson): City of Birmingham Symphony Orchestra / Jonathan Bloxham (conductor). Studio Theatre, Birmingham Repertory Theatre, 16.9.2016. (GR)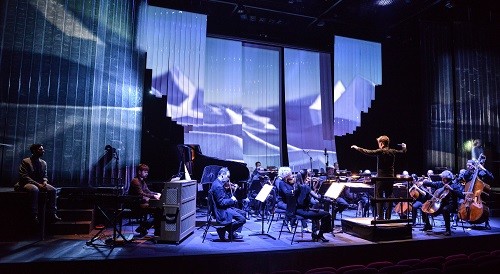 Production:
Lighting Design – Chahine Yavroyan
Video Design – Simon Wainwright
Orchestrator – Ian Stephens
Stage manager – Kate Margretts.
Both the CBSO and The Rep are leading entertainers in their respective musical and theatrical capacities in the West Midlands area, so joint ventures between the two are to be encouraged. But such projects are rare considering their proximity to one another in downtown Birmingham – a matter of only a pedestrian walkway dividing them. Credits are due to the initiatives of the Rep's Stuart Rogers (Executive Director) and Roxana Silbert (Artistic Director) along with Stephen Maddocks (Chief Executive, CBSO) for Nick Powell's Cold Calling: The Arctic Project. It had its world première in the 'Studio Theatre' of the Birmingham Repertory on 16th September 2016 and the hour-long experience was engaging, arresting and thought-provoking, although at certain times I found the combinations of music, words and images somewhat mismatched.
Nick Powell's compositional career has shown he is capable of donning several styles of musical hats, authenticating his CV claim of both score-provider for film/theatre productions and as a universal sound-designer. Having been impressed by the pulsating beat he contributed to Hytner's 2013 NT Othello and the atmospheric sound track to the award winning documentary Death in Gaza, I was intrigued as what he would produce for a piece specifically written for the CBSO whilst being exposed centre stage. The result was a series of impressive vignettes, comprising an astute balance of ensemble and solo instrumental contributions, in a style reminding me at times of Sati. In his programme note, Powell said he wanted his music to explore the gamut of human emotions and those of frustration, joy, sorrow and fortitude stood out, feelings that highlighted the quality of the 21-piece CBSO group of players present. Led by Jonathan Bloxham (the CBSO's new Assistant Conductor appointed this June) the orchestra passionately engaged with the sentiments Powell had instilled in his score; there were outstanding performances from leader Zoe Byers, cellist Eduardo Vassallo, Mark O'Brien on clarinet, while James Keefe's touch on the two pianos (grand or xylophonic) was equally adept.
Powell also said he wanted his audience 'to be free to dream their own path through the music' without the benefit of a 'narrative map'. Nevertheless, some dialogue, interspersed throughout the work, did afford a degree of continuity and elucidation, sensitive sketches from modern living that were reflected in the music. Written by Anthony Neilson they were perceptively delivered by actors Jan Pearson (the husky receptionist from TV's Doctors) and Waleed Akhtar (Salmon Fishing in the Yemen); I particularly liked their take on the annoying automatic telephone queue response system and the staccato accompaniment. One piece of duologue metaphorically linked the Arctic in the title with personal relationship: I moved away. Moved away where? North. Can I come and see you? You shouldn't really. It's dark all the time. Wait till it's light. Such extremes of light were projected by Chahine Yavroyan, but I thought much more might have been done with the representation of the ice-cold Arctic on the videos presented.
Geoff Read