United Kingdom Beethoven, Schumann, Liszt, Tchaikovsky, Prokofiev: Denis Matsuev (piano), Chan Centre, Vancouver, 20.10.2016. (GN)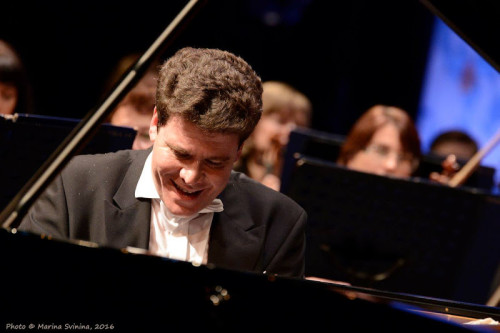 Beethoven – Piano Sonata No. 31 in A-flat major, Op.110
Schumann – Symphonic Etudes, Op.13
Liszt – Mephisto Waltz No. 1, S.514
Tchaikovsky – Meditation, Op.72, No. 5
Prokofiev – Piano Sonata in B-flat major, Op. 83
Since winning the 11th Tchaikovsky Piano Competition in 1998, Denis Matsuev has been engaged for many high-profile concerts featuring the Tchaikovsky, Rachmaninoff and Prokofiev concertos where his power, brilliance and bravura can be exhibited. Nonetheless, many of us have been patiently waiting to hear his artistry put to work in more varied repertoire. This recital fully answered the call: it featured three major piano works, ranging from Beethoven and Schumann to Prokofiev, alongside smaller pieces. Overall, it turned out to be a tremendous success, revealing more clearly the artist's cogent sense of line and contrast, his subtle perception of beauty and the range of his delicate playing – to set alongside his well-known strength and tonal charisma. Perhaps expectedly, his Prokofiev Seventh Sonata was formidable, one of the best performances I have heard in recent years.
It is intriguing how many younger pianists are infatuated by Beethoven's last sonatas these days, and Matsuev is no exception. The concert started from a rather beautiful performance of the composer's penultimate Sonata No. 31, not probing its full depths perhaps but finding a very thoughtful cohesion and balance. One might have found the opening movement a little too breezy and pretty compared to the more deliberative probing of the exalted past masters, but it found a pleasing rhapsodic flow and contained a wealth of sensitive, delicate playing. The spirit was 'romantic' and I occasionally thought of Schumann. The following Allegro was beautifully structured, with very fine rhythmic articulation and colour, and an effective touch of 'craziness' thrown in too. The transition to the great closing fugue might have been slower and more inward, but it certainly evinced fine concentration; the fugue itself was firmly and elegantly negotiated with tell-tale touches of Russian command. While the late 'hammer-blows' were given less weight and rhetorical significance than usual, the closing moments made up for this by bringing out quite electrically the wild vision of the composer 'swimming in counterpoint'.
Matsuev's full, round tone and sense of repose caught the opening motive of Schumann's Symphonic Etudes to perfection, introducing a performance with great extremes of weight and delicacy. At times, I thought the pianist's 'charging' moments were a little too robust and emphatic, but he alternated these so beautifully with moments of delicate charm and caprice that I was quite convinced by his presentation of a 'volatile' Schumann subject to wild mood swings.  The thing that Matsuev put his finger on was the intoxicating joy that Schumann could feel, almost a tumultuous joy at some of the speeds chosen. Yet, just as quickly, a distilled dreaminess could set in, triggering extreme contemplation and removal. I found this both a tender and perceptive reading, and while the closing Etude might have been given a little more push and bravura than it needed, I found it appropriate – and indeed exciting – in a performance of this stature.
Matsuev's performance of Prokofiev's Seventh Sonata was the highlight of the night. We have always witnessed great technical display in this work, but finding a true balance and meaning can be more elusive. Matsuev gave a big-boned interpretation, and found tremendous precision and weight where needed. Nonetheless, the compelling dimension was the pianist's architectural strength and his ability to wed the work's demonic force and bittersweet lyrical ease so naturally. I have seldom felt that the work could be such a cohesive whole. The opening Allegro received a most fluent exposition, finding just the right bend in its lines to meld its assertive, manic thrust with its bittersweet musing. The softer playing was particularly involving. The Andante found enviable romantic ease and feeling before building to a truly passionate outpouring. The Precipitato is the virtuoso tour-de-force, and Matsuev's display of speed, weight and macabre push was simply overwhelming. The whole performance was riveting and fully idiomatic.
Of the shorter pieces, I enjoyed the pianist's unforced treatment of Liszt's Mephisto Waltz.  Certainly there were some electric moments, but it was again the architecture, variety and range of pianistic colour that made this special. There was no hint of barnstorming. I also enjoyed Tchaikovsky's Meditation, a very Russian piece that allowed Matsuev to revel in its emotions but also to find an uncommon elegance and sophistication. Naturally, there were encores, and these included a number of Matsuev's 'specialties': the charming Liadov Musical Snuff Box, Sibelius' Etude Op. 76, No.2, and a striking jazz improvisation of his own. The latter was simply stunning as jazz pianism: imaginatively inflected, rhythmically aware and achieving a spellbinding concentration throughout. It offered a true clinic on types of keyboard touch and agility. What impressed me over the recital is just what a range of things Denis Matsuev can do well (and so naturally) and just how serious his musical commitment is. This already-celebrated young pianist is clearly capable of superhuman displays of power and brilliance when needed, but it is apparent that his artistry does not depend on this: he has many more subtle and less demonstrative talents that make him a superior artist.
Geoffrey Newman
Previously published in a slightly different form on http://www.vanclassicalmusic.com.