United States Donizetti, Lucia di Lammermoor: Soloists, Orchestra of the Lyric Opera of Chicago / Enrique Mazzola (conductor), Civic Opera House, Chicago. 15.10.2016. (JLZ)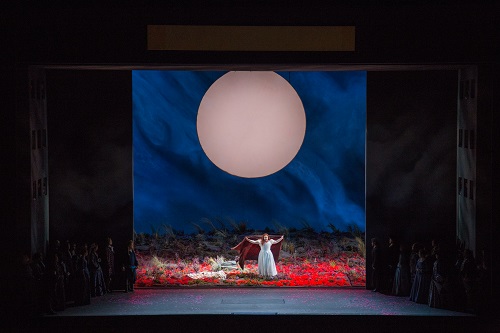 Cast:
Normanno – Matthew DiBattista
Lucia – Albina Shagimuratova
Edgardo – Piotr Beczała
Enrico – Quinn Kelsey
Raimondo – Adrian Sâmpetrean
Alisa – Lindsay Metzger
Lord Arturo Bucklaw – Jonathan Johnson
Production:
Director – Graham Vick
Designer – Paul Brown
Revival Production Designer – Elena Cicorella
Chorus Master – Michael Black
In a production new to Chicago, Lyric offers an international cast in Donizetti's quintessential bel canto opera Lucia di Lammermoor (1835). With the concise libretto Salvadore Cammarano shaped from Sir Walter Scott's sprawling 1819 novel, the score presents the story with razor-like concision, and Enrique Mazzola conducted with a fully romantic slant. In the overture, Mazzola set the tone by contrasting the solemn, sustained opening music with the more nimble passages that followed. His extroverted approach allowed for notable pacing, each act moving forward with musical and dramatic conviction.
As Lucia, Albina Shagimuratova also gave an equally full-voiced performance. Her opening aria "Regnava nel silenzio" showed her ringing tone and vocal facility (with passage work that anticipates the "mad scene" in the third act). Her ornamentation was presented clearly, even though the trills, so typical of bel canto style, were short and tentative. But Shagimuratova excelled in the opera's centerpiece, "Oh, giusto cielo!…Il dolce suono" and later, delivered the virtuosic mad scene with the polish and nuance that earned extended applause. Here the soprano's low tones as clear as her pitch-perfect coloratura ones. The pacing was somewhat impetuous in the passages with flute (this performance did not involve the glass harmonic Donizetti scored), but this is, after all, a mad scene.
Piotr Beczala presented Edgardo with passion and intensity. His command of the role was evident in the first-act ensemble "Sulla tomba che rinserra," in which he shaped the musical line to underscore the text admirably. Yet it was in the final scene ("Tu che a Dio spiegasti l'ali") that Beczala demonstrated his complete mastery.
In portraying Lucia's brother Enrico, Lyric emeritus Quinn Kelsey delivered the role directly, avoiding some of the introspective brooding that singers at times use to evoke Walter Scott's literary depiction of the character. Kelsey's resonance filled the hall with an approach reminiscent of early Verdi, especially in the passage "Cruda, funesta smania." His pitch was solid and reliable, even in the final act, when his muted delivery suggested Enrico's astonishment at finding Lucia mad and his hard-won ally Arturo dead.
One of the most appealing parts of the evening was the stylish, nuanced performance of Adrian Sâmpetrean as Raimondo. In the second scene of Act III, the urgency Sâmpetrean conveyed set the stage for the mad scene. Likewise, in a brief but important role, Jonathan Johnson offered a distinctive Arturo, with fine vocal delivery and stage presence.
Familiar to Chicago audiences for decades, Lucia received fine treatment in this production borrowed from the Teatro del Maggio Musicale Firotentino and the Grand Théâtre de Genève. The abstract sets suited the stage of the Civic Opera House, and the orchestra was notable for its rich sound and subtle colorings. The strings were particularly effective, such as the cellos in Edgardo's final scene.
James L. Zychowicz