United Kingdom Mozart, Così fan tutte: Soloists, Royal Opera Chorus, Orchestra of the Royal Opera House / Semyon Bychkov (conductor). Directed for the cinema by Jonathan Haswell and broadcast live to Cineworld Basildon from the Royal Opera House, Covent Garden, 17.10.2016. (JPr)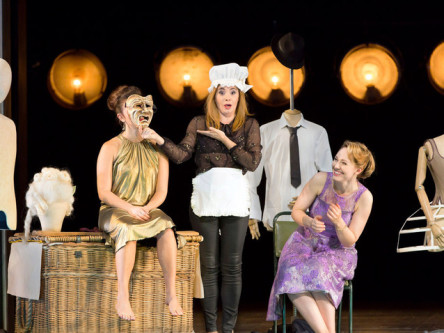 Cast:
Ferrando – Daniel Behle
Guglielmo – Alessio Arduini
Don Alfonso – Johannes Martin Kränzle
Fiordiligi – Corinne Winters
Dorabella – Angela Brower
Despina – Sabina Puértolas
 
Production:
Director – Jan Philipp Gloger
Set designer – Ben Baur
Costume designer – Karin Jud
Lighting designer – Bernd Purkrabek
Dramaturg – Katharina John
Looking back is never a good thing but I first saw Così fan tutte at Covent Garden 41 years ago then several times in the 1980s and as recently as 2010 in the cinema in the Dr Jonathan Miller 1995 production which this new one by Jan Philipp Gloger has now replaced. I wrote a handful of years ago (full review) how Miller expunged 'most of the traditional farcical elements from the opera and turns it into a psycho-analytical journey of self-discovery where four young people have their true natures laid bare courtesy of manipulation, duplicity and betrayal' and 'Don't misunderstand me, there are a few "classic" moments during the evening but not enough to sustain the nearly three hours of music that Mozart gives to the slim plot'. Strangely this was exactly part of my reaction to Gloger's and makes me wonder whether since it says nothing really new about Così why did the Miller staging need replacing?
In his final collaboration with Lorenzo da Ponte Mozart's 1790 Così fan tutte involves the old philosopher, Don Alfonso, encouraging two young men, Ferrando and Guglielmo, to test the fidelity of their fiancées (Dorabella and Fiordiligi, respectively) by adopting disguises as moustachioed Albanians and attempting to seduce each other's sweetheart. It is as simple as that yet unfolds – here extraordinarily leisurely – over more than those 'three hours of music' mentioned above. There are several mentions in the libretto of all the laughter resulting from Don Alfonso's machinations and while Gloger provides a few laugh-out-loud moments there were not enough to make sitting through its longueurs sufficiently worthwhile.
I must have seen something in Così to make me see it so many times over the years but it is now not an opera I will rush to return to soon. Perhaps 'back in the day' it was the casts that drew me to it either at Covent Garden or English National Opera and I remember Stuart Burrows, Richard Van Allan, Thomas Allen, Benjamin Luxon, Anne Murray, Kiri Te Kanawa Agnes Baltsa, Alan Opie, Felicity Lott, Della Jones and conductors such as Colin Davis and Charles Mackerras. Looking back is a nasty habit I try and avoid but they must have brought something to this opera which seemed missing on this occasion.
The title means 'Women are like that' which Clemency Burton-Hill (who introduced the broadcast) described – with considerable understatement – as 'slightly misogynistic'. The conductor, Semyon Bychkov, later described it as 'the first feminist opera in the history of mankind' and although Mozart was certainly not a feminist he said he was 'interested in human nature'. This is what Jan Philipp Gloger was trying to investigate, but the director and his set designer, Ben Baur, responded to all the money they were allowed to spend with a succession of images – occasionally related to 'love' is someway or other – that eventually overwhelmed what is a very simple plot.
Apparently we retreat backstage at the Royal Opera House itself: it begins during the Overture as the cast for a 'traditional' Così appear for repeated curtain calls whilst the two couples enter as latecomers through the audience. Selfie-obsessed Fiordiligi and Dorabella are shown in a no-expense-spared recreation of the Crush Room which is used for a few minutes but never again; there is a send-off on a railway platform à la Brief Encounter complete with train; then a lonely hearts' bar presided over by Dorabella as a blowsy cocktail bartender; the Garden of Eden is the setting for a picnic complete with apples and serpent curling around the tree of knowledge; later there is a baroque tableau. A film set has Guglielmo shining a spotlight on the audience implying that none of us are entirely innocent; finally, a lot of time is spent backstage at the opera house before an alcohol fuelled celebration of the 'marriage' of the ill-sorted couples with 'COSI FAN TUTTE' (without accent!) up in lights above them.
It's all a bit too fussy, too busy, which suggests Gloger mistrusts the ability of a 2016 audience to accept a simple tale simply told. What are we to think at the end? I was never really sure who is who or what is what. Clearly because the men's disguises are only a thin moustache when Fiordiligi or Dorabella remove them they obviously just respond to their inner desire, as surely they must recognise their man.
Semyon Bychkov conducted a concert version in Rome earlier this year with three members of this cast (review) but I have to believe this conductor – so fine in Wagner and Strauss – must originally have been contracted for something else and accepted this when plans changed. Although it was played with great refinement by the orchestra it was also so slow that at times – and especially in Act II with all the characters often having their own extended aria – it became musically becalmed and dramatically inert.
As for the young cast there was not a British singer amongst the six principals and with London's current fascination – especially at ENO – with Americans here there were two more, plus two Germans, an Italian and a Spaniard. None were a match for the names mentioned above though Corrinne Winters will be worth a further hearing in something else and – whilst her voice is more mezzo than soprano – her deeply profound 'Per pietà' was a triumph of her perseverance over Bychkov's torpid tempi. Unfortunately she did not bring her character to life and seemed to have only one expression – a furrowed brow – throughout the opera. In this regard mezzo-soprano Angela Brower's Dorabella was much more animated but actually sounded less mezzo than Winters. Sabina Puértolas was an exuberant Despina with hyperactive hands that seemed be sing-languaging the performance! Daniel Behle's eloquent account of Ferrando's 'Un'aura amorosa' should have been a showstopper if his conductor wasn't doing his best to stop the show, but otherwise he was the least charismatic of the quartet of 'lovers'. In this regard Alessio Arduini's rakish Guglielmo was a more rounded character. (He is a dead ringer for Sacha Baron Cohen.) Presiding over all this was Johannes Martin Kränzle (next year's Bayreuth Beckmesser) as Don Alfonso who was more a meddling puppet master (rather like Drosselmeyer in The Nutcracker) than the 'theatre director' Gloger suggested he was and throughout he retains his frock coat and wig so I was never entirely clear who he represented.
This performance was transmitted to 985 cinemas in 25 countries involving subtitling in nine different languages. I am not sure whether they get the same 'extras' that we in the UK see but they might have been bemused by all the time spent introducing forthcoming opera and ballet broadcasts such as Les Contes d'Hoffmann, Anastasia and The Nutcracker at the expense of saying more about the Così fan tutte we were watching. Nevertheless, although the showing in the Cineworld cinema in Basildon was not that well attended those I overheard seemed to have enjoyed what they saw. Since most probably they were first timers to this opera, that is – in the long run – more important than what I thought about it having probably seen it too many times.
Jim Pritchard
For more about the ROH's 2016/17 Live Cinema Season visit http://www.roh.org.uk/cinemas.