United Kingdom Puccini: Il Tabarro and Suor Angelica, Orchestra and soloists of Opera North, Jac van Steen  (conductor),  Leeds Grand Theatre, Leeds, 1.10.2016. (JL)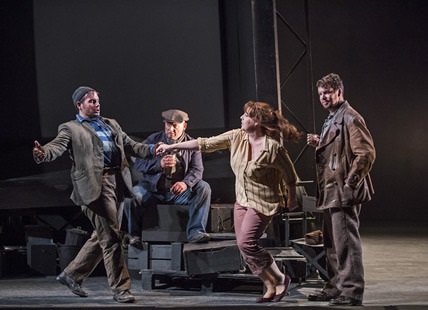 Il Tabarro
Cast:
Giorgetta: Giselle Allen
La Frugola: Anne-Marie Owens
Luigi: David Butt Philip
Michele: Ivan Inverardi
Tinca: Stuart Laing
Songseller: Nicholas Watts
Talpa: Richard Mosley-Evans
Off-stage lovers: Marie Claire Breen & Alexander Banfield
Production:
Director:  David Pountney
Revival Director: Michael Barker-Caven
Set Designer: Johan Engels
Costume Designer: Tom Pye
Lighting Designer: Mark Doubleday
Suor Angelica
Cast:
Suor Angelic: Anne Sophie Duprels
La Zia Principessa: Patricia Bardon
Suor Genoveva: Soraya Mafi
Suor Osmina: Katie Bird
Suor Dolcina: Sarah Estill
La Badessa: Fiona Kimm
La Suora Zelatrice: Louise Collett
La Meastra della novizie: Claire Pascoe
La Suora Infermiera: Amy J Payne
1st Cercatrice: Gillene Butterfield
2nd Cercatrice: Anna Barry
1st Lay sister: Lorna James
2nd Lay sister: Cordelia Fish
1st Novice: Laura Kelly-McInroy
Production:
Director: Michael Barker-Caven
Set and Costume Design: Hannah Clark
Lighting Designer: Mark Doubleday
Video Designer: Arnim Friess
Sitting through a Puccini opera can be akin to receiving the attentions of an emotional sadist.  Being subjected to two of his tragedies, albeit short one-acters, one after the other ensures a double blow. When Puccini wrote Il Tabarro and Suor Angelica in 1918 they were two of a triptych designed to be performed in one evening in that order with a comedy, Gianni Schicchi, coming at the end to mitigate the gloom.  Puccini did not like it when the operas were performed singly or in pairs but that is usually how they are done now days. Whether it was a good idea to put the two emotional blockbusters together is a matter for each audience member. The few I spoke to afterwards all thought it was just a bit too much. However, on the bright side, that was testimony to the power of the performances.  Opera North's decision was understandable on the grounds it had performed Gianni Schicchi in 2015.
Il Tabarro was a revival of a production by David Pountney, one of Britain's most distinguished opera directors.  It bore his trademarks that emphasise no-nonsense but powerful story telling relatively free of pretentious symbolism or intellectualising yet with a fresh and radical approach. Let the narrative do the work seems to be his motto. This opera is very much in Puccini's verismo genre set in a sleazy world of dockers and barges on the Seine. The semi abstract set is in uncluttered grey monotone with a large tilted box-like structure representing the barge of the action. The top is the deck and below there is a hole to the hold from which the dockers unload sacks. Subtly lit, it is simple and effective. In under an hour a tale of lust, infidelity and murder unfolds.
The Captain Michelle, whose suspects his wife of adultery with one of the dockers, is an authoritative but hurt figure. He is powerfully portrayed by Ivan Inverardi, a native Italian who specialises in his nation's repertoire.  At his command is a baritone voice of opulence and subtlety with varied dynamic control.  As his wife, Giselle Allen looked suitably sensuous as a woman yearning for love elsewhere. Earlier this year she achieved the astonishing feat of distinguishing herself in three separate roles in Opera North's much vaunted Ring cycle. Here she demonstrated impressive   versatility in transferring from Germanic Wagner to Italianate Puccini and appearing equally at home in both. Her voice soared easily to the top notes in her duets with the docker of her affections, Luigi. He was sung by David Butt Philip who has a splendid ringing tenor voice that matched hers well. Above all they conveyed a really convincing lust-driven elicit love. The chemistry was there, something that can, in my experience, so often be disappointingly missing in many an operatic love pairing.
This strong cast was further distinguished by the presence of veteran mezzo Anne-Marie Owens as one of the docker's wives.  In a key soliloquy she conveys life in a community where work is short, poverty and dirt reign and where there is little joy.  The only comfort, apart from love for her cat, is to fantasise about one day moving to a little place in the country. This is an important theme in the opera, one where the grass is greener on the other side. They are all at it, yearning for something they haven't got – which is love in the case of the other three protagonists. The tragedy for the audience is the reluctant knowledge that none of them are going to get to "the other side". The production, aided by a fine libretto gets this defeatism across well.
The coup de theatre at the end, where Michele, having killed his wife's lover and covered him with his cloak (tabarro) then maliciously whips it off when Giorgetta arrives, is not very original (think Rigoletto) but it was effectively done, mercifully without overdoing the inherent melodrama.
Conductor Jac van Steen played a major role in bringing out the subtle orchestral textures of the mature Puccini. Above all the balance was perfect, never drowning out the singers yet providing the power when needed.  Pacing was perfect and this excellence continued with the next opera.
In the majority of Puccini's operas, the lead role is invariably a vulnerable female who is persecuted in some way and comes to an unfortunate and unjust end. There is the uncomfortable feeling that she is persecuted simply for being a loving woman. It's a theme that fits particularly well in Suor Angelica which is set in the claustrophobic, guilt-ridden atmosphere of a convent where having fun or harbouring any sort of desire is considered a sin. It allows Puccini to take a swipe at the Catholic Church, a popular Italian pastime. Whereas Puccini's 'heroines' usually have a male persecutor, here Sister Angelica suffers at the combined hands of women and Catholic Ideology.
The curtain rises on a set divided fore and aft by a windowed screen beyond which can be seen the nuns in chapel prayer. The colours of set and costumes are mostly in tones of beige and light streams through the windows. "Effective" I heard someone mutter behind me.  This is an ensemble piece in which there are well over a dozen female singing parts. Combined, they provide the sounds of a heavenly choir. There is much well directed bustle on stage that suitably contrasts with Sister Angelica's final, lone soliloquy that prefaces her demise.  Prior to that she had received a visit from her relative, a hard hearted Princess who has come to try and force her to sign away any claim to the family fortune, then tells her the child that had been taken from her several years ago is now dead.  Patricia Bardon as the Princess makes a real entrance dressed in an extremely expensive looking modern gold outfit, certainly not belonging to the C17th of the setting. She moves about the stage in her heels in a cross between military strutting and slinky catwalk and has a voice to match.
French soprano Anne Sophie Duprels is a brilliant actor/singer who possibly provides the outstanding performance of the evening her voice ringing clear and true even when prostrate.
The ending of the opera is a real hazard for directors. What happens in the libretto is that Angelica takes poison in her anguish, imagining she will join her son in death and then realises that the act constitutes a mortal sin and she is damned.  She begs forgiveness of the Virgin Mary who then appears on stage in a blinding light accompanied by angels and a celestial choir. Before her she brings the son to join his mother. Forgiveness is offered and Sister Angelica dies.  How to do that without tipping over into gross sentimentality is clearly a problem.  What happens on stage in this new production is that the set moves away revealing a beautiful rose window at the back that morphs into a very effective light show that seems to take us into outer space and then an image of a foetus appears. This has got be influenced by Stanley Kubrik's 2001. Angelica moves towards the vision, slipping off her habit to continue nude before dying.  What any audience member who hadn't read the synopsis made of that I don't know.
Still, in a Puccini opera, dying but in a state of redemption constitutes a happy ending.
John Leeman
After Leeds, the double bill goes on tour to Newcastle upon Tyne, Salford, Nottingham and Edinburgh.