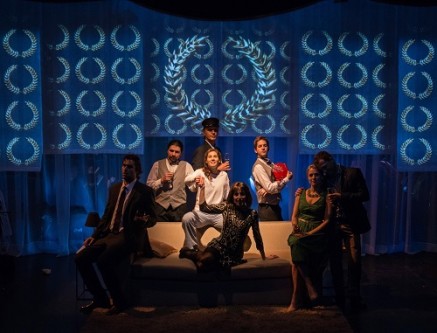 Argentina Adapted from Handel, Agrippina: Soloists, Orchestra of Buenos Aires Lírica, Conductor: Carlos David Jaimes. Teatro Picadero, Buenos Aires. 24.10.2016. (JSJ)
Cast:
Agrippina – Rocío Giordano
Claudio – Walter Schwarz
Poppea – Oriana Favaro
Nerone – Cecilia Pastawski
Lesbo – Sergio Carlevaris
Ottone – Pablo Travaglino
Pallante – Luis Loaiza Isler
Narciso – Adriano D´Alchimio
Production:
Director – Ignacio González Cano
Sets – Noelia González Svoboda and Matías Otálora
Costumes – Denise Massri and Mercedes Nastri
Projections – Matías Otálora
It was promised as "a fusion of opera and musical theatre" and "a new experience" based on Handel's Agrippina. Which meant something of a mystery for this new offering from Buenos Aires Lírica – an extra fifth production over and above the company's regular season.
It was certainly "a new experience" – a first for this reviewer – with perhaps a more accurate description "a fusion of opera and theatre". And the operative phrase for the work, which is presented in a single act lasting a little under 2 hours, is "based on". It is effectively a "musical" comprising an overture and 31 arias from Handel, i.e. the majority, with the recitatives replaced with a new spoken dialogue. This dialogue, in Spanish (the arias in their original Italian), effectively covers the same storyline of Agrippina's scheming to ensure her son Nerone becomes Emperor following Claudio. But rather than seria, makes a comedy of it, with the characters caricatures of what Handel's original suggests.
The setting for this "experience" was a simple, single scene, with projections changing its mood and location. At the back of the stage, behind a curtain, was the small 7-strong orchestra – members of Buenos Aires Lírica's regular orchestra.
This version was by Ignacio González Cano and Carlos David Jaimes, respectively the director and musical director. According to the programme notes, their aim was to take the best of the music and adapt it into a drama that "speaks to us in our language and in our time" just as Handel's original work did to Italian audiences at the time of its premiere in 1709-10.
Leaving aside the moot point of adapting operas in this way, the question is, did it work? If one was wanting something closer to Handel's original then obviously not, but taken as an adaptation, it was cleverly done. Of course, it was helped by the outstanding playing of the chamber orchestra under Carlos David Jaimes and the abilities of the cast, the main members of which are Buenos Aires Lírica 'regulars'. Here, and more so than usually in operas, their dramatic abilities were as important as their vocal ones and without exception they all excelled. Notable too there was no corner cutting with the casting with Ottone and Narciso as counter tenors.
There was no mention to the background to this adaptation of Agrippina or the association with Buenos Aires Lírica and whether more such offerings can be expected. In any event on the opening night at least, the small approximately 300 seat theatre was full and it went down well with many a laugh along the way.
Jonathan Spencer Jones