Canada Hosokawa, Mendelssohn and Debussy: Stefan Jackiw (violin), Vancouver Symphony Orchestra / Jun Märkl (conductor), Orpheum Theatre, Vancouver, 22.10.2016. (GN)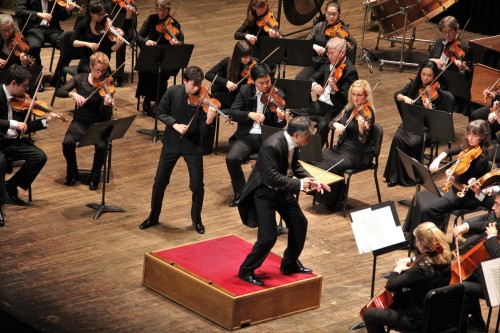 Hosokawa – Blossomings II (2011)
Mendelssohn – Violin Concerto in E minor, Op. 64
Debussy – Images pour Orchestre
 Conductor Jun Märkl has been a frequent visitor to the Vancouver Symphony in recent years, and previously put his fine orchestral command to work in performances of Mendelssohn and Richard Strauss. This time, he brought works by Debussy and Toshio Hosokawa (b. 1955), the latter of whom he has particularly championed and both of whom he has recorded on Naxos. A highlight of the night was the conductor's collaboration with the estimable American violinist Stefan Jackiw in the Mendelssohn concerto, a performance of extremes but one which turned out to be a novel and riveting experience. Jackiw had not played here since his 'infancy' (five years ago) but, at age 30, he has clearly surfaced as one of the finest of his generation, using his pristine articulation and range of tone colour to find many subtle dimensions of expression.
As witnessed in his previous performance of the 'Scottish' Symphony, Märkl tends to paint Mendelssohn as a more volatile composer than normally encountered, letting his expression range from driving insistence on one hand to much softer romantic postures on the other. Perhaps Mendelssohn is rendered closer to Schumann. There are many tempo fluctuations implied by this approach, but it is the conductor's emotional flexibility and keen eye for detail that makes it all add up.
So it was for this Mendelssohn Concerto, which started at such an athletic pace for both soloist and orchestra that I just hoped it would slow down. And did it ever, moving on two occasions to some of the slowest tempos I have ever heard in the opening movement. These established a suspended 'reverie', and gave Stefan Jackiw the opportunity to bring out the most poignant expression, which he did superbly, establishing a glowing ardour over the whole. The conductor strongly tightened things up at the movement's close but this interpretation stood as quite the opposite to the freshly straightforward treatments we normally hear. The Andante naturally seemed like an extension of the previous 'tone poem' but maintained its concentration through the tenderness of Jackiw's utterance and the conductor's abundance of romantic feeling. The finale was the release, taking things home with all the spring-like ardour one could want: the violinist provided imaginative contrasts, a lovely tonal variety and a beguiling sense of narrative while the conductor revealed a host of telling detail and rhythmic ingenuity. The ride was scintillating. I am not sure I would always want to hear the work this way, but the performance had tremendous conviction and the orchestral execution was superb: the precision of the winds was particularly notable. It was clear that this conception was guided by the conductor: I have seldom seen a soloist being directed so face-to-face throughout.
Toshio Hosokawa is likely Japan's pre-eminent living composer, and Blossoming II was a commission for the Edinburgh Festival, premiered in 2011 and recorded by Märkl and the Scottish Chamber Orchestra. There is a clear Japanese feeling to this work: it starts from a very quiet mist, blossoming forth with economical but telling lines, only to retreat again to distilled textures. The work moves out with shimmer and sheen, and artful dynamics allow a sense of struggle to register over an implicit fragility. This is a very clean, quasi-minimalist work which exhibits fine textural control and contributes to our perception of processes of organic growth and decay. I think the orchestra and the conductor did a fine job with it, especially in sustaining the prolonged soft textures that are hardly audible.
There have been so many convincing readings of Debussy's Images pour Orchestre over the years that one often bypasses thinking about the exact character the work should have, and its relation to other familiar compositions such as La Mer and Jeux. Is Images a more demonstrative work which gives greater room for vivid projection and colour? Or is it still fundamentally a pointillist work in which individual detail pops in and out but is always subservient to the general flow and texture of the 'landscape'? Märkl definitely sees it as the latter and an impressionist link to the other two works was more apparent here.
The conductor established a good flow from the outset, setting quicker tempos and achieving firm detailing and punctuation. Gigues seemed to move with an idiomatic ease, generating rewarding atmosphere and insight. Nonetheless, as we proceeded into Iberia, I did feel that things were going by a little quickly and that the sensuality, weight and colour of the detail were not coming through as they might. Perhaps the quicker tempos did not help the orchestra's execution or projection, but the performance became a little plain and perhaps short-winded and did not fully reestablish itself. I think this more understated approach is fully defensible but is difficult to bring off unless the orchestra can achieve absolute precision and flexibility. Alternatively, the choice of slightly slower tempos might have allowed more room for orchestral expression at the cost of slightly less flow. Indeed, another factor that might have been at play is the almost half-hour long lecture and illustration that the conductor gave on the work just before it was played. This was presumably at the VSO's request, but English is not Märkl's native tongue, and the adventure might have been a little exhausting. However, there is no doubt that Jun Märkl is a very fine and individual conductor in this repertoire.
Geoffrey Newman
Previously published in a slightly different form on http://www.vanclassicalmusic.com.