United States Chopin, Berlioz: Yuja Wang (piano), Philadelphia Orchestra / Yannick Nézet-Séguin (conductor), Verizon Hall, Kimmel Center, Philadelphia, 24.9.2016. (BJ)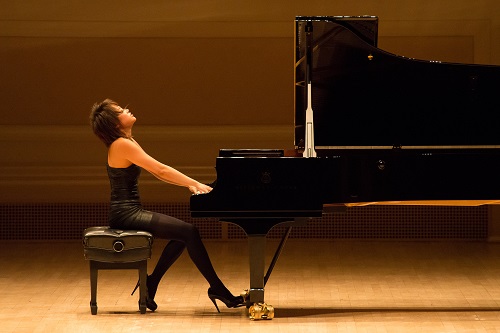 Chopin–Piano Concerto No.2 in F minor Op.21
Berlioz–Symphonie fantastique Op.14
Hype has its uses, but also, unfortunately, its misuses. Mindful of the too frequent occasions when a performer of exiguous talent has been touted by publicists as the greatest thing since sliced bread, I approached the prospect of hearing the soloist in this concert with a degree of apprehension.
I need not have worried. There was not the slightest trace, either in Yuja Wang's deportment or in her playing of Chopin's F-minor concerto, of the meretricious sensationalism you might infer from some public accounts—and photographs—of the pianist. Instead, here was the intensely thoughtful and philosophically challenging artist evoked in Janet Malcolm's recent New Yorker profile. She looked serenely elegant in a beautiful full-length gown, and a similar elegance was to be relished in every line of her performance. Since the retirement and death of the late-lamented Ivan Moravec, it is only perhaps Garrick Ohlsson and Idil Biret that have given us Chopin of such surpassing grace and warmth. Those two redoubtable pianists are now joined in my personal pantheon of masters by Ms Wang. And my goodness, after such a tour d'élégance, artistic probity, and technical command, how I should love to hear her in Mozart, who is— counter-intuitive though it may sound to say so—the hardest of all composers to play!
Yannick Nézet-Séguin and his Philadelphia Orchestra supported her with unfailing responsiveness, keeping dynamics to a level that allowed every facet of the solo part to emerge in full clarity. They went on after intermission to offer a no less exceptional account of Berlioz's Symphonie fantastique. Very appropriately, this was a totally insane realization of a work that itself intentionally teeters on the brink of the mental abyss. The craziness was established right from the start, with a reading of the slow introduction that responded with sudden emphasis to every accent and every foray into a new expressive mode: in its quite different idiom, it recalled the explicit 'Representation of Chaos' that gets Haydn's Creation off to such a stimulatingly unsettled start.
The orchestra was in fine form throughout, with superb solos from all the usual suspects in the woodwind, brass, and percussion sections, and the strings sounded both sumptuous and crisp. It was a particular delight to see and hear the four harps that embellish the textures of the second movement's 'Ball' scene. (The program book's instrumentation list mentioned just two harps, but Berlioz's score specifies 'at least 2' for each of the two parts.) I was disappointed only by the conductor's non-use of the delicious obbligato cornet part that Berlioz added to this movement for a performance a few years after the work's premiere. (You can hear it in recordings by Colin Davis and a few other conductors.) But nothing else was missing in this brilliant—and in the third-movement 'Scene in the fields' at once mysterious and compellingly urgent—performance of the symphony.
Bernard Jacobson