United Kingdom Various composers, Burn the Floor's Fire in the Ballroom: Dancers, Mikee Introna & Jessica Lingotti (vocalists), Will Fry (percussion), Marc Aliana (lead guitar), Miki Santamaria (bass guitar) & Pat Madden (percussion); Peta Roby & Jason Gilkison (directors and choreographers), Peacock Theatre, London, 19.10.2016. (JPr)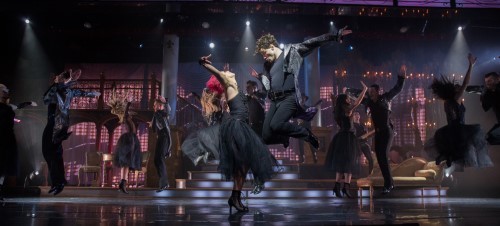 Dancers: Jemma Armstrong, Arduino Bertoncello, Graziano Di Prima, Alberto Faccio, Jorja Freeman, Ben Hardwick, Pasquale La Rocca, Giada Lini, Victoria Martin, Lauren Oakley, Nancy XU, Johannes Radebe, Gustavo Viglio, Megan Wragg
Distinguished dance writer Graham Watts explains in the lavish programme how although Burn the Floor 'has been a regular visitor to London's West End for many years, this is the first season in a recognised dance house.' Amongst a celebrity audience – mostly the stars and dancers from BBC's Strictly Come Dancing -walking in up the red carpet there was also the doyen of ballet critics, Clement Crisp, sitting in front of me …what he made of it all I cannot wait to read! Veteran theatre impresario, Harley Medcalf, was inspired to create a show based on ballroom having seen some entertainment at Sir Elton John's 50th Birthday party in 1997 at London's Hammersmith Ballroom. The creative guiding lights behind Burn the Floor are now Jason Gilkison and his former dance partner Petra Roby. Gilkinson has been director of choreography for Strictly since 2014 – hence all the famous faces in the audience – and this new show is largely the creation of Peta Roby. Medcalf reveals in a Q&A how Burn the Floor now has four productions across the world with over 80 dancers and 90 plus people in an extended company. As a show it therefore began long before Strictly Come Dancing but most of the Burn the Floor dancers are competition winners and the show has become a training ground for Strictly, Dancing With The Stars, and many of its other international versions.
Medcalf explains the concept behind the show as follows: 'Simply put, Burn the Floor is more than a dance show. Although we draw from the wonderful ballroom art form, styles, history and traditions we deliver them all with a complete 21st century makeover. The show is a really strong theatrical experience, the dancing is combined with great story telling in the choreography and really electric music … Our dancers are the best in the world … We have great sets, tons of very lush costumes and the really hot band, which this year features two Spanish guitarists, and then the two amazing singers … We have emotional moments, funny moments, and times when the action on stage just blows you away … And you can bring your kids, your husband, or your grandparents.'
Based on what Medcalf sets out to achieve this new show, Fire in the Ballroom, does 'exactly what it says on the tin' and leaves the audience 'totally, completely entertained'. Burn the Floor has much in common with the spectacle of Cirque du Soleil and like that 'brand' is constantly renewing itself. However, the problem is the same for both in that there are only so many circus tricks you can present and there are only a limited number of dance steps to work with. This show – like all their others – is based on dancing which is called 'international style' consisting of '10 dances that are split into 5 Latin American dances [Waltz, Foxtrot, Viennese Waltz, Quickstep and Tango], and 5 ballroom dances (standard) [Cha Cha, Samba, Paso Doble, Rumba and Jive]'. In the programme it further adds how 'Burn the Floor dancers have spent a lifetime training to compete against other dancers. This show allows the dancers to show their love and passion for their art form.'
This Fire in the Ballroom certainly does that in another fast-and-furious show with rock concert lighting, rapid costume-changes, loud music and good singing from  Mikee Introna and Jessica Lingotti which invoked in me very similar reactions to that when I saw a previous visit to the Shaftesbury Theatre in 2013 (review). Truth-be-told, there is a feeling you have seen many of the routines before – earlier the same evening, as entertainment on a cruise or previously on TV. Nevertheless, the dancers are so talented and full of 'their love and passion' that Fire the Ballroom still becomes captivating even it all still seems like an unremitting two-hour dancercise DVD performed live: I felt exhausted by the end just watching it and I am sure I had myself lost some weight!
There were other influences in this show which included pantomime and there was some playacting with the audience as they arrived by two of the company who roamed the auditorium in frock coats and wigs. When the curtain went up that too reminded me of the set left over from a production of Cinderella at Christmas. This was a Blue Danube opening and a gentle waltz section before it was invaded by Fetish Goths and the first half became full-on and in-your-face from then on. Only a beautifully sung – and dance free – 'Halo' (made famous by Beyoncé) allowed some repose. As before, it had all seemed like one long Rumba 'dance off' and there was little respite from the overall raunchiness. Throughout there are loads of Samba hip shakes, intricate lifts and legs kicking upwards or flying akimbo. There is no real plot to speak of and each dance sequence is seamlessly integrated into the next. The dancing itself sets a mood and takes you on an individual journey, though it still relies rather too much on macho, often bare-chested, posturing for the men or a competitive one-upwomanship with hair or skirt swishing for the girls. They all shimmy through numbers like Tito Puente's 'Oye Coma Va' and 'Volare' (remember Dean Martin's version?) before Cole Porter's 'Too darn hot' ushers in a change to some suitably up-tempo swing and jive.
Things quieten down somewhat in a more varied second half beginning with a sultry version of the 'Habanera'. This has little to do with Bizet and is Malcolm McLaren's hip-hop reinterpretation and features the Paso Doble. A glitter ball soon makes an appearance during 'Stairway to Heaven' before a delightful American Smooth version of Des'ree's 'Kissing You'; a passionate Argentine Tango to Carl Orff's 'O Fortuna'; followed by a wonderful Rumba to Robbie Williams' 'Angels' among a succession of highlights. As the end draws near there is a typically high-energy school disco section where the choreography owes much to Jerome Robbins' 'Mambo' and other sequences for the gangs in West Side Story, though the look was more Britney Spears and her 'Baby One More Time' video. Here there were moments when you might want any kids with you to look away! Everything finishes with a rampaging 'Ballroom Blitz' – now almost Burn the Floor's signature dance –  everyone appears to be having such enormous fun on stage and it brings most of the capacity audience to its feet.
Backed by the talented and hard-working musicians and singers 14 dancers give their all during the entertaining show. It is very difficult to single any of them out though particularly catching the eye were Jemma Armstrong, Arduino Bertoncello (a dead ringer for Ian Waite who will be familiar to fans of Strictly), Nancy YU, Johannes Radebe and Megan Wragg.
Jim Pritchard
For more about Burn the Floor at the Peacock Theatre and elsewhere visit http://www.burnthefloor.com/.