United States Donizetti, Don Pasquale: Soloists, chorus and orchestra of San Francisco Opera, Giuseppe Finzi (conductor), War Memorial Opera House, San Francisco. 12.10.2016. (HS)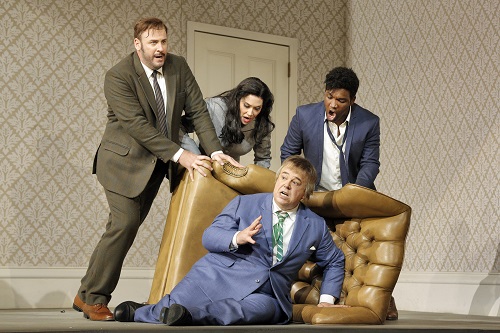 Cast:
Don Pasquale – Maurizio Muraro
Norina – Heidi Stober
Ernesto – Lawrence Brownlee
Dr Malatesta –  Lucas Meachem
A Notary – Bojan Knežević
Production:
Director -Laurent Pelly
Associate Director – Dan Dooner
Set Design – Chantal Thomas
Costume Design – Laurent Pelly
Lighting Design – Duane Schuler
Chorus Director – Ian Robertson
One could not ask for better singing than what enlivened San Francisco Opera's current run of Don Pasquale, Donizetti's late-in-life opera buffa. From top to bottom, the arias, duets and ensembles were musically glorious—stylish and catnip for the ears. If the comedy sometimes seemed a bit more labored than it had to be, the musical delights more than compensated.
This co-production debuted at Santa Fe Opera in 2014 and at Barcelona's Liceu in 2105—each with entirely different casts—before San Francisco got its turn. The common thread is director Laurent Pelly, whose previous San Francisco work was La fille du régiment and Les Contes d'Hoffmann, in 2009 and 2013, respectively.
It's unlikely those previous productions received better singing than the gorgeous voices here.
In the title role, Italian bass Maurizio Muraro served notice in the first scene that his was a voice to be reckoned with: sturdy, round, supple, and even, with a smooth top and a solid bottom. Physically, he embodied the character: a wealthy, sedentary 70-year-old who fancies taking a youthful wife, only to fall victim to a commedia dell'arte plot to teach him a lesson. Puffing himself one moment, tragically shocked by his treatment at others, he was a gold-standard basso buffo.
Of the three American singers completing the cast, most impressive was tenor Lawrence Brownlee as Ernesto, Pasquale's live-in nephew and eventual co-conspirator. Making a long-overdue company debut, Brownlee spent the evening unreeling one heartbreakingly lyric aria after another, all the while getting laughs with inventive physical humor.
One moment encapsulated both aspects, his Act II aria, "Cercherò lontana terra," in which he says goodbye to his life under Don Pasquale's roof. In addition to being trapped inside an open-walled closet, the act of folding and packing his clothes only accentuated the aria's over-the-top pathos. As Brownlee crossed the entire stage, he fumbled with too many suitcases, one of which sprang open. He restuffed it—twice—without missing a note or a phrase.
Norina, his inamorata, was Heidi Stober, who has become a familiar face here for soubrette roles. Since her 2010 San Francisco Opera debut as Sophie in Werther, she's been busy: Susanna in Le nozze di Figaro, Atalanta in Xerxes, Pamina in The Magic Flute, Nannetta in Falstaff, Magnolia in Show Boat, Oscar in Un ballo in Maschera, and Johanna in Sweeney Todd.
Despite being hobbled by a sprained ankle suffered in rehearsal, she moved about the stage well enough, although she had to ditch stylish high heels for be-ribboned flats. Her creamy soprano rose to secure high notes at the climax of arias. She was at her best, however, in the lovely duet, "Tornami a dir che m'ami," her lyric sound weaving seamlessly with Brownlee's.
The fourth member of the team, baritone Lucas Meacham, has also become a San Francisco regular, with fine work in the title roles of Il barbiere di Siviglia, Don Giovanni and Eugene Onegin. His dashing presence lent an extra dimension to Dottore Malatesta, Pasquale's friend and Norina's brother. Meacham applied supple tone and elegant phrasing, especially in his scenes with Pasquale. His fanciful Act I "Bella siccome un angelo" dripped with a master con man's unctuousness. (Muraro's rising excitement was perfectly pitched, too.)
The director's inspiration for this staging derives from black-and-white Italian films of the 1950s and 1960s—think Gina Lollabrigida directed by Vittoria di Sica. Pelly encouraged "back of hand to forehead" moments—a stylized version of the films' emoting—which created a level of artificiality that occasionally stilted the comedy. However, the best scenes had a more natural feel, such as Ernesto's packing. In Act I, the sequence in Norina's apartment in which she and Malatesta cook up their plan, worked well because they were utterly believable as brother and sister in their tone and body language.
The set, a revolving off-kilter cube that served as Pasquale's living room, offered its own comedic touches. In Act II, a parade of servants emerged from the wings to add a dozen colorful mid-century modern bucket chairs to Pasquale's old-fashioned leather one, completely overwhelming it. And when the curtain rose on Act III, after Norina and her contingent have turned Pasquale's life upside down, appropriately the living room is entirely upside down.
In the pit, Giuseppe Finzi conducted with a penchant for precision and detail. Tempos felt lively enough, but a little more abandon would have lifted the music even higher. The chorus, as usual, handled their audience asides with aplomb.
Harvey Steiman