United States Dvořák, Wolf, Strauss, Fauré, Schoenberg: Magdalena Kožená (mezzo-soprano), Malcolm Martineau (piano), Perelman Theater, Kimmel Center, Philadelphia, 13.10.016. (BJ)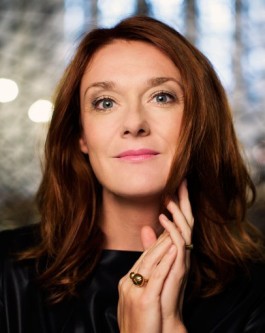 Dvořák – Four Songs, Op.2
Wolf – from Mörike-Lieder: 'Begegnung'; 'Neue Liebe'; 'Das verlassene Mägdlein'; 'Elfenlied'; 'Wo find ich Trost?'; 'Auf ein altes Bild'; 'Nixe Binsefuss'; 'Abschied'
Strauss – Drei Lieder der Ophelia, Op,67
Fauré – Three Songs, Op.23
Schoenberg – Brettl-Lieder
It is a significant sign of a musician's talent when she can give one pleasure with performances of music that one happens to dislike. Hugo Wolf and Schoenberg are two composers I am seriously allergic to. Wolf in particular I find rebarbative even—or indeed particularly—when he is being jocular: there is something nastily misanthropic about his sense of humor. Yet the substantial selection of his work on this Philadelphia Chamber Music Society program emerged, in Magdalena Kožená's and Malcolm Martineau's performances, with the nastiness of some of the songs less evident than usual, and with the relatively uncharacteristic lyricism of others realized with grace and warmth.
The Czech mezzo-soprano's own radiant warmth was instrumental in achieving that result, and it was allied with a voice in splendid estate, highly persuasive musicianship, and a marvelously clear and pointed way with words, supported moreover by an exceptionally crisp and often witty contribution from Malcolm Martineau at the piano. I am not qualified to judge the quality of Ms Kožená's sung Czech in the charming Dvořák group that opened the program (to be echoed at the evening's end by the choice of that composer's 'Ach, není, není tu' for encore), but it would be silly not to take it on trust. In the rest of the program she sounded totally idiomatic in German and French alike, and the opulence of the voice did not preclude such touches as a perceptive and incisive fining down of the tone on the word 'Stein' in the first of the three Ophelia Songs.
Those typically beguiling Strauss settings launched the second half to strongly poetic effect. Fauré kept the level of both music and performance high. And my own aversion to Schoenberg notwithstanding, his cabaret songs were done with fetching brio. The exuberance of the last one, a waltz on a text by, of all people, Emanuel Schikaneder of Magic Flute fame, brought the official program to a rousing conclusion, helping to round out the picture of one of the most sublimely gifted singers of our time. Though it was the inward depth of 'Ach, není, není tu,' the  Dvořák encore with which she brought the evening's choice of composers full circle, that afterward stayed most indelibly, at least in this listener's mind.
Bernard Jacobson