United States Mozart, Don Giovanni: Cast, Chorus and Orchestra of the Metropolitan Opera, New York / Fabio Luisi (Conductor), Met Live in HD transmitted to the Komedia Cinema, Brighton, 21.10.2016. (RB)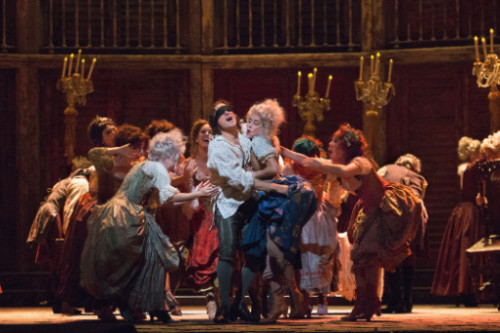 Cast:
Donna Anna – Hibla Gerzmava
Donna Elvira – Malin Byström
Zerlina – Serena Malfi
Don Ottavio – Paul Appleby
Don Giovanni – Simon Keenlyside
Leporello – Adam Plachetka
Masetto – Matthew Rose
The Commendatore – Kwangchul Youn
 Production:
Production – Michael Grandage
Set & Costume Designer – Christopher Oram
Lighting Designer – Paule Constable
Choreographer – Ben Wright
Live in HD Director – Matthew Diamond
Live in HD Host – Joyce DiDonato
This was a revival of Michael Grandage's 2011 production of Don Giovanni and it featured a welcome return to the stage by Simon Keenlyside who has had to cancel several high-profile engagements recently for health-related reasons.  Grandage and his team opted for a traditional production of the opera set in 17th Century Seville so when the curtain opened we were greeted with a multi-storey tenement building with shuttered windows.  The cast were all wearing period costumes and the lighting was dark and gloomy for much of the time.  The stage came apart to reveal the revellers dancing in the masked ball scene and the tenements transformed into a forbidding mausoleum in the scene where the Commendatore is invited to dinner.  There was much to admire in this very well-choreographed and theatrical performance but I was not convinced that it really offered any new insights or perspectives about this most famous of operas.  I was struck by comments Simon Keenlyside made in the interval about whether the opera foreshadowed some of Darwin's ideas.  It would have been intriguing if Grandage could have given the performers a little more space and latitude to explore some of these ideas further.
Prior to the opera I wondered if Keenlyside might be a little too old to be playing Don Giovanni but I am pleased to say that he gave an absolutely riveting performance in the title role.  Keenlyside is a consummate actor and he commanded attention whenever he was on stage.  When he took off his mask to reveal his face to the dying Commendatore the cold amorality of the character sent a shiver down the spine.  He could be beguilingly seductive with Zerlina but there were also moments when he seemed like a caged animal; for instance, when he was surrounded by his enemies at the end of the masked ball.  Prior to the arrival of the Commendatore he leapt up on the table and put his boot on Donna Elvira reinforcing the unpleasant misogyny of the character. The singing was superb throughout and Keenlyside brought braggadocio to the champagne aria, a silky seductiveness to La ci darem and a tenderness to Deh vieni alla finestra.  The tone production was uniformly excellent throughout the vocal range and there was some gorgeous tone colouring and vocal inflections.
Hibla Gerzmava's Donna Anna was dressed in black for much of the production and she brought an admirable mixture of pathos, dignity and resilience to the role.  She has a rich, brightly coloured voice and she brought considerable vocal power to Donna Anna's music when required.  There were a few minor intonation problems at the beginning and I felt that she sometimes used too much vibrato particularly in her Act 1 aria.  She was at her best in Non mi dir where she brought a vocal opulence to the opening before skilfully negotiating Mozart's coloratura.  Malin Byström gave a rounded and spirited portrayal of the jilted Donna Elvira.  She has a very clear voice and the tone production was even across the vocal range.  She negotiated the wide range and dazzling coloratura with relative ease although Mi tradi was a little rushed and the tone sounded a little forced at times.  Serena Malfi brought a sweet toned warmth to Zerlina's arias and Batti, batti, o bel Masetto was a triumph.
Adam Plachetka played up the opera's buffa elements in his portrayal of Leporello and his trademark patter was delivered with enormous vocal agility.  There is a rich dark timbre to his voice which allowed him to give additional weight to some of Leporello's music.  In the catalogue aria, Plachetka vied well with his orchestral partners and he moved seamlessly between the playful and the salacious.  Paul Appleby's Don Ottavio provided the best vocal performance of the evening.  His rendition of Dalla sua pace was sublime and he brought a radiant vocal bloom and immense lyricism and control to Il mio tesoro.  Matthew Rose and Kwangchul Youn also gave strong performances in the roles of Masetto and the Commendatore.
Fabio Luisi provided assured oversight and direction keeping cast chorus and orchestra on track.  The opening chords of the Overture radiated menace and the ensuing ghostly chromatic scales were genuinely unsettling.  The subsequent D Major Allegro was performed with energy and zest underlining the extraordinary split between comedy and tragedy in this work.  Mozart's sparkling ensembles were for the most part a delight although I was a little disappointed with the great sextet in Act 2 which did not quite come together as well as it might.  The Met orchestra brought a freshness and vibrancy to Mozart's score and the balance with the singers was excellent throughout.
Overall, the production was a little unimaginative but it was redeemed by some superb singing and playing particularly from Keenlyside and Appleby.
Robert Beattie