United Kingdom Stravinsky: Soloists, Orphei Drängar. Ladies of the Gustaf Sjökvists Kammarkör and Ladies of the Sofia Vokalensemble, Philharmonia Orchestra / Esa-Pekka Salonen (conductor). Royal Festival Hall, London, 29.9.2016. (JPr)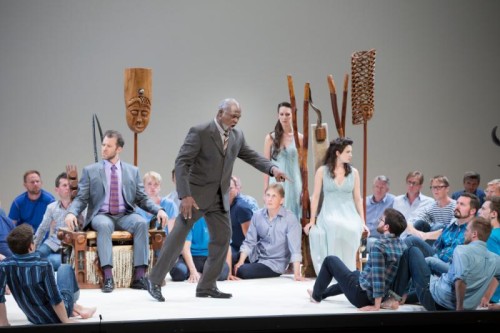 Stravinsky – Oedipus rex; Symphony of Psalms for chorus & orchestra
Joseph Kaiser – Oedipus
Katarina Dalayman – Jocasta
Sir Willard White – Créon, Tiresias, Messenger
Joshua Stewart – Shepherd
Emily Barber – Antigone
Laurel Jenkins – Ismene
Director – Peter Sellars
Elias Sime – sculptures
Seth Reiser – lighting designer
Dunya Ramicova & Helene Siebrits – costume designers
Research shows that it was 1983 when I first heard Oedipus rex; it was at that year's Camden Festival when Abbey Opera put on a performance in the British Museum with the Nereid Monument in the background and the Elgin Marbles nearby. The late great British tenor Alberto Remedios sang Oedipus, Angela Hickey was Jocasta, a very young Christopher Gillett was the Messenger, and Maurice Denham was narrating. I subsequently saw Alberto singing Oedipus for Scottish Opera in 1989 so this was only my third Oedipus rex and my first for more than a quarter of a century. Stravinsky wrote his 'opera-oratorio after Sophocles' in 1927 while living as an exile in France and as an expression of his rootlessness. The Russian composer decided that as the work derived from a Greek tragedy it should be sung in Ciceronian Latin (which Stravinsky called 'a medium not dead but turned to stone') yet narrated in the language of the country in which it was being performed. Furthermore, it seems he intended that the theatrical style should be somewhat static and impersonal, with the singers preferably masked. This would enhance what tradition insists was the ritualistic aura of ancient Grecian tragedy …and 'Tragedy' was the title for this final offering in the Southbank's Stravinsky: Myths and Rituals season.
When Oedipus rex is presented as an 'opera' it is possible of course for a great deal of care to be taken to get close to Stravinsky's ideal. There can be dramatic lighting, a nod to historical costumes or modern dress (or as here both), masks, and possibly other Ancient Greek scenic devices to provide stark but moving stage images. I would concur with other commentators that Oedipus rex probably works best when performers dress up to emphasise – as on this occasion – its bleak desolate nature. However, Oedipus rex was first put on simply as a concert in Paris and still frequently is performed as an 'oratorio'.
The conductor Esa-Pekka Salonen has been fascinated by Oedipus rex for decades and asked the revered opera director Peter Sellars to stage it together with the composer's Symphony of Psalms – which is used to resolve the Oedipus story – as his farewell concert with the Los Angeles Philharmonic in 2009. More recently it was put on at Aix-en-Provence this past summer with a number of the collaborators who were now at the Royal Festival Hall. Stravinsky wanted to create something special for Paris and at the time of the composition of Oedipus rex had returned to the Russian Orthodox faith. Since he was also an admirer of the operas of Verdi, Oedipus rex is a strange, somewhat uneasy, mix of the sacred and the profane whilst the later Symphony of Psalms is dedicated to 'the glory of God' and sounds like it.
Jean Cocteau's libretto has the characters as very much the victims of fate though his original narrations are replaced now by texts from Sophocles' Oedipus at Colonus and possibly adjusted (by Sellars?) to give them a more contemporary resonance. I suspect Sellars is attempting to explore the human soul of the characters from the viewpoint of Stravinsky's regained religiosity. For those unfamiliar with the unfolding story this is basically it: Oedipus has become the king of Thebes while unknowingly fulfilling a prophecy that he would kill his father, Laius (the previous king), and marry his mother, Jocasta, whom he took as his queen after solving the riddle of the Sphinx. The action of Sophocles' play concerns Oedipus' search for the murderer of Laius in order to put an end to a plague which is ravaging Thebes. Of course he is initially unaware that the killer he is looking for is none other than himself! After the truth finally is revealed, Jocasta hangs herself whilst Oedipus, horrified at a combination of patricide and incest, in the depths of despair proceeds to gouge out his own eyes.
Sellars has his new narrations told from the point of view of the king's daughters, Antigone (actress Emily Barber) and Ismene (dancer Laurel Jenkins). After the interval, Antigone introduces Symphony of Psalms by relating the rest of the story before it sounds as if it morphs presumably into Psalm 150. Having revealed how Oedipus' life ended we see Antigone and Ismene lead the blind Oedipus to a square of neon lighting near the centre of the stage. Now it looks as if we could be witnessing the Passion Play at Oberammergau since Oedipus is now rather Christ-like and Antigone might even have become Mary Magdalene with Ismene as the angel who proclaimed Christ's resurrection. Oedipus and Antigone will leave the stage but Laurel Jenkins' Ismene remains to illustrate some of the text we hear sung through the medium of graceful contemporary dance.
The three choruses involved during the evening were in their usual place behind and above the Philharmonia Orchestra and dressed in casual street clothes (costumes were by Dunya Ramicova and Helena Siebrits) in varying shades of blue. In front of the musicians were a row of African thrones, masks and standards by the Ethiopian artist Elias Sime giving everything a very appropriate African tribal – and captivatingly 'ritualistic' – atmosphere.
Regular readers will appreciate how much I demand proper staging of opera in concert. This had all I usually ask for and there was some attempt at interaction between characters who all knew their parts; they were all in costume of sorts and had some props. Well I must say on this occasion it worked best when everyone – particularly the chorus – just stood still and sang such as right at the end of the Symphony of Psalms during 'Alleluia, Laudate Dominum'. The men of Orphei Drängar in Oedipus Rex and Ladies of the Gustaf Sjökvists Kammarkör and Sofia Vokalensemble who joined them for Symphony of Psalms sang out resoundingly but were given semaphoric gesticulations to perform nearly throughout, which though occasionally apposite were sometimes random and often clichéd, so their dramatic impact resulted in diminishing returns. All the emoting did of course concentrate the minds of the singers on the meaning of their Latin text.
Joseph Kaiser's light lyrical tenor made for a surprisingly sympathetic Oedipus and I remind readers here about his character's patricide and incest! In the end he exchanges his vanity for deep humility … along with his eyes. With an attempt at different disguises through a change of costume or head scarf Sir Willard White essayed three roles, Créon, Tiresias and the Messenger. The vocal authority is firmly intact and there are still many wonderful hints of his rich dark timbre of former years, but there is no denying his voice is not what it was. His diction was not good (to my ears) and neither was that of Katarina Dalayman's disappointing Jocasta; she looked on the platform like Waltraud Meier but unfortunately did not sound like her. Joshua Stewart completed the Oedipus rex cast as a fresh-voiced Shepherd.
For me it was the three very hard-working Swedish choruses who were one of the two (three of the four?) best things of this entire performance, the other was Emily Barber's captivating Antigone. With a bit of luck, she will have a very bright future and everything she uttered had an uncomplicated emotional immediacy that was deeply affecting. The choruses and Emily Barber were so dominant that for me Esa-Pekka Salonen did little more than hold everything together and produce a lucidly beautifully sounding accompaniment from the excellent Philharmonia Orchestra. I know Stravinsky's music mostly through Petrushka, The Firebird and The Rite of Spring and wonder whether the playing needed to be less serene and spikier and more intense at times.
Jim Pritchard
For more about classical events at the Southbank visit http://www.southbankcentre.co.uk/.