France Berlioz, Béatrice et Bénédict: Soloists, Orchestra and Chorus of the Thèâtre du Capitole / Tito Ceccherini (conductor), Thèâtre du Capitole, Toulouse, 2.10.2016. (JMI)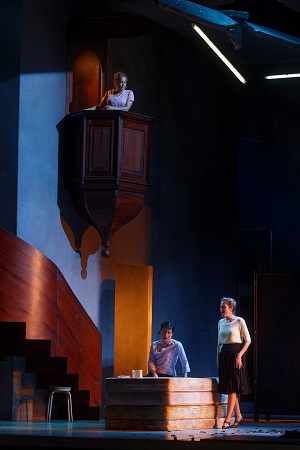 Cast:
Béatrice – Julie Boulianne
Bénédict – Joel Prieto
Héro – Lauren Snouffer
Ursule – Gaia Petrone
Claudio – Aimery Lefèvre
Somarone – Bruno Praticò
Don Pedro – Thomas Dear
Production:
Director – Richard Brunel
Sets – Anouk Dell'Aiera
Costumes – Claire Risterucci
Lighting – Laurent Castaingt
A number of houses are mounting operas that commemorate the 400th anniversary of William Shakespeare's death. In Spain, Teatro Real and Corunna opened their seasons with Otello and Falstaff, and this week Barcelona's Liceu will stage Macbeth. The same holds true in Toulouse where the season has begun with Hector Berlioz's Béatrice et Bénédict, based on Shakespeare's Much Ado About Nothing.
Obviously, these four operas are not of equal quality, and their librettos are an important reason for that. Verdi put Shakespeare's works to music with librettos by Boito and Piave, while Berlioz wrote his own, and the difference is clear. In addition, Béatrice et Bénédict in musical terms does not reach the level of other operas by Berlioz, especially Les Troyens and La Damnation de Faust. Although it isn't a masterpiece, the duet by Héro and Ursule is impressive, as is Héro's aria in Act I. I would also single out Béatrice's aria, although it was somewhat less successful.
The stage production by French director Richard Brunel is a co-production with La Monnaie in Brussels, where it was premiered last March. It's not especially interesting, and brings the action more or less up to modern times. The stage holds a church, where people have gathered to pray for the soldiers returning from war. This set, which holds for the entire opera, later becomes a room with cabinets and mattresses as props, but the pulpit is present throughout the performance. The action is well narrated, but the direction is weak. The dialogues have been cut considerably, and they are not always faithful to the original text.
The musical direction was entrusted to Tito Ceccherini who offered a more complete version that what I've sometimes experienced. As for his conducting, there were good moments, especially the accompaniment to the delicious duet of Héro and Ursule, but generally it was not a very bright or exciting reading. The orchestra gave a solid performance.
Béatrice was sung by Canadian mezzo soprano Julie Boulianne, who made a good impression. She has an appealing voice, but it's somewhat tight at the top of the range.
Puerto Rican tenor Joel Prieto was Bénédict. His voice is attractive though rather reduced in size, and the character remained weak overall.
American soprano Lauren Snouffer in the character of Hero had the strongest voice in the cast. Her light soprano is beautiful and she handles it well, but it is a rather small voice. In a large theatre, she could have trouble reaching the audience.
Ursule's character has no dramatic importance, but her duet with Héro is the best part of the opera in musical terms. Mezzo soprano Gaia Petrone did very nicely.
The house was at about 80% of capacity. The audience did not show much enthusiasm at the final bows.
José M. Irurzun