Italy Verdi, Un Ballo in Maschera: Chorus (Chorus Master: Roberto Gabbiani) and Orchestra of Teatro dell'Opera Rome /  Jesús López Cobos (conductor).  Teatro dell'Opera Rome, 27.10.2016. (JB)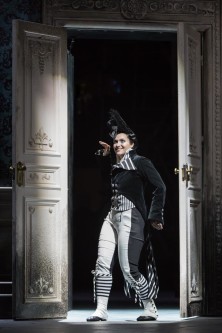 Cast:
King Gustav III of Sweden – Angelo Villari
Captain Anckarström – Juan Jesús Rodriguez
Amelia – Julianna Di Giacomo
M.lle Arvidson (Ulrica) – Dolora Zajick*
Oscar – Serena Gamberoni*
(Artists marked * appeared in these roles in the previous review.)
Production:
New co-production staged with Opera Malmö by Leo Muscato
Sets by Federica Parolini
Costumes by Silvia Aymonino
I dislike the term second cast. So does Teatro dell'Opera. It has a nasty whiff of left luggage. I promised the theatre to review the alternative cast only if there were interesting performances to report. There are. Readers who would like to know the criteria and rationale that I bring to my task are invited to read the initial part of the previous review. Those who would like a straight review of the earlier performance will find it in the latter part.
Jesús López-Cobos impressed me afresh on this second visit to Un Ballo.  He must be among the greatest conductors of Verdi on today's scene. His excellence is more along the lines of Abbado, than Muti.  It is distinctly gentle-manly: solid in a firm, masculine way, but applied with such gentleness as to be breathtaking.  Tonight's singers didn't need so much to be nudged into the magic of Verdi's phrases as some in the other cast, but one could hear their gratitude in finding themselves with a leader who was with them  every millimeter of the way.  He was never following them.  Throughout the performance, stage and singers were a united team. This requires enormous alertness and sensitivity on the part of the conductor. In our own times, Jesús López-Cobos must be unique in this respect.
Angelo Villari may not have the golden glow in his projection of  King Gustav that we hear in Francesco Meli.  But who does?  Nevertheless, Villari is not afraid to "play" with his voice, so the irony and lightheadedness of the character come through more convincingly than they did with Meli.  His understanding of the Verdi phrase is as fine as Meli's (both of them much aided by López-Cobos)  and there are moments when the passion of the King (especially in the death scene) comes through more convincingly with Villari. Some ears might judge this to be somewhat exaggerated, but mine were not among them.
Juan Jesús Rodriguez was completely into the personality of Captain Anckarström.  It's not so much that Rodriguez is a fine actor, but his voice certainly is.  He seems to know this and to rely on it. And so he may.  His great act three aria was moving. I was only troubled by his enunciation of Italian words. Spanish and Italian are confusingly close, but both vowels and consonants require absolutely different  sounds.  And that, of course, makes for a different music.  But this is a difference that Rodriguez has not mastered.  And it disturbs what would otherwise be a flawless delivery.
The American soprano, Julianna Di Giacomo, gave an insightful performance of Amelia's music.  She started well and improved to magnificence as she went on.  The Verdi phrase seems to be comfortably embedded in her vocal makeup.  Her vocal colours are legion, and she glides from one to the other with ease and remarkable expression.
Dolora Zajick was as terrifyingly perfect as always, as doomsayer, Ulrica.  But as in the other performance, it was Serena Gamberoni's Oscar that stole the show and won the standing ovation. I began these reflections on Ballo some two thousand words ago, with considerations of charms and delights.  Serena Gamberoni must end them with her embodiment of those qualities in what was probably the wittiest, most intelligent Oscar ever seen or heard.
Jack Buckley