Italy Verdi, Un Ballo in Maschera: Chorus and Orchestra of Teatro dell'Opera Rome.  Chorus Master, Roberto Gabbiani.  Conductor, Jesús López Cobos.Teatro dell'Opera Rome, 18.10.2016. (JB)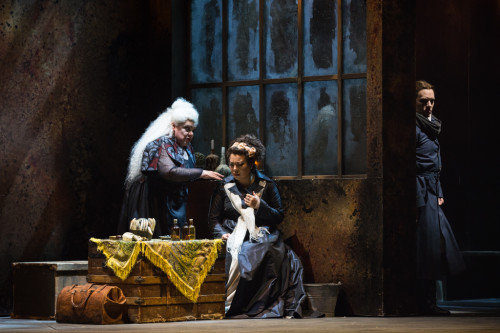 Cast:
King Gustav III of Sweden  (Riccardo) – Francesco Meli
Captain Anckarström (Renato) – Simone Piazzola
Amelia – Hui He
Mlle. Avidson (Ulrica) – Dolora Zajick
Oscar – Serena Gamberoni
Production:
New co-production staged with Opera Malmö by Leo Muscato
Sets by Federica Parolini
Costumes by Silvia Aymonino
Un Ballo in Maschera is the Verdi opera which most frequently charms and delights his fans.  The indisputable charms and delights come at a price however.  That price is one that many theatres have been unable to meet.  Charm and delight belong to audience response.  It cannot be booked ahead like interval drinks.  Show us what you can do is the audience's challenge.  Their reaction is spontaneous response on the night.  (I shall have to come back to the spontaneity bit.)
When I saw the names of three of the singers in the Rome cast, I immediately wanted to go to the theatre to see what my response would be.  Casting is important in any opera.   It's decisive in Ballo.  This cast was on for one night only, so I cancelled what I had on and got to the theatre.
The first unmasking to know is that the opera was scheduled for performance in Naples in 1858 but because of an unsuccessful attempt by an Italian rebel on the life of Napoleon III, the Naples authorities decided that Verdi's opera, based on the assassination of King Gustav III of Sweden, could not take place.  It was postponed to Rome for the following year and, not wishing to take more chances with the police, Verdi moved the action right out of Europe to Boston, with the King renamed Riccardo as an English Governor of a Colony. Since most readers know the opera in its Boston setting with the Italian names, which I give in brackets after the Swedish names in the cast list to facilitate readers' convenience, I will nevertheless stay with the Swedish names for the rest of this review.
The opera is directed by Leo Muscato in a co-production with Opera Malmö.  Hence the Swedish names.  That is the second unmasking.  Third unmasking.  Two of the parts in the opera are among Verdi's finest creations -utterly convincing both musically and dramatically.
The real life Gustav III was homosexual, though married to a woman.  The Verdi opera simplifies his character but retains the King's sense of irony and lightheadedness.  Verdi is masterly at weaving these last two qualities into the role.  He calls for a lyric tenor who knows how to play and even joke with his voice.  Carlo Bergonzi gave the most moving performance I ever heard but this glorious lyric tenor was also wooden on stage.  And he thus missed out on some of the jokes.  Verdi is more daring than I have suggested.  He asks for drama and passion in the lyricism as well as the fun.  I've never managed to hear a tenor who can sing Verdi's most convincing and demanding role.  Maybe there isn't one.  I wouldn't want to be the casting director, though I do have some ideas of tenors who might try it, which I had better keep to myself for today.
Fourth unmasking.  The King's page, Oscar, is a soubrette role, the only one Verdi ever created.   Oscar has the license of one of Shakespeare's clowns to comment on the action and even address unthinkable put-downs to his Master, the King.  She has to be able to dance during her mischief.  Verdi doesn't specifically call for dance but his music cries out for it.  The cross-dressing adds to the fun of the role.
A note to the audience: the more you respond to this cheeky comedian the more she will respond to you. Oscar lo sa ma null' dirà (Oscar knows, but isn't going to tell) she sings at the masked ball. That is the very essence of the role.
Where are these soubrettes?  In places where they perform French operetta there presumably still are some.  But those ladies are more actors than singers.  Verdi demands both as well as dancing.  You can see how an Oscar with all the right qualities could steal the show in the way that Adele can in Fledermaus or Zerbinetta in Ariadne auf Naxos, where Strauss was wryly mocking the idea of the soubrette.  Come to think of it, maybe Verdi was too.  But more subtly.
Fifth unmasking.  The remaining three principal roles are not nearly so well conceived as the two on which I have just carried out some clumsy minor surgery. They are standard operatic fare.  But since their creator is Giuseppe Verdi, any apology would be grossly out of place.  In fact Verdi hands Amelia some of the most moving melodies he ever gave to a lyric soprano.  Most sopranos can't wait to be cast in the role; they may not arrive at the soaring perfection of Caballé but they will surely go all-out to have a damned good try.  Captain Anckarström is the baritone goodie that becomes the baritone assassin.  Given the possibilities there, it has to be said that his music comes out as somewhat bland by Verdi standards.  Perhaps more satisfying for the baritone than the audience.
The Fortune Teller, M.lle Avidson (addressed by the other characters as Ulrica in both editions) is Azucena transplanted from the gypsy camp into the crystal-gazer's den, as a frighteningly precise predictor of the future.  We know this because we've seen the opera before.  But Verdi shovels on the frightening bit anyway, enough to make us shudder as we always do revisiting Hitchcock movies.  Most theatres have run out of money when they come to cast Ulrica.  After all, and chilling as it is, she only has that one twenty minute scene at the end of Act One.  Most of my Ulricas have been disappointing.  But the one occasion I was gratefully terrified was when I heard Shirley Verrett in the role.
Enough unmasking!  Masks on all of you now! I'm off to the Opera.
Jesús López-Cobos is a conductor I have been highly critical of in the past.  Not so tonight.  It would only be a slight exaggeration to say that tonight's performance belonged to him.  And that it quite an achievement with three accomplished singers distinguishing themselves.  But all three, and other singers too, sometimes lost their way in the subtleties of Verdi's magic phrasing.  Never fear.  The maestro would ever so gently, but firmly, pull them back on route.  The balance within the orchestra was as finely tuned as any conductor I ever heard.  The overture, you may remember, begins with the conspirators music passed between wind and pizzicato strings, with each section thoughtfully placed at the opposite sides of the orchestral pit. And so, echoey and beautifully eerie.
Every crescendo from the orchestra was also managed with immaculate timing.  Under the wrong baton these frequent passages can become vulgar and meaningless.  Carlo Enrico Macalli's flute gave us the first hint of Amelia's Act Two great aria with extraordinary gradations of tone; so much so, that when the soprano sang it, it came as something of a flop.  I don't want to diminish Maestro Macalli's accomplishment, but he was sitting right under the conductor's baton.  Moving too, even when almost imperceptible, were Ignacio Ceballos's carefully measured timpani interventions, sometimes chilling, sometimes thrilling.  Congratulations to the orchestra as a whole as well as their admirable conductor.
We all know that Francesco Meli has the right voice for King Gustav.  But does he have all the other attributes for the characterization?  Yes and no.  His stage presence gets better every time I see him.  And it felt as though he was inhabiting the person of the King rather than acting it.  All fine.  But he didn't sound entirely comfortable with the irony.  When it came to those moments he was noticeably "acting".  Readers may accuse me of nit-picking here.  And they would have a point. When a voice is as richly golden and perfectly projected as Meli's, it is close to insanity to ask for more.
All was not well with Hui He's Amelia.  She has a noteworthy stage presence and remarkable vocal power.   Power is fine for Turandot but has no real place in Amelia.  Expression is the name of the Verdi game.  And here Ms He becomes woefully unstuck.  Surprisingly, all her many high notes were perfectly in tune.  I say surprisingly because what happens on her way to those notes is a grotesque aural experience which I hope I shall never have to repeat: a spreading, buzzing and wobbling of the sound.  This understandably earned her the most tepid applause of the evening.  So some applause there was: Verdi's Amelia is so beautifully written that even she didn't manage to entirely kill it off.  And the conductor was heroic in nudging her back into Verdi's phrasing whenever her buzzing led her off the road.
López-Cobos managed to keep her focused, above all in the final scene with her husband, where her guilt makes her feel sorry for herself.  The audience felt sorry for her too here.  But not for the right reasons.  Following this, Simone Piazzola as Captain Anckarström rose to magnificent expressive heights in the stop-the-show aria Verdi hands him.  Il sangue tuo!  E lo tarrà il pugnale Dallo sleal tuo core.  Thunderous applause followed this, his only opening up in the opera.  But it's not Piazzola's fault that Verdi hands him less convincing music than the others.
The Anckarström's living quarters looked a bit tatty for such a distinguished couple.  Come to think of it, the whole production looked as though it could have done with another coat or two of paint and had been delivered on a shoestring budget.  But if Leo Muscato's staging did not attempt anything daring it didn't present anything outright inappropriate either.  For myself I was only violently disturbed by the choreography of the final ball scene.  Shabbiness works well in Ulrica's den, as does her enormous wig of white, unkempt hair (see photo).  But was all that very noisy dancing some kind of Swedish clog dance at the ball?
Dolora Zajick is astonishing.  Wikipedia tells me she is sixty-two. Here is one of those mezzo voices that become more authoritative every year that passes.  Audience members were almost diving under their seats with the dark power of her incantations.  You won't find a finer Ulrica anywhere.  Stunning.  Just what it needs to be.
The greatest surprise of all was Serena Gamberoni's Oscar.  This intelligent comedian plays the part po-faced, avoiding even the faintest hint of exaggeration.  I would never have guessed that this could work and I remain grateful to her for showing me that it does.  It's as though she has made a deal with Oscar, for Oscar to be herself and herself to be Oscar.  Talk about fun!  Schizophrenia as a virtue!  Oscar exposed and concealed in the same stroke.  You can't get more Oscarish than that!  And it's all there in her beautifully enunciated singing.  Hers was the curtain call that beat all others.  She came on with a somersault to acknowledge it.  Another detail I discovered after the show: she has been married to Francesco Meli this last ten years and they have two children.
Jack Buckley