United Kingdom Cole Porter, Kiss Me, Kate (Company Production Premiere): Soloists, Chorus and Orchestra of Welsh National Opera / James Holmes (conductor), Wales Millennium Centre, Cardiff, 29.9.2016. (GPu)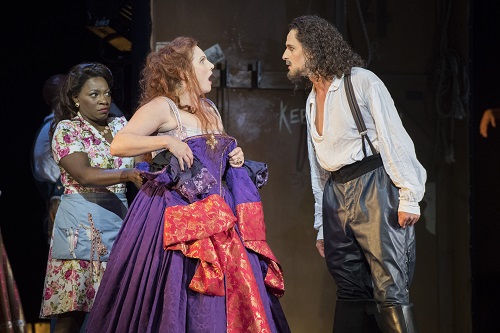 Cast:
Fred Graham / Petruchio: Quirijn de Lang
Lilli Vanessi / Katharine: Jeni Bern
Lois Lane / Bianca: Amelia Adams-Pearce
Bill Calhoun / Lucentio: Alan Burkitt
Hattie: Landi Oshinowo
Paul: Max Parker
Hortensio: Matthew Barrow
Gremio: Jon Tsouras
First Gunman: Joseph Shovelton
Second Gunman: John Savournin
Harry Trevor / Baptista: Morgan Deare
Harrison Howell: David Peart
Nathaniel: Adam Tench
Gregory: Joseph Poulton
Phillip: Louis Quaye
Ralph (stage manager): Rosie Hay
Stage doorman: Martin Lloyd
Cab Driver: Julian Boyce
Production:
Director: Jo Davies
Set and Costume Designer: Colin Richmond
Lighting Designer: Ben Cracknell
Choreographer: Will Tuckett
Chorus Master: Alexander Martin
Let me confess immediately that I had never seen a production of Kiss Me, Kate before I took my seat in the Millennium Centre in Cardiff. If, dear reader, you feel that that disqualifies me from passing judgement on this production, you need read no further. I have seen the 1953 film adaptation, directed by George Sidney. And I have long been familiar with most of the major songs in the work, as sung, for example, by Ella Fitzgerald and others amongst the finest of jazz vocalists. And, if this last be a relevant 'qualification', I spent more than 40 years lecturing on Shakespeare (including The Taming of the Shrew) at Oxford and several other universities in Britain and abroad.
I am happy to report that my first theatrical experience of Kiss Me, Kate was a very positive one. This was the theatrical equivalent of top quality sparkling wine shared amongst an increasingly happy group (audience). The very intelligent and, in the best sense of the word, slick, production by Jo Davies (a cooperative venture between WNO and Opera North first staged in Leeds last year), was a joy from beginning to end. The frequent transitions between 'back stage' and 'on stage' were managed with brilliant and unobtrusive efficiency. A very strong cast (without any significant point of weakness) sang, danced and acted with, at the very least, a very high degree of competence, and did so with unflagging energy, precision and commitment. The WNO orchestra (with supplementary saxophones) captured the relevant idiom very well and relished it – something for which the excellent work of conductor James Holmes (who has much previous experience of both musicals and operas) much take a great deal of credit. The result was a consistently enjoyable rendition of the score, in a restored edition by David Charles Abell and Seann Alderking, which made it possible to hear in their full glory the lush (but never quite over the top) orchestrations of Robert Russell Bennett and Don Walker.
Above all, soloist after soloist articulated the wit (in both words and music) of Cole Porter's songs, with panache and intelligence. I would, indeed, be hard put to make negative comments of any substance or importance. Liked most (almost all, I suspect) of the audience, I was swept along by a quick-moving, but considered performance, swept along in a state of effervescent joy.
Colin Richmond's often beautiful set (I loved the use of the mediaeval French tapestries of the Lady and the Unicorn) seemed to be almost infinitely transformable and, after the scene-changing longueurs of the Macbeth which opened WNO's Shakespeare season, which did much to rob that work of much of its momentum, here was a production which set off at a (relevantly) cracking pace and maintained it throughout, with some rapidly efficient scene changes.
In the central roles of Fred Graham/Petruccio and Lilli Vanessi/Katharine, Quirijn de Lang and Jeni Bern were outstanding. Without intending any disrespect to Ms Bern (of whom more later), Quirijn de Lang emerged as the absolute 'star' of the evening. He sang well, and acted both his roles, whether as the vain and sardonic Fred Graham or the fiercely effective Petruchio. In the spoken scenes lifted more or less straight from Shakespeare, his performance as the Shrew-Tamer was on a par with most, and better than quite a few of the many 'straight' Shakespearean actors I have seen attempting the role. Ms. Bern made less real distinction between her two characters, though she was perhaps more persuasive as Lilli Vanessi than as Katherine (though, to be fair, the book of Kiss Me, Kate robs her of some of the best lines Shakespeare gives to his 'shrew'). One moment of Ms. Bern's that I shall long treasure was her passage of parodic coloratura at the end of Act I, which reminded one of just how much operatic experience and achievement both she and Mr de Lang have on their CVs.
A number of the lesser roles were also handled very well. As Lois Lane, Amelia Adams-Pearce was leggily vulgar and vapid, while retaining the affectionate sympathy of the audience (not least in her performance of 'Why Can't You Behave'). She was less striking as Bianca, where she had relatively little to work with – again as a result of the reduction of Shakespeare made by Samuel and Bella Spewack, save some nice touches of physical comedy. She moved well in both roles and acquitted herself very acceptably, vocally speaking, in pieces such as 'Tom, Dick or Harry' and 'Always True To You in My Fashion'. Her 'partner', Alan Burkitt (as Bill Calhoun and Lucentio) made less of an impression vocally, but danced very well, not least in an extended and virtuosic tap routine in Act Two. Perhaps it was only because of my already-confessed ignorance of Kiss Me, Kate that I was surprised by just how much Landi Oshinowo was able to make of the relatively minor role of Hattie (dresser to Lilli Vanessi). She set the pace for the performance with the way she led the opening number, 'Another op'nin, another show' and played her part in ensuring that the pace was maintained later. She was a major factor, both vocally and physically, in the success of 'Too Darn Hot'. Without undertaking a lengthy catalogue of all the other 'minor' characters, I feel the desire to stress that nobody came remotely close to letting the side down. Character after character, from the Baptista of Morgan Deare to the wonderfully dim and self-congratulatory Harrison Howell of David Peart (was I alone in hearing echoes of Donald Trump?), or the two Gunmen of Joseph Shovelton and John Savournin, was brought to theatrical life, often through subtle touches of theatrical detail.
If there is an area of weakness in Kiss Me, Kate it is not to be found, unsurprisingly, in the extended passages from The Taming of the Shrew proper or in Porter's songs. It exists, rather, in the dialogue written by the Spewacks, which is too often rather leaden and lacking in the kind of genuine wit to be found in both Shakespeare and Porter. The larger design of their 'book' also falters somewhat in Act Two, which rather dissolves into a series of set-pieces and 'turns'. Fortunately, the 'turns' put before us were of sufficient quality to compensate for the drop in narrative and 'psychological' tension. 'Too darn hot' was a tour-de-force from the soloists, chorus and orchestra, as well as being a splendid tribute to the work of choreographer Will Tuckett. I have already mentioned the tap-routine by Alan Burkitt as Bill, full of rapid and, indeed, acrobatic moves. Petruchio's 'aria' 'Where is the life I led' is effectively another such more or less self-contained 'turn', very well sung by Quirijn de Lang, relishing such lines as these (and in the process reminding one that he has sung the Count in Mozart's Marriage of Figaro):
Since I reached the charming age of puberty
And began to think of feminine curls
Like a show that's typically Shuberty
I have always had a multitude of girls
But now that a married man at last am I
How aware of my dear departed past am I
…
A married life may all be well,
But raising an heir
Could never compare
With raising bit of hell,
So I repeat what first I said,
Where is the life that late I led?
("Shuberty" I take to be a reference to the Shubert theatre on West 44th Street and to the Shubert dynasty of theatrical managers and producers, rather than an inappropriate (and misspelled) allusion to Franz Schubert. The phrase "may all be well" surely glances at Shakespeare's All's Well That Ends Well). But the most successful of this series of set-pieces was undoubtedly the performance of 'Brush up your Shakespeare' by the gunmen of Joseph Shovelton and John Savournin. Never mind that the words they sing and the knowledge they display makes no sense whatsoever in terms of their characters hitherto. The brilliant words of this song are a self-justifying end in themselves, as Porter slides between Shakespearean reference and American slang to wonderful effect:
Just declaim a few lines from 'Othella'
And they [the girls today] think you're a heckuva fella
If your blond won't respond when you flatter 'er
Tell her what Tony told Cleopaterer
…
If your girl is a Washington Heights dream
Treat the kid to 'A Midsummer Night Dream'
If she fights when her clothes you are mussing
What are clothes? 'Much Ado About Nussing'
If she says your behavior is heinous
Kick her right in the 'Coriolanus'
The two gunmen, in their patter and in their physical disparity, one tall and relatively thin, the other shorter and stockier, had all along had the makings of a vaudevillian double act and it was at this point that they perfectly fulfilled that potential. The lyrics were beautifully timed, and their meanings rhythmically pointed, but not crudely so, and there was enough (but not too much) physical enactment to support the words. There was even some comic business with the curtain, in the manner of Morecambe and Wise.  Porter's lyrics contain a kind of built in encore, but if they hadn't, I suspect that the audience might have demanded one anyway!
As I left the theatre at the end of this performance, I overheard a lady in front of me in the crush say to her friend "That was fun wasn't it? But it isn't the kind of stuff that Welsh National Opera should be putting on". Though the lady had a marked Welsh accent I think she was making a general point about opera companies and musicals, not implying that it might be OK for other opera companies to stage the occasional musical, but it wasn't befitting for Welsh National Opera to do so. Either way her attitude involved a rather disdainful sense of the inherent unimportance of musicals as a genre. She seemed to feel that an opera company which staged a musical would somehow be stained or tainted by the contact. There is an elitist primness to such attitudes that ignores the truth of the experience we (including this lady herself) had just had in the theatre ("That was fun wasn't it?"). Kiss Me, Kate doesn't, of course, have the profundity or emotional intensity of, say, Verdi's Otello. But, when as well performed as it was here, it bears comparison with many a comic opera and, in its sophisticated self-awareness of being theatre about theatre (amongst other things) it surpasses many of them. It has a verbal wit (at least in Porter's songs) which is superior to that to be found in most opera buffa libretti. In those songs it matches music to words as perfectly, if very differently, as the very best operas. It requires of those who direct and perform it skills which are the equal of those required by most operas and it makes more various demands on those on stage. The best musicals are far more than the inferior, vulgar relatives of opera. I find myself more and more in sympathy with the attitude taken by Amanda Holden in a prefatory note to an excellent reference work she edited (The New Penguin Opera Guide, revised ed. 2002):
The term opera (Italian: literally 'works') is interpreted in its widest sense as any dramatic work that can be sung (or at times declaimed or spoken) in a place for performance, set to original music for singers (usually in costume) and instrumentalists. This book, therefore, includes not only operas in the usual sense, but also all related works, operettas, Singspiels, music theatre, etc.
It is clearly an attitude shared by David Pountney, artistic Director of Welsh National Opera, who in the piece he contributed to the programme for this Shakespeare season, writes of Kiss Me, Kate that "it would be quite wrong to suggest that [it] represents in any way a dumbing down of Shakespeare … The quality of the wit makes it worthy of Shakespeare, the quality of the music makes it worthy of an opera company, and you, dear audience, will, I hope, derive undiluted pleasure from it". I certainly did, and it was clear that most of the pretty healthily large audience for the first night did so too. Even the lady I overheard seemed actually to have enjoyed it, but was finding it difficult to admit it (to herself or too her friend). There are plenty of prejudices against opera and its audiences; it is important that that audience itself shouldn't become a victim of its own prejudices. No Opera company that in one operatic year (2016-2017) stages 'mainstream' works by Verdi and Puccini as well as Johann and Richard Strauss, and valuable rarities such as André Tchaikovsky's The Merchant of Venice and Frank Martin's Le Vin herbé need feel neither embarrassed nor apologetic about the inclusion of Kiss Me, Kate alongside them. Pride seems a more appropriate reaction.
Glyn Pursglove