Germany Meyerbeer, Les Huguenots: Orchestra and Chorus of the Deutsche Oper / Michele Mariotti (conductor), Deutsche Oper, Berlin, 13.11.2016. (JMI)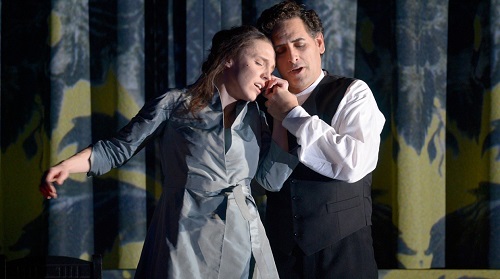 Cast:
Raoul – Juan Diego Flórez
Valentine – Olesya Golovneva
Marguerite – Patrizia Ciofi
Marcel – Ante Jerkunica
Urbain – Irene Roberts
Nevers – Marc Barrard
Saint Bris – Derek Welton
Tavannes – Paul Kaufmann
Cossé – Andrew Dickinson
Merú – John Carpenter
Thoré/Maurevert – Alexeis Botnarciuk
De Retz – Stephen Bronk
Bois-Rosé – Robert Watson
Night Watcher – Ben Wager
Maids – Adriana Ferfezka/Abigail Levis
Production:
Director – David Alden
Sets – Giles Cadle
Costumes – Constance Hoffman
Lighting – Adam Silverman
I was eager to attend the debut in Berlin of Juan Diego Flórez as Raoul de Nangis although I did have some reservations about his suitability to the part. There's no question that JDF is still a great singer, but he is a light tenor, and Raoul requires a more heroic voice.
Les Huguenots is not really part of the main opera repertoire, and there are good reasons why. The music is uneven and it's very long, running almost four hours despite not being performed in its entirety. I am not generally in favour of cuts in opera scores, but Les Huguenots allows for them perfectly, especially with regard to Act III where the ballet music was included (but only the music).
For this occasion, the Deutsche Oper commissioned a new production by David Alden, which was both interesting and appealing, despite a few questionable aspects. There is a single setting for all five acts: a large space in the middle of the stage enclosed by walls. The different scenes are configured through the use of props, which allows for rapid changes, something that is not unimportant in an opera like this. Costumes, which have been brought up to modern times, are elegant and colourful, and the lighting was also good.
David Alden seems to have been aware of the problems that this opera entails, and he narrates the plot well with no inappropriate 'originalities'. The biggest problem is that the set forces the action to take place indoors, which makes things a bit odd in the second and third acts. Indeed, Act II clearly calls for a garden setting where the court of Marguerite de Valois rests and bathes. Here, inside the palace, the situation is resolved with the appearance of a tub, and the queen gets her bath. Things become even stranger in Act III with the move into a church where both Catholics and Protestants are singing and praying; to sing the 'Ra-ta-plan' here makes little sense. It makes people to go home. However, the final two acts are resolved nicely. All in all, it's a production that is appealing, although not everything works perfectly.
Leading the orchestra was Michele Mariotti, the current musical director in Bologna, who has conducted with Juan Diego Flórez on numerous occasions. If I am not mistaken, he was making his debut in the pit of the Deutsche Oper. His conducting was admirable, and he successfully controlled the volume from the pit; otherwise, that could have created serious problems. It is inevitable that tension lags at times in an opera such as this, but it cannot be blamed on the conductor. With more powerful voices in the three main characters, his reading might have been more interesting, but I don't believe any problem in this regard can be attributed to Mr Mariotti. The Deutsche Oper Orchestra gave an outstanding performance, as did the Deutsche Oper Chorus, one of the best in the world.
In recent years, Juan Diego Flórez has been taking on new roles, heavier ones, in general, than those that have brought him so much and such well-deserved fame. Raoul de Nangis is not a character for a light tenor, which is what JDF is: it demands a full lyric tenor. If it were only a question of singing arias and even some duets, there's no doubt that Juan Diego Flórez would be an outstanding Raoul; he was successful in both his aria from Act I and the duet with Valentine in Act IV. But there are other, more heroic, passages that require a different voice, and there the Peruvian divo fell short, especially in the ensembles. It's not a problem of quality, since few singers – if any – can be compared to him, but of suitability to the part.
Valentine was performed by Russian soprano Olesya Golovneva, of whom I can make a comment very much in line with what I wrote above about Juan Diego Flórez. Valentine requires a true 'Falcon', like the first Valentine in Paris in 1836. Olesya Golovneva is a light-lyric soprano, who beautifully hits the high notes without a problem; but her middle range is not enough for the role, and her low notes are almost non-existent. Undoubtedly, it would have created a problem to put another type of soprano opposite Juan Diego Flórez. Ms Golovneva did well, but with these serious limitations.
Marguerite de Valois was the wonderful Patrizia Ciofi. Her voice may not be breathtakingly lovely, but the truth is that she brilliantly handled a difficult Act II, singing with gusto and sympathy and moving with great ease on stage.
Bass Ante Jerkunica was a good interpreter of the fundamentalist Marcel. His voice has the amplitude and authority needed to cover the demands of the character, and he sings with expressiveness. His upper register may have lost some quality, but he was excellent. Urbain, the Queen's page, was mezzo soprano Irene Roberts, who was superb in terms both of singing and acting. The audience always loves this character, and she took full advantage of it.
French baritone Marc Barrard was correct as Count Nevers, while Derek Welton did well as Count of Saint-Bris. The secondary characters were well covered, especially tenor Robert Watson as Bois-Rosé.
The theatre was almost sold out. The audience gave a very warm reception to the artists, and to Michele Mariotti. David Alden and his team were greeted with both applause and boos.
José M. Irurzun