Italy Donizetti, Rosmonda d'Inghilterra: Donizetti Opera Orchestra and Chorus / Sebastiano Rolli (conductor), Teatro Donizetti, Bergamo, 25.11.2016. (JMI)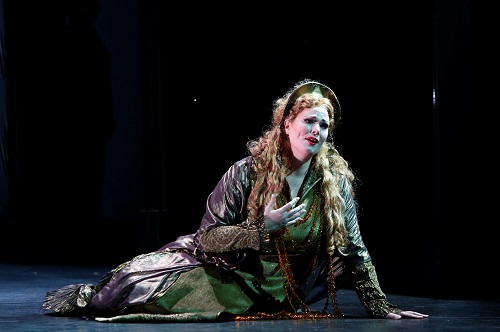 Cast:
Rosmonda – Jessica Pratt
Enrico – Darío Schmunck
Leonora – Eva Mei
Clifford – Nicola Ulivieri
Arturo – Raffaella Lupinacci
Production:
Director – Paola Rota
Sets and Lighting – Nicolas Bovey
Costumes – Massimo Cantini Parrini
Bergamo remains faithful to its illustrious son with an autumn festival dedicated to Donizetti, and opera lovers are happy to keep this annual appointment. Now called the Festival Internazionale Donizetti Opera, it is staging two authentic Donizetti rarities, Rosmonda d'Inghilterra and Olivo è Pasquale, plus a concert with Riccardo Muti and a recital by Leo Nucci.
Rosmonda d'Inghilterra, which premiered in Florence in 1834, belongs to the epoch of Donizetti triumphs. Chronologically, it follows Lucrezia Borgia and predates Lucia di Lammermoor by a year. The opera is one of the English dramas popular at the time; so fashionable were they that the libretto by Felice Romani had already served for an opera by Carlo Coccía and would be used by three other composers, albeit with different titles. Rosmonda d'Inghilterra was not a success in its premiere. It was to have been staged in Naples with some revisions, but this revival never took place. After a few performances in Rovigo in 1845, the opera disappeared completely, but it was rediscovered by Opera Rara in 1975, and a performance and recording followed.
The work is based on a twelfth-century legend of the love between Rosamund Clifford and Henry II, who wanted to separate from Queen Leonora to join his mistress. It all ends with the death on stage of the protagonist at the hands of her rival, the Queen. The work certainly does not deserve to be neglected: the music is outstanding, especially the duets and ensembles. There are great opportunities here for a bel canto lyric soprano, and, in fact, for the revival planned for Naples in 1837, Donizetti added a final cabaletta for Leonora.
Last month the opera was done in concert in Florence with practically the same cast; only the interpreter of King Henry was different. Bergamo did a fully staged version, with a new production by Paola Rota. It's all fairly simple, but true to the original plot. The sets are basic and consist of two hanging walls with doors which can be moved right and left for different scenes. The costumes are medieval for the soloists, while the choir is dressed in black (and in the first scene appear to be wearing umbrellas). Throughout, the atmosphere is very dark, and the lighting is appropriate.
The musical direction has been entrusted, as in Florence, to Sebastiano Rolli, who left the same positive impression on me as he did three years ago conducting Falstaff in Busseto. He's an excellent conductor in this repertoire, and his reading was full of tension and life with fine support for the singers. The orchestra and chorus both performed well.
Rosmonda was sung by Australian soprano Jessica Pratt, who once again demonstrated that she is totally at home in this repertoire. Her performance was impeccable in every way, worthy of this outstanding bel canto soprano who has no problem climbing to the highest notes. She was just magnificent, and her triumph in the role was recognized by the audience.
In Florence, the character of King Henry was sung by Michael Spyres. Tenor Dario Schmunck had the part here, and the difference between the two is remarkable. There is much to sing and express, and King Henry demands a certain vocal weight. It's not a part for a light tenor, and Dario Schmunck's projection left something to be desired. He certainly fulfilled his duty, but the role requires more vocal consistency.
Queen Leonora was sung by soprano Eva Mei, whom I found much better in the role than I expected, given past experience. She was more interesting in vocal terms and better able to convey emotion. Although the character may require a bit more weight, her performance was totally convincing.
A pleasant surprise was the performance of mezzo soprano Raffaella Lupinacci in the part of Arturo, the page. Her voice was attractive voice, and she sang with gusto and emotion. Nicola Ulivieri was well-suited to the role of Clifford, Rosmonda's father.
José M. Irurzun